Not only a place to store memories, Samsung The Frame TV also helps users easily transform their living space, decorate their home, and bring a jubilant atmosphere to welcome the new year.
Tet sends messages about family reunion, gathering, and shared values
2021 is a special year as we have been through many difficult periods. Instead of going to work, school or going out as usual, all activities are reduced to the house for a fairly long period of time. Children who work away from their families are looking forward to Tet to be reunited with their loved ones. In the moments of family reunion on New Year's Day, the whole family will sit back and look at old photos, the frames that keep memories together will be valuable moments.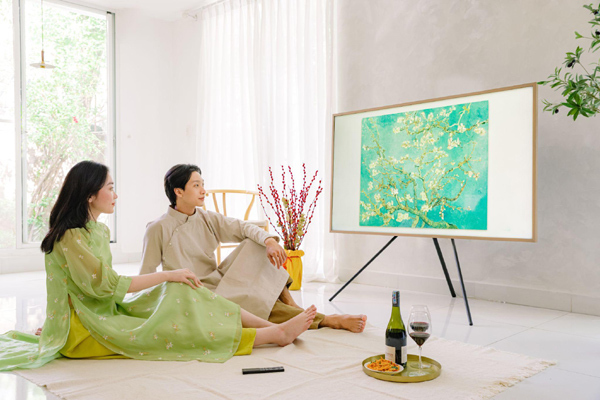 A year has passed with many happy and sad emotions, families tend to sit together to summarize the ups and downs of the old year.
With smart TVs that have the ability to connect, we can easily send images from smartphones to the TV, but it would be more interesting if the TV is equipped with a feature to display personal images, to become a picture frame mounted on the wall.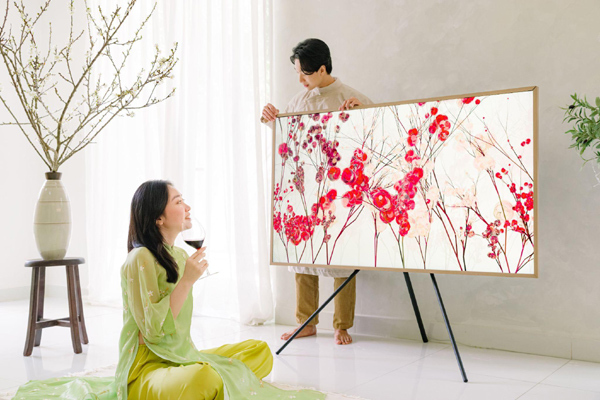 Celebrate Tet in an art space, sip a glass of wine and enjoy colorful paintings and photos
With two content display modes via phone or USB connection, The Frame TV will bring to life every memorable moment. The TV's internal memory allows for more than 1,000 photos to be stored, so you don't have to choose between the moments you want to watch again. Thanks to that, all family members can sit back and look back on their memories of the past time, retelling stories to look forward to a better new year together.
Users can also take advantage of Art Mode, accessing more than 1,600 works of art from many prestigious museums around the world in the family living room. Whatever style you like, the collection of paintings on The Frame can bring a suitable picture, enhancing the space of the house.
With a slim design and a wide range of frames, from sepia to the same wood color as real picture frames, The Frame brings an elegant and sophisticated look to the living room during Tet. The diverse collection of paintings, along with the ability to display the user's own images, help the TV transform easily into any interior style, decorate New Year's Day, in accordance with the style of "Happy New Year" that many people have been waiting for. wait.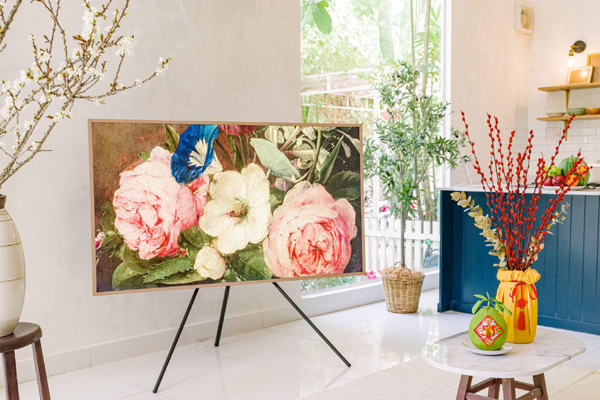 Art paintings help homeowners welcome the new year in a modern living space
Samsung Vietnam currently has a promotion for The Frame TV product up to 16 million VND including a special frame set and a 4-month free account of Art-store with many classic works of famous artists. world famous painter.
Thu Hang
.