A series of perfectly upgraded technologies will be applied by realme in the realme 9i, a smartphone that is expected to be released in the early days of 2022.
In particular, realme has chosen Vietnam as the first country where realme 9i will launch, thereby creating a launching pad for the "pet" of the 9 series to go global. Let's take a look at the remarkable technological highlights that will be the highlight of the realme 9i.
Qualcomm's top performance chip
realme 9i is the pioneer smartphone using Snapdragon 680 processor with the fastest processing speed for 4G tasks of Qualcomm today.
No matter what job realme 9i is used for, no matter how fast it is required or how much multitasking, realme 9i can make Z generation young people satisfied. Owning 8 cores, 6nm process, Snapdragon 680 for extremely high performance and 4G network surfing speed at the top today.
Advanced Snapdragon 680 chip is equipped on realme 9i
Adreno 610 GPU increases performance by 10%, optimizing display quality. After a long tiring day of work and study, the realme 9i promises to bring young people smooth entertainment experiences with the ability to display super sharp movies and game graphics quality. surprisingly beautiful.
5,000 mAh battery, 33W super fast charging
Possessing a capacity of up to 5,000 mAh, realme's battery benefits from the 6nm process of the Snapdragon 680 chip to maximize performance. realme will consume 62% less power, optimizing battery life to nearly 50%.
The manufacturer also claims realme's real-time uptime is amazing: almost 1,000 hours in standby mode, 48.4 hours on phone calls and 116.3 hours of non-stop music playback. This abundant source of power will help you study, work, and entertain throughout the day from morning to night.
Stylish design, true to fashion
In terms of appearance, the parameters show that the realme 9i is expected to weigh about 190g and be 8.4mm thin. With the above figures, realme is among the thinnest and lightest smartphones in the segment, but at the same time retains its balance and firmness in the hand.
realme 9i continues to be a phone model that adheres to the "Dare to Live" philosophy that has been pursued by realme for many years. The design of realme 9i is inspired by the interaction between light and prism. In particular, each detail on both sides is meticulously and precisely processed to create effects that combine dynamic light and shadow, bringing unexpected visual experiences to the viewer.
With an 8-layer optical coating process, providing optimal transparency and layering, the combination of light dispersion technique creates sparkling, attractive visual effects. It is not an exaggeration to say that the design of realme can describe the rhythms and movements of light in reality.
In terms of color, realme 9i will bring smartphone lovers around the world 2 color versions of Prism Blue and Prism Black, both of which are on the "top list". " of today's young people. Being able to coordinate with a variety of different outfits, you will easily build your own fashion style from strong, personality to mysterious, seductive, … when holding realme "pet" in your hand. 9i.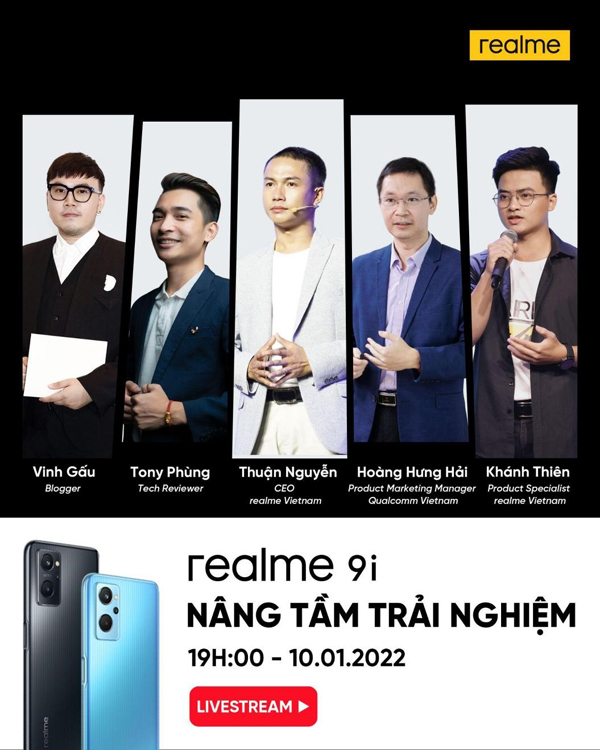 The launch event of realme 9i is about to take place on January 10, 2021 in Vietnam
In the upcoming launch on January 10, realme 9i will be available in 2 colors Prism Blue and Prism Black. The manufacturer also revealed that realme 9i will weigh 190g and be 8.4mm thin, very suitable for young people to carry in all daily activities.
Expected selling price of realme 9i in Vietnam market will be from 6,790,000 to 6,990,000 VND.
For more information, customers can visit:
Website: www.realme.com or
Fanpage: https://www.facebook.com/realmeVietnam
Doan Phong
.