The illegal collection, use, distribution and trading of other people's personal information will be subject to a fine of 40 – 60 million VND instead of 20 – 30 million VND.
The Government has just issued Decree No. 14/2022/ND-CP dated January 27, 2022 amending and supplementing a number of articles of Decree No. 15/2020/ND-CP dated February 3, 2020 providing for penalties for violations. administrative violations in the fields of post, telecommunications, radio frequencies, information technology and electronic transactions.
Accordingly, one of the points of great interest in Decree No. 14/2022 is the lifting of penalties for acts of collecting and distributing other people's personal information without permission.
Specifically, if someone improperly uses the personal information agreed upon when collecting or without the consent of the personal information subject; providing or sharing or spreading the collected, accessed or controlled personal information to third parties without the consent of the personal information owner; illegally collecting, using, spreading and trading personal information of other people will be fined from VND 40 to 60 million.
Personal data of a Vietnamese user is for sale on hacker forums.
In Decree 15/2020, the sanctioning amount for similar acts is from 20 to 30 million VND. Thus, Decree No. 14/2022 has doubled the level of penalties for violations.
One of the notable points of Decree 14/2022 is the regulation on fines ranging from 100 to 140 million VND for acts of using satellite orbital bands and positions without a license for satellite orbit and frequency. pure.
In addition, if advertising by email, advertising by text message or providing messaging services via the Internet but there is no system to receive and process the recipient's refusal request, the violator will be subject to fines and penalties. fine from 80-100 million dong.
This is also the level of sanction applied to the act of sending advertising messages, making promotional phone calls to phone numbers on the No-Ads List.
Decree No. 14/2022 also adds regulations on fines ranging from 10 to 15 million VND for acts of applying freight rates inconsistent with those of postal services as registered or declared or notified to the agency. competent state agency.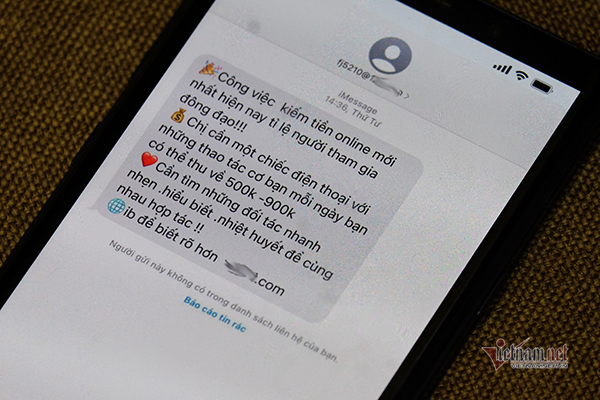 Advertising by text message but without a system to receive and process the recipient's rejection request, the violator will be fined from VND 80-100 million. (Photo: Trong Dat)
In addition, Decree No. 14/2022 also supplements Article 4a on the application of measures to prevent and ensure the handling of administrative violations.
Accordingly, the Vietnamese national domain name ".vn" of organizations and individuals will be detained for administrative sanctions if providing, transmitting and using images of Vietnam's map are not fully represented. or misrepresent national sovereignty or advertise, propagate, trade in prohibited goods or services.
This is also a measure to be applied to acts of providing and transmitting fabricated information, causing confusion among the people, incompatible with the interests of the country, affecting the great national unity bloc, and destroying the national unity bloc. destroy historical traditions, deny revolutionary achievements, insult the nation and national heroes.
Websites with the domain name ".vn" provide and transmit fake information, untrue information, distort, slander, offend the reputation of organizations, honor and dignity of individuals; promoting profane, superstitious, superstitious, lewd, depraved, and destructive customs and traditions of the nation; infringing upon the right to freedom of belief or religion; Propaganda, incitement to terrorism, violence, crimes and social evils will also be temporarily seized for administrative sanctions.
Trong Dat

Vietnamese technology company receives antenna patent in the US
This is the invention of "Wideband Polarized Antenna" with compact structure, wide bandwidth, enough high-speed information processing.
.