The PMCO Spring 2021 tournament is an opportunity for players to progress to professional PUBG Mobile and win prizes of more than 1.8 billion VND.
PMCO is the first start of the 2021 season, promising many transformations and innovations of the PUBG Mobile Vietnam esports scene. This is also a chance for players who want to grow and advance on the professional eSports path.
The registration portal to join PMCO will be open from now until 10/1/2021. After that, PMCO will take place with 2 main rounds: qualifying round from 22-24/1/2021, final round from 29 – 31/1/2021. The 18 best teams at PMCO and the 2 best performing teams at PMPL VN S2 – Box Gaming and V Gaming will compete directly at PMPL VN S3. According to the tournament representative, the total prize value of the PMPL VN S3 is expected to reach a "huge" number of 1.8 billion VND.
PUBG Mobile announced the PMCO roadmap on the official fanpage
Accordingly, the competitive schedule of PMCO Spring 2021 is as follows:
Qualifying stage: The qualifying round will consist of 100 teams, divided equally among 5 groups. The teams will compete for points within 3 days (4 matches per day). The top 4 of each group will advance to the PMCO Spring Finals.
PMCO Spring Finals: The PMCO Spring Finals consisted of 48 participating teams: 20 teams from PMCO Qualifier and 28 top VNRK teams. The teams will be divided into 3 groups, each group of 16 teams competing for 3 consecutive days (5 matches per day). The top 6 of each table will go directly to PMPL S3.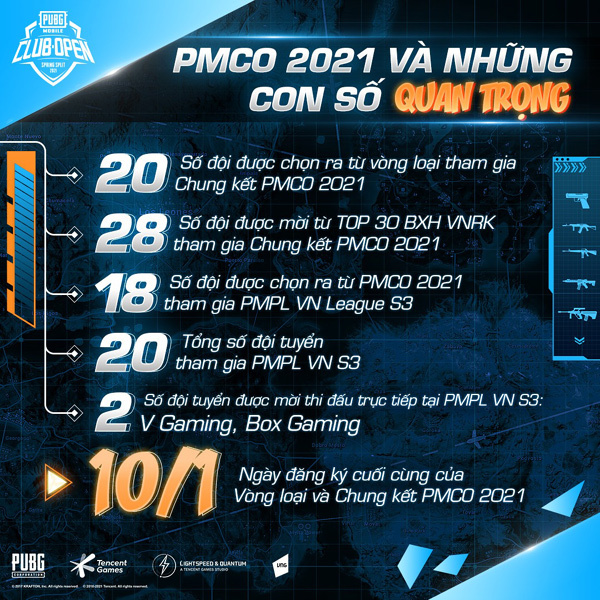 Key numbers at PMCO Spring 2021
It can be said that the year 2020 has ended regretfully when PUBG Mobile eSports Vietnam did not have any representatives to have a chance to attend the PUBG Mobile Global Championship – the tournament is considered the "World Final" of this game.
Now, when a new season opens, PMCO has a mission to find new factors, for PUBG Mobile eSports Vietnam to have a strong change in the year 2021. Since then, help Vietnam esports. have the opportunity to make a clearer mark on the eSports map of the region and the world.
Register to participate at website: https://giaidaupubgm.zing.vn/
Registration period: 1/1 – 10/1/2021
Participants:
Qualification: The teams are outside of the Top 30 VNRK BXH
– Finals: The teams are in the Top 30 VNRK BXH
Pearl league
.