At the ITU Ministerial Conference, Prime Minister Pham Minh Chinh affirmed that the digital transformation is not a single country, organization or individual.
Ministerial Roundtable with the theme of cutting affordable access network costs to accelerate digital transformation. (Photo: Le Anh Dung)
On the evening of October 12, the Digital World Conference and Exhibition (ITU Digital World 2021) officially opened. Within the framework of this event, the ITU Ministerial Conference took place in 3 days from October 12-14 towards the common theme of "Building a digital world together", under 3 pillars: Necessary infrastructure to build a digital world. digital conversion; Invest in and facilitate digital transformation through policy; Key actors for digital transformation.
Following the opening session, a Ministerial Roundtable took place with the theme of cutting the cost of affordable access networks to accelerate digital transformation.
Vietnam is a good model for the world to learn from
Speaking at the Ministerial Conference, ITU Secretary General Houlin Zhao acknowledged that half of the world is now connected thanks to information and communication technology. This is a testament to the undeniable role of this field. However, we will only truly reach the measure of success when the other half of the world is also connected and affordable through technology.
ITU Secretary General said that building telecommunications infrastructure is the challenge that the world has to face. We have to attract investors to places that are not always profitable. It is necessary to find ways to attract limited capital investment resources to develop the infrastructure of the telecommunications industry. The information and communication industry must be financially supported, invested, and fostered partnerships across the digital ecosystem.
According to Mr. Houlin Zhao, Vietnam is a good model for countries around the world to learn from. Vietnam has joined hands with many countries in Asia, Africa and Latin America in developing the telecommunications industry, even though these are places with little profit and often overlooked by other investors.
Digital transformation depends on leaders
Minister of Information and Communications Nguyen Manh Hung acknowledged, sooner or later, the pandemic will pass. And the biggest question is can we adapt to the new normal, to turn challenges into opportunities, to make a giant leap in digital transformation?
Among ITU's 193 members are many developing and least developed countries. Particularly with digital transformation, to implement new ways of working, developing countries have less to replace, so they can change faster. For example mobile money in African countries. Regarding the agent that accelerates the digital transformation process, many people often think about technology. But in reality the institutional and legal framework is more necessary, governments should promote the supporting framework in a timely manner. The regulatory framework could be an experimental alternative to a more conservative approach.
Minister Nguyen Manh Hung emphasized that, in every organization, the success of digital transformation mostly depends on leadership, especially the top leaders. Leaders need to accept fundamental changes in the organization's operations and operations. They are required to make difficult decisions when restructuring, even in reallocating resources, including human resources.
In Vietnam, digital transformation is a priority to develop the digital economy, digital society and digital government. In June 2021, the Prime Minister signed the National Strategy on E-Government, towards Digital Government. This year, other institutional and strategic frameworks for digital transformation and the digital economy will be enacted. Digital infrastructure plays an important role in digital transformation.
"The Ministry of Information and Communications is working with telecommunications service providers to bring access to the remaining villages that are not yet connected to the Internet, striving by the end of this year, 100% of people can access the Internet. 5G trials have been underway since last year. We are preparing to issue commercial and frequency licenses so 5G services will be available nationwide by 2022. To promote affordable Internet access, Vietnamese carriers have launched a special package worth nearly 500 million USD to support domestic people to connect online during the Covid-19 outbreak. In 2023, we will turn off the 2G network so that 100% of users nationwide can connect to the Internet. This is possible thanks to the cooperation of domestic manufacturers, providing cheap smartphones around 30 USD.Minister Nguyen Manh Hung said.
Last month, Vietnam launched a program of 1 million computers for Vietnamese children for online learning. In Vietnam's digital transformation strategy, the Government plays an important role in transforming public services and a number of important sectors such as education, health, agriculture, transportation, finance main. Vietnam has received strong support from the Government and the Prime Minister in creating a favorable environment and mobilizing all resources for digital transformation.
Countries cannot stand aside from humanity's digital transformation
Speaking at the event, Prime Minister Pham Minh Chinh emphasized that, in the context of the world being heavily affected by the Covid-19 pandemic, technology and digital services have proven advantages in terms of flexibility, creating favorable environment for ideas and initiatives to overcome difficulties, safely adapt to the pandemic, recover and develop sustainably.
The Prime Minister said that the digital transformation to build a digital world does not belong to a single country, organization or individual; and no country, organization or individual can stay out of the digital transformation process of humanity. This is a global issue, so a global approach and global contribution must be made. International cooperation on digital transformation, especially within the ITU, must aim at building a greener, more inclusive and fairer digital world for all people and all countries.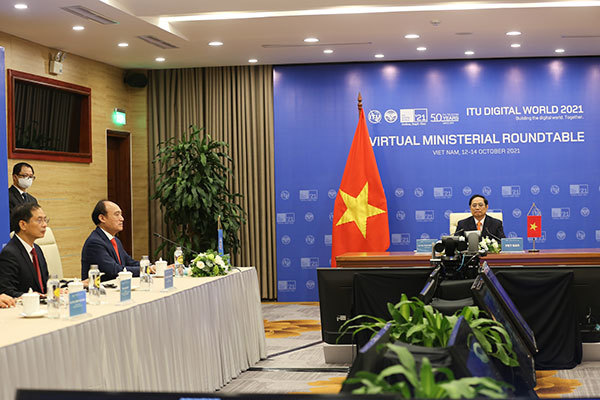 Prime Minister Pham Minh Chinh said that the digital transformation to build a digital world does not belong to a single country, organization or individual.
The Prime Minister affirmed that digital transformation is an inevitable trend and is one of the process of profound and extensive changes in all socio-economic activities. Governments of countries need to guide and lead this process for effective digital transformation; must mobilize the highest new values ​​of digital space in all aspects of social life.
In addition, the guidance and orientation of the state needs to go hand in hand with the dynamism and efficiency of the market. Therefore, cooperation between the public sector and the private sector should be encouraged and facilitated. Digital transformation must be people-centered, the subject and the goal of development. This process is only successful when each citizen actively participates and enjoys the benefits that digital transformation brings. Therefore, the leading role of the Government as well as the ITU's key cooperation initiatives and plans must be towards the goal of "leaving no one behind".
The head of the Vietnamese Government emphasized that the digital world must be built on the basis of ensuring digital sovereignty and network safety and security. ITU needs to promote more strongly its role as a specialized organization of the United Nations in orienting the international framework on digital sovereignty, ensuring network safety and security.
"Step by step to overcome the difficulties of the Covid-19 pandemic, Vietnam is making constant efforts to change itself and promote digital transformation in all areas. The Vietnamese government is committed to continuing to be an active member. , proactive and responsible member of the International Telecommunication Union; always accompanies and cooperates with countries, organizations and businesses to build the digital world. The country promotes the digital economy and digital society, especially cooperation in technology transfer, human resource training, modern management and attraction of high-quality investment," Prime Minister Pham Minh Chinh said.
Promote public-private partnership to build infrastructure
Sharing at this conference, Mr. Rashad Nabiyev, Minister of Transport, Communications and High Technology of Azerbaijan, said that the Government has an active role in digital transformation by supporting the backbone of the Internet infrastructure because of Private companies often do not have the power to finance digital transformation. Governments can create the necessary incentive to invest, driving private investment in digital infrastructure through the PTP model wherever possible.
Paola Vega Castillo, Minister of Science, Technology and Telecommunications of Costa Rica, said that Costa Rica is implementing a new national plan to develop telecommunications in the next five years and in the process local governments The local government is provided with budget, creating conditions to invite private enterprises to invest in digital transformation and benefit from the public-private partnership model.
Concluding at the seminar, Mr. Malcolm Johnson, Deputy Secretary General of ITU emphasized that the world has many essential problems to be solved such as using new technologies, digital technology to bring benefits. for everyone; either through funding, public-private partnerships, and a flexible plan, action plan and policy framework to support and encourage investment in rural areas, which are lagging behind.
Mr. Johnson believes that the difficulty lies in providing affordable connectivity to people living in rural, remote and isolated areas, which are neglected when it comes to the return on investment compared to other countries. urban. The core point is that all of them join hands to act, complementing each other with their own strengths. Only then can they thoroughly and effectively solve problems and achieve their goal of accelerating digital transformation, benefiting people everywhere.
ICT reporter group

ITU Digital World is a Vietnamese initiative that demonstrates the importance of digital technology
Houlin Zhao, ITU Secretary General, said that changing the name to ITU Digital World is a great initiative of Vietnam, reflecting the importance of digital technology in the media ecosystem.
.