Sharing at the program "Mark of Techfest and Whise 2021", Prime Minister Pham Minh Chinh affirmed that innovation always plays an important role in the development of the country.
On the afternoon of December 14, the program "Mark of Techfest and Whise 2021" within the framework of the 7th National Innovation and Startup Festival Techfest Vietnam 2021 series of events was held in Hanoi.
Speaking at the opening of the event, Minister of Science and Technology (Science and Technology) Huynh Thanh Dat said that in the context of the Covid-19 pandemic, science, technology and innovation provide new solutions, technology and innovation. effective tool for epidemic prevention.
According to Minister Huynh Thanh Dat, despite the complicated development of the Covid-19 epidemic, the financial source of investment for creative startups in Vietnam has increased unprecedentedly. More than 1.3 billion USD has been invested in innovative Vietnamese startups. This is the highest number ever.
Minister of Science and Technology at the program "Mark of Techfest and Whise 2021". Photo: Trong Dat
Currently, Vietnam has more than 1,000 organizations capable of supporting startups, including 202 coworking zones, 217 investment funds/investors, 79 incubators, 40 business promotion organizations, etc. ..
The head of the Ministry of Science and Technology said that Vietnam is gradually forming linkage networks, promoting the flow of knowledge and technology at home and abroad. These are important prerequisites to expand the national creative startup ecosystem.
According to Mr. Duong Anh Duc – Vice Chairman of Ho Chi Minh City People's Committee, with the position of a big city in Vietnam, the innovation ecosystem in Ho Chi Minh City increasingly attracts many social resources. The number of start-up businesses in Ho Chi Minh City is 2,000, of which the technology sector accounts for 65%.
2021 is considered the year of development for start-ups in Ho Chi Minh City, attracting $1.1 billion and accounting for 60% of the country's capital and deals.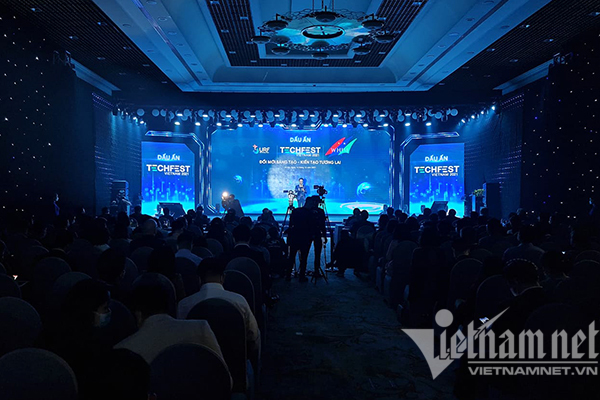 The program "Mark of Techfest and Whise 2021" within the framework of the National Techfest Vietnam Innovation Start-up Day series of events 2021. Photo: Trong Dat
At the High-Level Dialogue Forum on Developing a National Innovative Startup Ecosystem, Mr. Nadav Eshcar – Israeli Ambassador to Vietnam said that the country spends up to 4.9% of GDP on research and development.
Sharing experiences with Vietnam, the Israeli Ambassador said that the country has a ministerial-level agency in charge of innovation activities. Some Israeli banks also open incubators to provide data and financial solutions for businesses.
Talking about the story of creating a mechanism for Vietnamese startups, Deputy Minister of Science and Technology Tran Van Tung shared that in the past, Vietnam only connected within the ecosystem, between startups and investors. By this year, the Ministry of Science and Technology has turned to a different approach, connecting businesses, corporations, and corporations so that they can put the headlines for the startup ecosystem.
It is expected that by June 2022, the Ministry of Science and Technology will submit to the Government a "sandbox" project for testing and application at Hanoi National University, Vietnam National University Ho Chi Minh City and Vietnam Academy of Agriculture.
Prime Minister Pham Minh Chinh.
Speaking at the event, Prime Minister Pham Minh Chinh emphasized the role of innovation. He believes that difficulties and challenges from reality need to be solved by innovation. This is also an objective requirement of development, in every stage Vietnam needs to be creative… to assert and rise up.
According to Prime Minister Pham Minh Chinh, innovation must adhere to the policy set forth by the 13th Party, contribute to making everyone happy, protect peace and independence, and demonstrate wisdom and strength. creativity of Vietnamese people.
The Prime Minister said that in the current period, Vietnam needs creativity in fighting the Covid-19 epidemic to recover and develop. Innovation to contribute to economic restructuring.
If Vietnam wants to develop quickly and sustainably, it must rely on science and technology, innovation and digital transformation. Therefore, our country must have a mechanism to effectively use human resources for innovation activities, especially from research institutes, universities and vocational education institutions.
Trong Dat

Don't let Vietnamese startups have to go abroad to start up
Vietnam should learn from the experience of attracting foreign investment in the technology startup sector of India and Singapore. These are the bright spots of startup investment in the world.
.