The Twitter account zachxbt, which is trusted in the crypto world and has more than 200,000 followers, has just released a list of celebrities and influential accounts that receive posts promoting crypto projects, along with with associated costs.
The zachxbt account owner said he purchased the listing from an unnamed cryptocurrency marketing company. According to the price list, a post or a retweet promoting cryptocurrency ranges from 300-$35,000.
Many service packages
Subsequent texts in the list also reveal the cost of promotional posts on other social media platforms including YouTube, Instagram and TikTok.
Celebrities are hired for "heavenly" prices to promote cryptocurrencies. Image: Twitter.
Celebrities bid up to tens of thousands of dollars for a single post. Specifically, the Twitter account with the green tick of actress Lindsay Lohan with more than 8.2 million followers calculates the price 25,000 USD for a promotional post, 20,000 USD for one retweet and $35,000 for a package that includes both of the above actions.
In addition, comedian Che Durena is also accused of a promotional video on TikTok for 20,000 USD and an Instagram post from rapper Lil Yachty up to 50,000 USD.
However, this list is still for reference only. The zachxbt account owner himself is not 100% sure of the authenticity of these documents.
"Not everyone on the list gets paid to promote crypto, but most of the names I see on it do," zachxbt said.
The aforementioned marketing company also offers a package of services for large-budget crypto projects. With 130,000 USD114 Twitter celebrities with a total following of more than 19 million will post 2 ads and 1 retweet.
Begins to be squeezed
Although it is not illegal to receive money for advertising by celebrities, many people in the crypto community are still outraged that these celebrities are using their fame to promote their products. poor quality cryptocurrency projects, which can damage gullible investors.
There have been many examples of cryptocurrency or NFT projects that were promoted by many names in the entertainment world and then disappeared or failed, causing many investors to lose money because they believed in their idols. asset. The celebrities themselves are also affected more or less when their reputation is ruined.
According to the US Federal Trade Commission (FTC), as of 2021, more than 95,000 people have reported losses of approximately 770 million USD for social media fraud. In its Consumer Protection Data Focus report, the FTC also notes that "those losses represent approximately 25% of all fraud reported losses in 2021 and are 18 times more losses reported in 2017".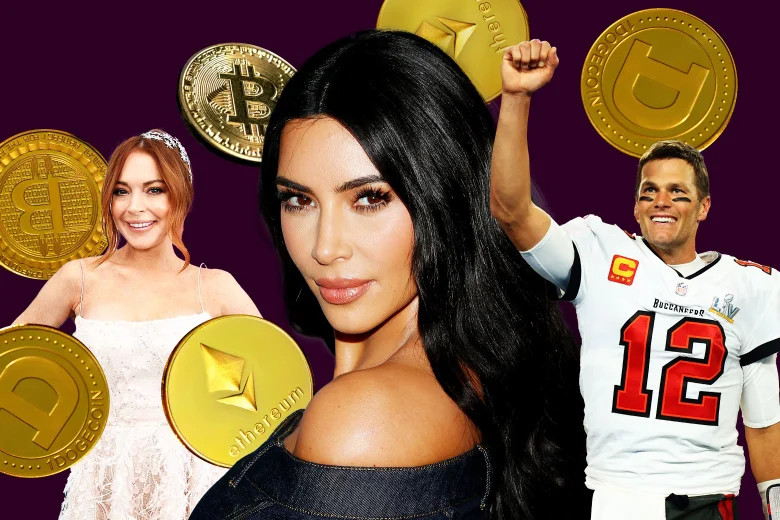 In September 2021, star Kim Kardashian was criticized for advertising "junk" coins. Image: Getty Images.
In the US, the FTC requires advertising and marketing projects to be authenticated. Companies need to let users know a social media post is an advertisement and publicize any important connections from the company's executive team to its employees.
In some countries, concealing a company member's identity or shady advertising on social media platforms may constitute a violation of consumer protection laws.
"If social media ads are not transparent, users may believe that a celebrity is promoting or rating a product or service that has no relationship with the businesses they are hired for. Consumers may think that the celebrity has bought a product from another company because it is worth the money or is of good quality," said the UK's Competition and Markets Authority.
(According to Zing)
.