More powerful Helio G88 gaming processor, more comfortable gaming
Tecno Pova 3 is equipped with Helio G88 processor, which is considered one of the powerful chips in the Gaming line. With this upgrade, Helio G88 helps you comfortably play from simple configuration games to "heavy" games like Lien Quan, PUBG, Genshin Impact… without worrying about lag.
7000mAh buffalo battery, 33W fast charging, enjoy the game
Developing a powerful processor is indispensable for a buffalo battery of up to 7000mAh, 33W fast charging, for a more seamless game experience. With such a huge battery capacity, you can use it continuously with airplane mode for 1818 hours, play games for about 8 hours, listen to music for 53 hours, watch YouTube for 23 hours, surf Facebook for 26 hours, and listen to calls for about 51 hours. .
Besides, STS safety battery technology is also "attached" when owning Tecno Pova 3, more energy, safer for users. POVA 3 can also become a mobile charger with a convenient 10W reverse charging feature.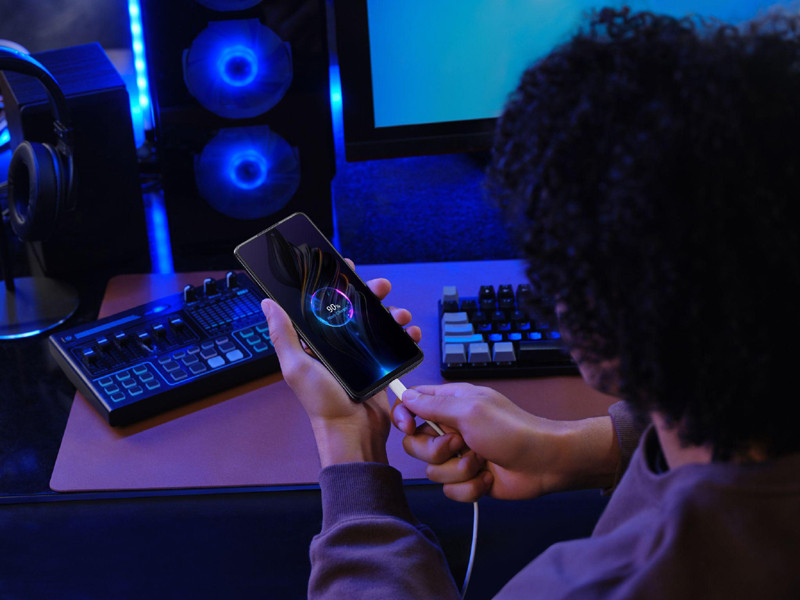 Upgrade to 6.95" giant screen with 90Hz refresh rate
The game is more enthusiastic with a terrible screen up to 6.95 ", for more spacious frames. Besides, Tecno Pova 3 is upgraded with 90Hz refresh rate in Full HD + mode, clear and smooth in every game.
Cool LED back light
The breakthrough of the Pova 3 super product is the unique luminum led strip on the back, as an endless source of energy of a powerful advanced machine. The LED light is adjusted with a mechanism that will flash green 3 times when there is a notification from the app, light blue continuously for 0.5 seconds when there is an incoming call, light red when the battery is low or light purple when entering the game,. .. Tecno Pova 3 not only upgraded performance, the appearance outside the machine also brings a trendy, strong, stylish color to the user.
In addition, the dorsal structure formed on the PGI compression injection molding process overlaps many layers, creating a luminous blue color underneath that is revealed between the gaps of the matte texture on the surface, showing Pova's aura. 3, full of energy and strength.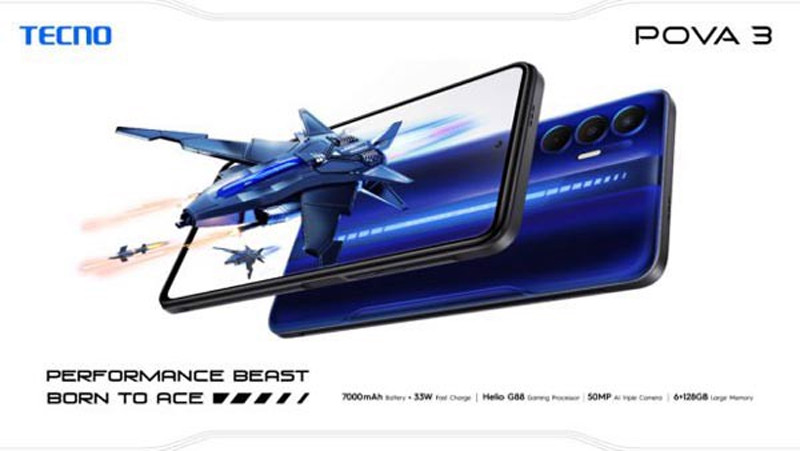 Dual speakers – more vivid sound
A special improvement of Tecno Pova 3 makes many fans excited to be equipped with dual speakers, combined with DTS audio effect, for more vivid and clearer sound.
Graphite heatsink reduces heat after games
Developed multi-layer graphite heatsink for battery case, motherboard and faceplate, covering up to 9587mm2, Pova 3 helps gamers reduce heat during tough games, maintaining warmth only from 40 degrees Celsius. Compared to the previous generation, the heat dissipation area of ​​the battery cover increased by 35%, which is considered one of the outstanding features of this new product line.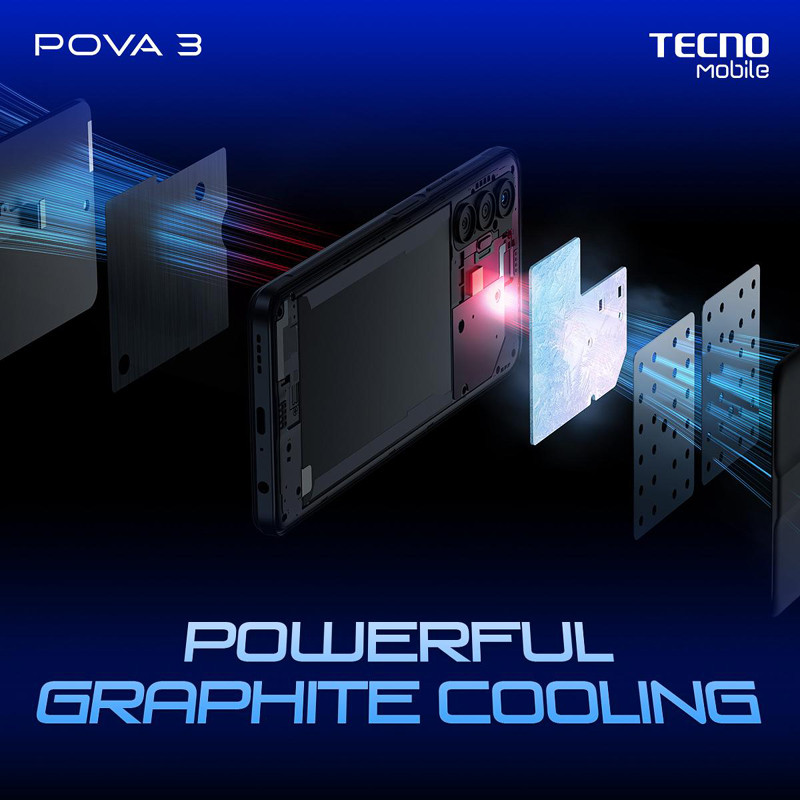 Tecno Pova 3 introduces new outstanding features with improvements from chip, battery, screen and some other parts. With such attractive parameters, the price of Pova 3 makes many Tecno-fans surprised because of Tecno's tolerance this time.
Especially from July 12 to July 14, it is opened directly at Hoang Ha's chain. Original price 4,990,000, preferential reduction of 800k to only 4,190,000 and additional BUDS 2 Bluetooth headset worth 500k.
Hunt now at: https://bit.ly/hh-tecnopova3-pr
To Uyen
.