Many southern specialty fruits are in season. Due to the distance, in addition to directly "holding hands and just working", employees of 2 Postmart and Shell floors are also instructing farmers how to create accounts and sell through Zalo, Zoom, Facebook Livestream…
From "hands-on" to taking advantage of online channels
At the time of mid-July, when approving the plan "Support to bring farming households to the e-commerce platform (e-commerce), promoting the development of the agricultural and rural digital economy", the Ministry of Information and Communications has also tasked two postal enterprises owning the e-commerce floors Postmart, Shell Vietnam Post, Viettel Post to preside over the implementation of the plan.
Currently, the plans to concretize the above plan are being implemented by 2 enterprises, focusing first on supporting agricultural production households in 19 southern provinces and cities who are distancing themselves on e-commerce floors to consume agricultural products. , specialties are coming to the harvest season such as: longan, dragon fruit, na, durian, earthen orange, purple sweet potato…
However, in the context of the distance between localities, representatives of the two businesses acknowledged that training digital skills for people, helping them get used to new business methods through the e-commerce floor is not a small challenge. .
Besides directly "hands-on", employees of e-commerce floors also take advantage of online channels to guide farmers.
The fact of supporting the consumption of agricultural products and specialties for the northern provinces affected by the epidemic such as Hai Duong, Bac Giang… on the Postmart, Seashell platforms has shown, so that farmers know how to post Signing to open a booth, write an introduction and organize sales on the floor, the most effective way to train is to go directly to the farms and gardeners to "handle the work".
However, in isolated and blocked areas, it is difficult for the staff of the two postal enterprises to meet and train directly for farmers. Therefore, instead of direct instruction in the style of "hands-on", online channels have been fully utilized in training and supporting agricultural production households to access the method of selling through the floor. E-commerce.
"The most difficult first step is to instruct people to operate on smart devices and applications. For farmers in the provinces to use smartphones as proficiently as young people, it takes some time. Although the floor's staff is far away, they always support and answer questions for people, helping them get used to smart devices as quickly as possible., Mr. Tran Trung Kien, Director of Shell E-commerce floor shared.
Specifically, in the areas that are under lockdown, all travel activities are restricted, the employees of the two e-commerce floors have organized training for agricultural production households on how to create accounts, upload products. Postmart, Seashell through online channels such as Zalo, Zoom, Facebook Livestream…
The training for agricultural production households in the southern provinces, which are isolated, is also implemented through simple and intuitive publications and documents. Thanks to that, even though they don't go directly to the garden, the employees of the two businesses can still support farmers to sell agricultural products and specialties on the floor.
Adjust the logistics flow, ensuring the optimal journey for agricultural products
Not only focusing on putting agricultural products on the e-commerce floor, both Vietnam Post and Viettel Post also invest in the transportation process, especially in the context that southern provinces and cities are social distancing, routes Both intra-provincial and inter-provincial traffic are tightened to serve disease control.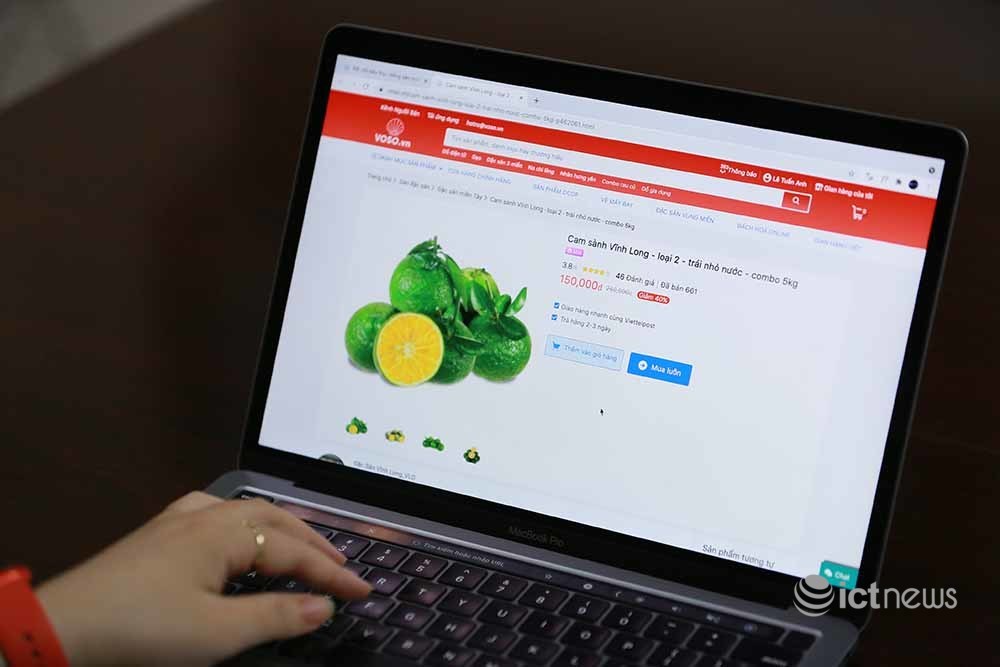 From now until the end of 2021, the two businesses are expected to bring about 2 million farmers in the South to do business on Postmart and Seashell floors.
A representative of Vietnam Post said: "Compared to the previous programs to support the consumption of agricultural products in Hai Duong and Bac Giang, this program to support 19 southern provinces and cities is different in its implementation method as well as in stabilizing prices. Our goal is to coordinate with relevant agencies and units to support people to circulate goods, increase consumption through traditional sales channels and e-commerce while keeping prices stable.".
Accordingly, in localities to tighten transportation according to the Epidemic Prevention and Control Directive, agricultural products cannot be transported far for a long time, two postal enterprises are promoting consumption in their own localities, at an average price. is fine.
Some other provinces and cities can facilitate easy transportation and are easy to store agricultural products, 2 businesses have a plan to bring agricultural products and specialties of agricultural production households to consume in many places, not ignore the widespread promotion on both e-commerce floors to be able to reach a large number of potential customers across the country.
In addition to the goal of supporting the consumption of agricultural products, the two businesses are committed to strictly complying with regulations on disease prevention when organizing activities to support farmers. "Even switching to online training and guidance for agricultural households is one of the changes to suit the current situation.", a representative of Vietnam Post shared.
The trucks carrying agricultural products of the two inter-provincial enterprises are disinfected before and after each journey, with full verification documents to be allowed to operate on the transport stream. Drivers are quickly tested for Covid-19 before working, always wear protective gear and adhere to the "5K" principle to protect the health of themselves and the community.
Van Anh

Bringing 5 million agricultural production households to 2 Postmart and Seashell floors this year
In the immediate future, two businesses, Vietnam Post and Viettel Post, will focus on promoting consumption through Postmart and Seashell floors of agricultural products and seasonal fruits with large output such as: Dong Thap longan, An Giang longan, and Na Tay longan. Ninh, Vinh Long purple sweet potato…
.