In the context that more and more localities are able to control the epidemic, relax the distance to gradually restore production and business activities, postal enterprises have come up with a more suitable goods supply scenario.
Plan to deploy in the new normal
After a period of ensuring the maintenance and operation of the supply chain of goods under the social distancing scenario, it is time for postal businesses to change when many localities have relaxed the distance, gradually entering a new phase. new normal.
Up to now, the pressure to ensure the supply of essential goods for people in social distancing provinces and cities is no longer too heavy. Therefore, Vietnam Post Corporation (Vietnam Post) and Viettel Post Corporation (Viettel Post) are gradually returning to normal operation flow. However, securing the supply chain is still one of the most important tasks of both these large postal enterprises.
General Director of Vietnam Post Chu Quang Hao said that Vietnam Post has implemented a series of solutions to ensure the circulation of goods to prevent supply chain disruptions such as adding more functions to transaction points, increasing the number of items. goods and quantity of goods supplied to people in epidemic areas.
"With the deep, close and closely related involvement with the locality, Vietnam Post has solved and achieved dual results – both supporting farmers to consume agricultural products that have difficulty in consumption, while also supporting the people who have difficulties in consumption. People have access to quality food and food through the e-commerce platform Postmart.vn and other forms of direct consumption."Mr. Chu Quang Hao shared.
Before the epidemic situation across the country is still "hot", post offices of provinces and cities are still working closely with the Departments of Information and Communications, Departments of Agriculture and Rural Development and local authorities at all levels to regularly update information provided to them. – market demand, contributing to ensuring the supply chain of goods in the localities.
A representative of Vietnam Post added: In the coming time, the unit will continue to deploy flexible solutions in the spirit of "wartime" to promptly support people and accompany the frontline against the epidemic.
The pressure on postal businesses to ensure the supply of essential goods for people in epidemic areas is no longer too heavy.
With Viettel Post, during the stressful epidemic season, businesses have implemented a series of programs to support the purchase of food and necessities for people across the country. Up to now, when many localities have entered a new phase of anti-epidemic, social distancing regulations have been relaxed, but shopping activities in large numbers still need to be strictly controlled. Many people continue to raise their vigilance and limit going out.
"In that context, we will continue to supply essential goods, diversify products so that people have more choices."Viettel Post representative confirmed.
At the same time, Viettel Post is also implementing a free warehouse rental program for large e-commerce customers from exchanges, shipping portals, online business customers, consumer goods manufacturers. , fashion goods, holiday goods…
The above preferential policy was applied by Viettel Post from September 15 to December 30 with the aim of supporting businesses and partners to promote business activities, after a period of stagnation due to the epidemic. contribute to socio-economic development in the new normal.
Gradually create online shopping habits, promote the development of the digital economy
Since mid-July, postal enterprises, especially two large enterprises Vietnam Post and Viettel Post, have always played an important role in ensuring the supply chain of essential goods for provinces and cities. social distance according to Directives 15 and 16 of the Prime Minister.
According to data of Vietnam Post and Viettel Post, after more than 2 months of implementation with many times of flexible operation flow changes, these two units have sold more than 100,000 tons of goods through direct sales channels at post offices. Department, Commune Culture Post Office; through 2 e-commerce platforms Postmart, Seashell and order via hotline number.
Especially, during the period of social distancing, people were asked to limit going out, shopping through e-commerce platforms has become a breakthrough solution. This goods supply channel helps to limit direct contact, ensure compliance with epidemic prevention regulations, but still fully meet the needs of people in epidemic areas.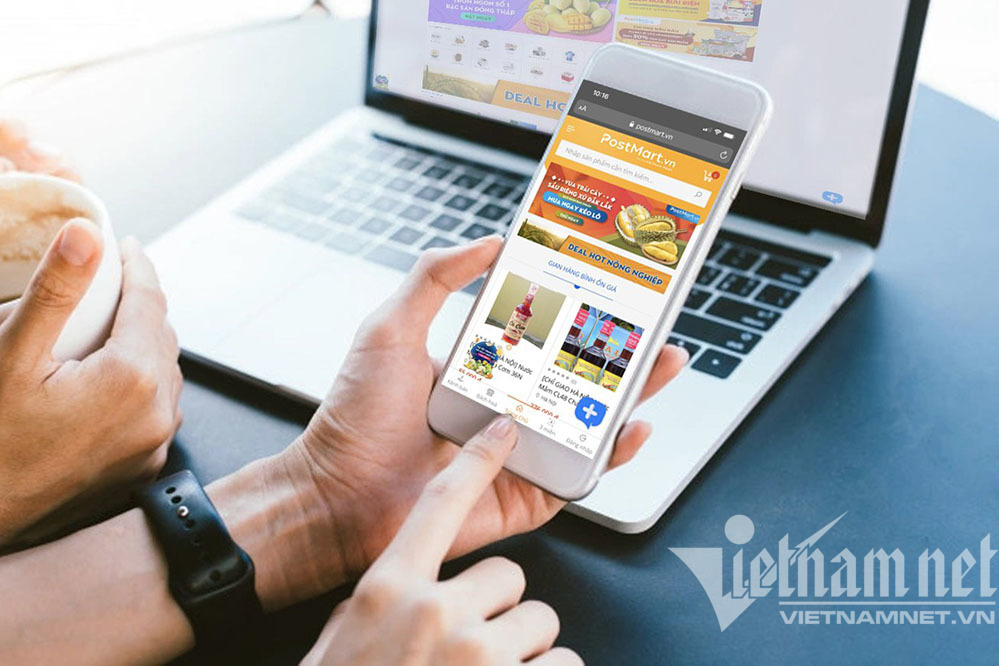 The number of orders on Postmart and Sea Shell both increased sharply compared to the period before the provinces and cities were social distancing.
E-commerce platforms Postmart, Seashell have offered many preferential programs, combining convenient combos, online payment policies… in the past time have been gradually building up the habit of local people. used to buy new.
For postal businesses, the results from the online goods supply channel are very positive, receiving many positive feedbacks from consumers.
Specifically, nearly 25,000 items have been put up for sale on Vietnam Post's Postmart floor. The total number of orders provided by Postmart to people in epidemic areas is 115,000, equivalent to more than 600 tons of goods. Meanwhile, Seashell floor also recorded more than 150,000 orders, equivalent to 810 tons of goods.
Mr. Dinh Thanh Son, Deputy General Director of Viettel Post, said that the number of applications on the Seashell floor has increased 3 times compared to the period before social distancing. This is a sign that people are basically getting used to the method of shopping for necessities in the digital environment.
Along with increased demand, the supply of fresh food and agricultural products is also abundantly replenished, agricultural production households are also more active in putting products on e-commerce platforms.
It can be said that the popularization of e-commerce platforms not only plays an important role in epidemic prevention but also contributes to promoting the process of national digital transformation, building a promising digital agricultural economy. Future"Mr. Dinh Thanh Son said.
Van Anh

Seashells, Postmart have supported the consumption of nearly 1,200 tons of agricultural products for the southern provinces
In the last fortnight, two e-commerce platforms of postal enterprises have supported the consumption of 1,181 tons of agricultural products by agricultural households in 19 southern provinces and cities that are undergoing social distancing.
.