Workers in Asian countries seem to be adapting well to the situation of having to work remotely. However, there are many concerns about the lack of boundaries between life and work.
Remote working is just a small change for Asians
The survey of the "Remote Work Readiness" (RWR) Index shows that the Covid-19 pandemic has completely changed the way we work when the factors of place and time are no longer available. binding. In that context, working remotely or combining both at home and office is gradually becoming a new reality.
The Dell Technologies study collects data on the telework readiness of 7,000 workers in 7 countries in the Asia-Pacific region including Japan, Australia, India, Indonesia, Malaysia, Singapore and Korea.
Working online based on online platforms is becoming more and more popular with the people of Asia. Photo: Trong Dat
The results showed that, before the Covid-19 epidemic, working from a distance was not too unfamiliar to Japanese people. 72% of the Japanese surveyed said they worked remotely to some extent before measures to control pandemic were taken. It's worth noting that, on average, Japanese people spend at least 3.7 days a month working remotely.
However, Japan is not the only country where teleworking is popular. In fact, this country only occupies the 3rd place in the proportion of people who have worked remotely, lower than India (85%) and Indonesia (75%).
Out of a total of 7 countries surveyed, it is noteworthy that Singapore is the country with the lowest proportion of people who have ever been exposed to remote activities. Before Covid-19, only 40% of Singaporeans reported having experienced working remotely. Of course, this result only partially reflects the problem based on the data that the survey has collected.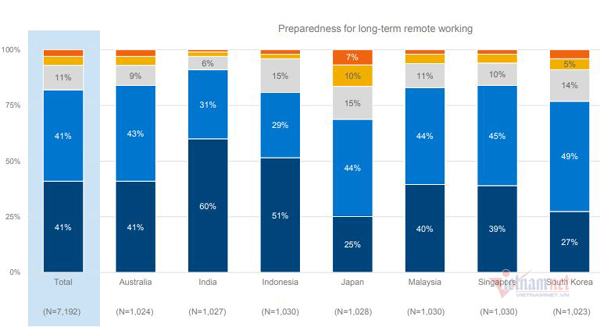 Workers' willingness in Asian countries to work remotely has become a regular activity. Notes: Dark blue (very ready), light green (slightly ready), gray (no opinion), light orange (not ready), dark orange (very not ready)
Sharing about the factors affecting the remote working process, fixed working hours and time spent with individuals is the thing that many workers are most interested in (accounting for 38% of respondents). The second most important factor is the stability of the Internet connection during remote work.
Other factors workers mentioned are equipment, access to work resources, ability to work in groups, security, training support for remote self-employment, and similar capabilities. Collaborate with colleagues.
Half of the workers surveyed also said they felt their company's leaders did everything to provide them with the resources they needed during telework. However, in Korea and Japan, there are quite a few people who say that their agency does nothing or does not know what to do to support staff.
What do workers fear the most when working from a distance?
Without taking into account factors related to operational processes such as working hours, the three biggest technological challenges facing teleworkers are the stability of the Internet, access to power. Internal resources and personal support tools to increase productivity.
According to a survey by Dell Technologies, 44% of respondents in Malaysia and 41% in Indonesia said that their country's Internet quality is a barrier in their working process. Singaporeans have more internal resource access problems than in other countries. Meanwhile, 28% of Japanese need tools to help support personal productivity.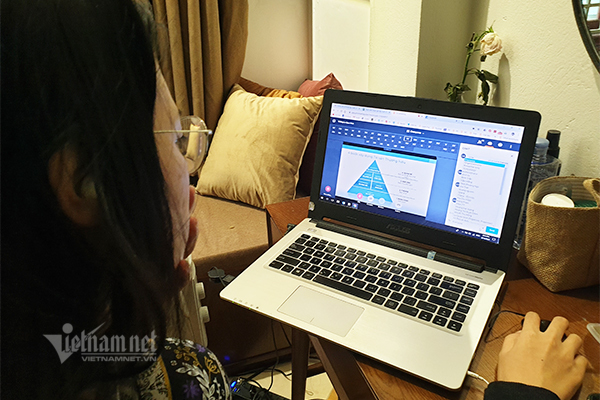 What many Asians worry about is that teleworking fears the lines between their lives and their work blurring. Photo: Trong Dat
The statistical results also showed that, after the Covid-19 pandemic, 8 out of 10 respondents (82%) thought that they were ready to work remotely for long-term. 11% have no comments and only the remaining 7% said they are not ready to continue this working condition.
Notably, Japan is the country with the most people who feel unwilling to work remotely (17%). Right next to Japan is Korea with about 9% of respondents feel not ready.
In general, most workers in post-pandemic Asia are accustomed to working remotely. However, these people also expressed concern as the line between work and personal life is blurring.
Up to 34% of respondents fear that during remote work, their lives will be affected by agency leaders losing the concept of office hours. Once again, people in Japan, Korea and Singapore expressed the strongest concern over this issue.
It can be seen that the survey has brought new perspectives that Vietnamese businesses can refer to in grasping employee psychology and adapting to the new post-pandemic working situation.
Trong Dat

The 'tech giant' faces great challenges when employees work from home
The outbreak of the Covid-19 epidemic caused many businesses to allow employees to work from home for a long time or even permanently. But this also becomes a big challenge when they need to ensure work progress.
.