In case of needing food, food and medical help, people can broadcast notifications on the app for people around to come for help.
Since the beginning of August, people in Ho Chi Minh City and many southern provinces have experienced the Zalo Connect pandemic help platform. This is one of many technology platforms being managed by the National Center for Technology for Covid-19 Prevention and Control.
Most of today's technology platforms are directly serving the prevention and control of the Covid-19 epidemic. Bluezone has the effect of medical declaration, tracking support, electronic health book to manage vaccination information, VHD to manage people isolated at home, but the role of Zalo Connect is completely different.
Zalo Connect is a platform that connects people, helps people in need raise their voices and helps philanthropists reach out to people in need. After being deployed in the southern provinces for a while, the platform is now available in Hanoi.
When needing food, food and medical help, people can broadcast notifications on the app for people around to come for help. Photo: Trong Dat
Accordingly, in case of needing help, users can find Zalo Connect at the top of the Zalo application's Log page. In the next step, they need to allow the app to access the device's location. Next, people can easily seek emergency help from the community with food, medicine, necessities or quickly connect with doctors and medical experts for remote medical advice. .
When sending out a request for help, the information will be shared and updated on the map system so that the caller can receive help from the community. People around the living area of ​​people in need or organizations and volunteer groups can see the message "need help" and support.
For individuals and charities, they can also go to the "I want to help" section on Zalo Connect to quickly detect difficult cases in the area near where they live. The platform will now return a list or map of cases that need help around with full personal information, address and status.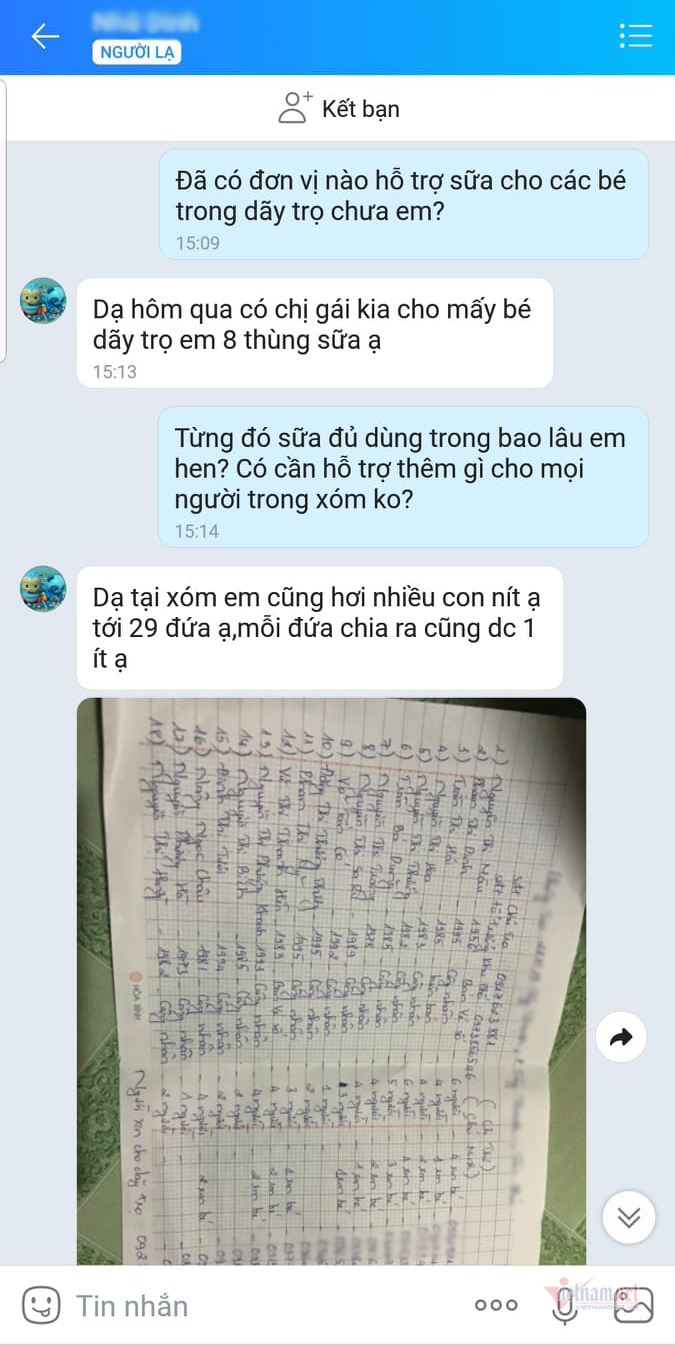 One case received relief thanks to the Zalo Connect platform. When the person in need of help broadcasts a signal, the benefactors using Zalo Connect around there will know the information to seek help.
According to Mr. Doan Quoc Anh, project leader of Zalo Connect, up to 93% of people's requests for support over the past time are related to food issues. In addition, 24% of requests mentioned necessities, 8% needed medicine and 7% needed medical advice.
Since its launch, more than 130,000 relief requests have been sent to Zalo's platform. That shows, Zalo Connect is a very practical tool to support people in difficulty in the context of the spreading Covid-19 epidemic. This platform is currently being updated to maximize support for people in need.
With the presence in Hanoi, the Zalo Connect relief platform has been deployed in 5 provinces and cities across the country including Hanoi, Ho Chi Minh City, Long An, Dong Nai and Binh Duong. According to the developer, this platform will continue to be expanded to localities that are implementing social distancing in accordance with Directive 16.
Trong Dat

The person in need and the benefactor can already find each other using the app
This is one of the important technology platforms being deployed to support and help people in the context of the spreading Covid-19 pandemic.
.