The impressive growth of Vsmart – Vietnamese mobile phone products – becomes an important "hot spot" in the Vietnamese smartphone market in 2020.
Mid-range and affordable prices are still the focus markets
Despite the constant rise in flagship prices and more and more companies releasing more expensive phones above $ 1,000, the domestic market remains mid-range and low-priced.
The popular price segment under 3 million VND accounts for nearly 30% of the market share, while if calculated from 5 million VND or less, it will reach 70% market share. In the segment under 3 million VND, no smartphone company has a good market share like Vsmart with a variety of options such as Bee, Star, Joy … with the best configuration compared to the price range.
It is also thanks to the correct determination of the real needs of the majority of Vietnamese for good quality smartphones at affordable prices, so Vsmart has quickly dominated the market, becoming the top choice in this segment.
Phones with hidden cameras are officially on the shelves
In the same month 9/2020, the world technology village witnessed almost simultaneously the "shelves" event of the first two smartphones with hidden cameras under the screen (CUD) launched: Vsmart Aris Pro and ZTE Axon 20 5G.
Previously, a number of big companies tested and released a concept of hidden camera phones to complete the flawless screen, but for commercialization in Vietnam, only VinSmart.
Vsmart Aris stands out with a luxurious metal frame design, the world's first glass back and hidden camera.
Vsmart Aris Pro is more appreciated thanks to Vcam Kristal technology using AI developed by Vingroup's Artificial Intelligence Institute, bringing image quality through hidden cameras almost normal. The successful development and application of CUD technology into Vsmart Aris Pro has helped VinSmart's name stand up in the international market. Some leading technology newspapers in the world have jerked the title "excellent" to talk about Vietnamese phone company with this event.
Fair competition in market share
Covid -19 strongly influenced the global smartphone industry. But it is also a test of the manufacturing, manufacturing and adaptive capacity of the business. Samsung, after a tough period, regained the No. 1 spot and will continue to maintain this position globally in 2020.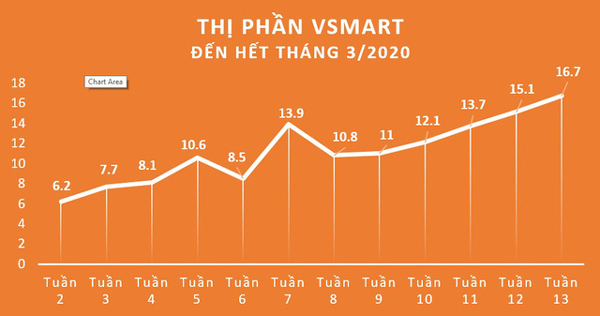 After 7 consecutive weeks of double-digit growth, VinSmart's Vsmart phone has officially reached 16.7% market share.
In the Vietnamese market, the two leading positions still belong to Samsung and OPPO. But the third place is the fair competition between Vietnamese brands and foreign giants.
In the first period of 2020, VinSmart won the third position with an extremely convincing market share up to 16.7% (the first time after many years to have a company standing in this position with a two-digit market share. ). It is almost certain that the Vietnamese brand will end 2020 with third place, a feat for any phone company that is only 2 years old.
Raising smartphone security
Smartphones are increasingly being optimized to perform financial transactions and contain a lot of important information and data from users. Therefore, companies are focusing many security technologies for smartphones. This technology consists of many different layers. The outer layer is the physical security with under-screen fingerprints, facial recognition … But the inner layer is much more important because stolen data is mainly concentrated inside.
Therefore, the race for internal security technology is very hot. As for Vsmart Aris, Aris Pro uses technology with Quantum QRNG quantum security chip, strong authentication key FIDO2. With Quantis QRNG security chip, real random numbers using quantum computing technology will greatly increase security compared to traditional "pseudo-random" numbers. The representative of Vinsmart affirmed that the risk of being "hacked" when used on smartphones will be minimized.
Minh Tuan
.