Spam messages are coming back
Recently, many mobile users in Vietnam have continuously reported that they often receive spam messages with objectionable content.
Sharing with PV VietNamNet, Mr. Duc Duong (Hai Ba Trung, Hanoi) said that telecommunications spam messages are no longer available, but he often receives spam messages through the iMessage feature on his phone. Iphone.
"The iMessage messages that I receive have different content, most are introducing sportsbooks, card games, and lotteries," Duong said.
Not only on iMessage, spam messages also appear on many other OTT messaging applications such as Zalo, Viber and even some e-commerce applications that have the function of sending messages.
According to Ms. Ha Van (Cau Giay, Hanoi): "In the past, I only received advertising messages on iMess, but now even when using a messaging application that is said to have high security like Viber, I also received spam messages.
Since the Department of Telecommunications (Ministry of Information and Communications) strongly intervened, the situation of telecommunications spam messages has decreased significantly. However, objects are now gradually turning to a more sophisticated mode of operation, which is advertising messaging through online messaging applications.
PV VietNamNet's record shows that, in addition to spam messages advertising normal products and services, many OTT spam messages now contain advertising content that is not allowed by law, related to online gambling. online and phishing messages.
OTT spam war: It won't be easy
Many people confuse iMessage messages with messages from telecommunications service providers, but the two types of messages are completely different.
These are essentially OTT messages. As long as you have an Apple ID account and an iPhone or iPad, anyone can send these messages to other users' Apple ID addresses.
Spam objects often use a trick to find a user's Apple ID at random by name through an algorithm. When sending a message file in bulk, there will be addresses that match the user's Apple ID.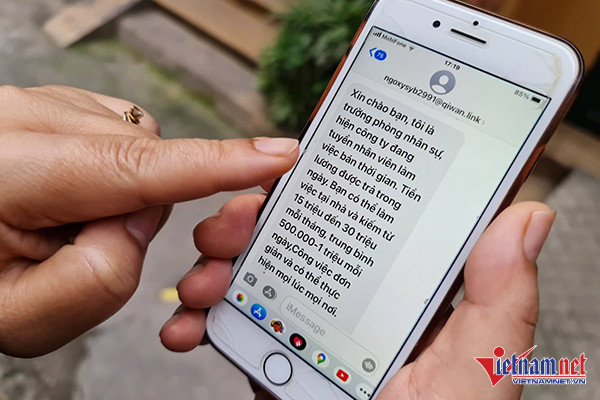 When VietNamNet discussed this issue with a representative of a network operator, this person said that technically, the network operator cannot affect OTT spam messages.
"For carriers, OTT messages are just a data packet. Therefore, it is not possible to know specifically what the content is in order to be able to block the filter", a representative of a network operator shared.
According to this person, to block OTT spam messages is not without a way. The best way is that users can report themselves (report – PV) to OTT messaging service providers every time they receive spam messages so that they can take measures to block their accounts from spreading.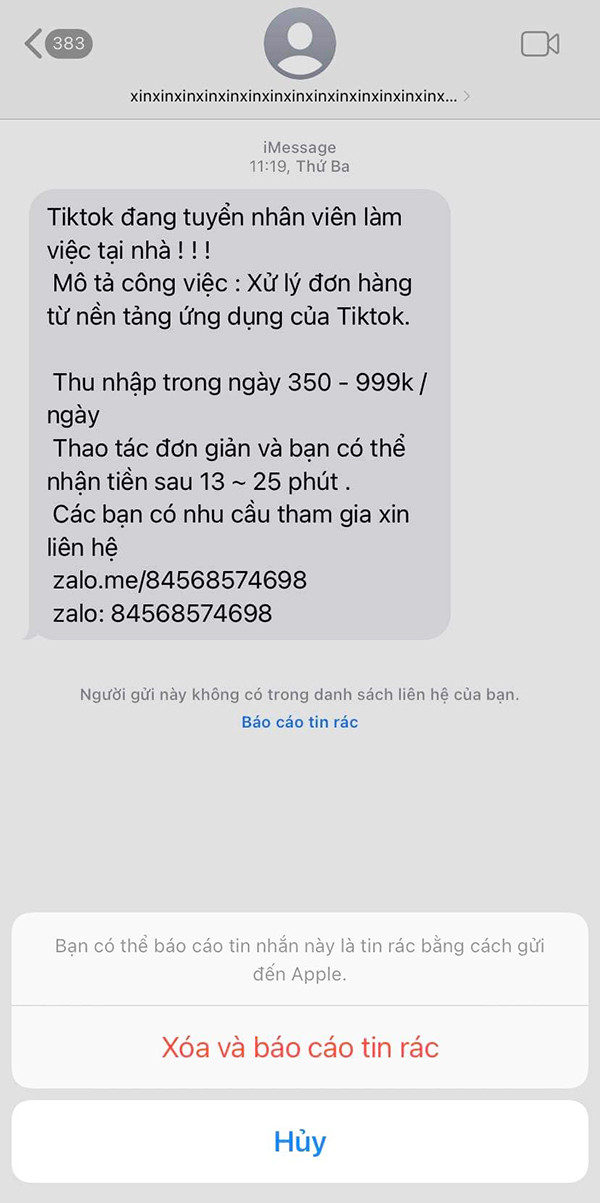 Feedback from users is the most important data so that service providers can find out the exact source of spam messages and handle them. This is similar to the way that carriers are currently doing to find the exact source of telecommunications spam messages.
In fact, the features of reporting spam messages on OTT applications have been around for a long time, but not all users know how to use them. Besides, many cases after users report, the spreader changes to another account to escape the filtering block.
Sharing with VietNamNet, a representative of a telecommunications network in Vietnam said that in order to fight OTT spam messages to be effective, the most necessary thing is the participation of OTT messaging service providers themselves. These are the units that have the theoretical ability to intervene to handle spam messages on their platforms.
Trong Dat
.