CMC Kubernetes Engine – the solution that provides the container orchestration platform of CMC Telecom, helping businesses simplify the application development process, unify technology, modernize infrastructure and accelerate the transformation journey number.
State-of-the-art "technological weapons" for businesses
To increase competitive advantage, enterprises need to be proactive, seize the opportunity with a powerful technology system, market quickly with high efficiency and flexibility. This system must always ensure availability to meet 24/7 access requirements to satisfy user experience. CMC Kubernetes is a state-of-the-art "technological weapon" that helps businesses balance their business and operational needs and the quality of services they offer to the market.
CMC Kubernetes Engine (CMC K8s) is a container orchestration platform built and deployed by technology engineers of CMC Telecom on CMC Public Cloud infrastructure.
CMC K8s is based on Google's powerful open source platform, allowing developers to reduce the burden of providing application infrastructure, operating system licensing, or development tools, and time, focusing on the core of the application.
System Architecture of CMC Kubernetes Engine Architecture
Launched not long ago, CMC K8s has quickly scored in the software industry and professional IT community because of its high security, reliability and flexible scale.
CMC K8s provides a complete virtualization environment that enables development, testing, and automation of containerized application management, scaling, and deployment.
CMC K8s owns standardized technology and quality optimization features to quickly deploy from application to database such as: Flexible configuration options; Support container applications, microservices; Automatically scale the system according to demand; Easily initialize K8s Clusters with just a few mouse clicks; Upgrading applications with no downtime; Provides independent and long-term storage with high read/write performance; Overall monitoring from infrastructure to platform…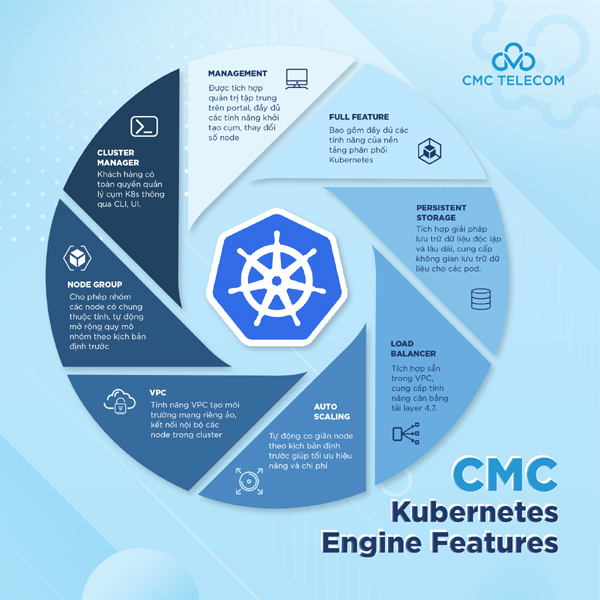 Features of CMC Kubernetes Engine
3 most typical use cases of CMC K8s
Cluster Auto Scaling: The number of nodes can be adjusted automatically up or down based on policy configurations such as scheduling or recurring. CMC K8s provides multiple scaling policies and containers are cloned in seconds when conditions are met. Besides, the system also automatically detects and replaces the bad pods with new ones in the pod group configured with auto scaling policy.
Devops Delivery: CMC Kubernetes can work with continuous integration (CI), continuous delivery (CD) and flexible task scheduling with containerized applications.
Hybrid Cloud: Applications and data are seamlessly connected between the two systems on CMC Cloud and other Public Cloud. This is done through independent, networked container environments between the CMC Cloud and the Public Cloud.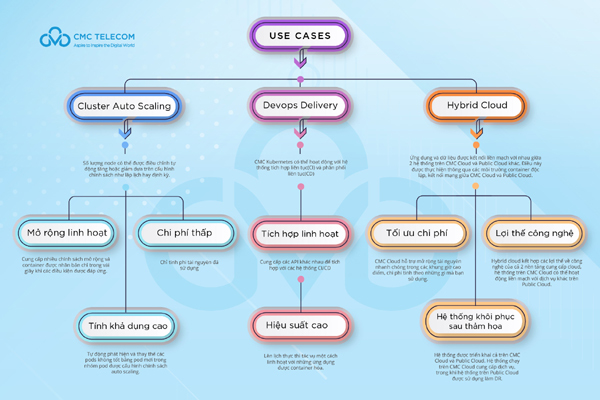 Use cases of CMC Kubernetes Engine
One of the differences that makes CMC K8s considered the most preeminent container orchestration platform today is that it is built on a modern cloud computing platform, operating in CMC Telecom's Uptime Tier III Data Center. following a multi-layer security model that complies with PCI-DSS, ISO 9001:2001 and ISO 27001 standards.
CMC Telecom's K8s will eliminate previous manual processes, helping users automate operations; perform multiple container actions to speed up application development efficiently, securely, and with minimal error.
Moreover, owning direct connections (Direct Connect) to the world's leading Public Clouds such as AWS, Google and Microsoft will help CMC Telecom's customers optimize data transfer costs and avoid encountering problems. connection risk.
CMC Telecom is the only Vietnamese telecommunications infrastructure enterprise with foreign shareholders, TIME dotCom group, TOP 2 telecommunications group in Malaysia. CMC Telecom's CMC Cloud multi-cloud platform is the only Cloud platform in Vietnam that connects directly with AWS, Microsoft and Google. Recently, CMC Cloud was awarded the Top 3 Typical Digital Platform award in the SMEdx program – a program to support small and medium enterprises in digital transformation launched by the Department of Informatization, Ministry of Information and Communications.
Thuy Ngan
.