At 8:00 am on August 7, 2021, CMC Telecom, Trade Promotion Agency and OnlineCRM and partners Stringee and Sales Bot will organize a Webinar with the theme "Digital Transformation Practices for Sales and Marketing" to help businesses understand The most complete correct about argument passing.
The conference is held completely free of charge on the Zoom platform and broadcast live on the fanpage of CMC Telecom, Trade Promotion Agency, OnlineCRM and partners.
Webinar "Practice Digital Transformation for Sales and Marketing" co-organized by CMC Telecom and partners
Digital transformation in marketing and for sales is completely different from digital transformation in other fields because the object of influence is customers – who always want to receive the best service from businesses. Especially in a time when all businesses are struggling to fight the epidemic, the race for digital transformation in sales and marketing becomes more fierce than ever, and who will quickly win a great advantage to expand the market. as well as increase the number of customers.
During the transformation process, businesses have faced many different barriers and challenges including developing a development strategy, choosing the optimal digital solution or finding a trusted mentor…
The webinar "Digital Transformation Practices for Sales and Marketing" will help businesses understand the most correctly and fully about argument conversion, knowing why their businesses have spent a lot of time and money on digital transformation but still not successful. In particular, the content of the seminar was built not only about thinking but also focused more on practical factors – an important factor that helps businesses get started right away.
Nguyen Thi Minh Thuy is the Director of the Information Technology Application Center for Trade Promotion (INTEC) under the Vietnam Trade Promotion Agency, with 16 years of experience in trade promotion, export development and management of official development assistance (ODA) projects.
On the side of CMC Telecom, there was the participation of Mr. Bui Hoang Anh – Director of the SME Center with more than 10 years of experience in consulting SME customers for digital transformation, directly supporting the implementation of solutions for many businesses such as: : BIDV, HSBC, VN Pay, Samsung, P&G, Onemouth Group,….
In addition, Mr. Bui Cao Hoc – CEO & Founder of OnlineCRM with more than 12 years of experience in consulting and implementing CRM also participated as a speaker.
Besides, the seminar also had the presence of Mr. Dinh Trung Thanh – Marketing Director of Sales Bot with more than 6 years of experience in consulting and implementing Digital Marketing for SME.
Ms. Nguyen Thi Hoai – Sales Director of Stringee also participated in the seminar. She has consulted on customer care solutions for many businesses with diverse types and fields from insurance, banking, finance, logistics, healthcare to fashion.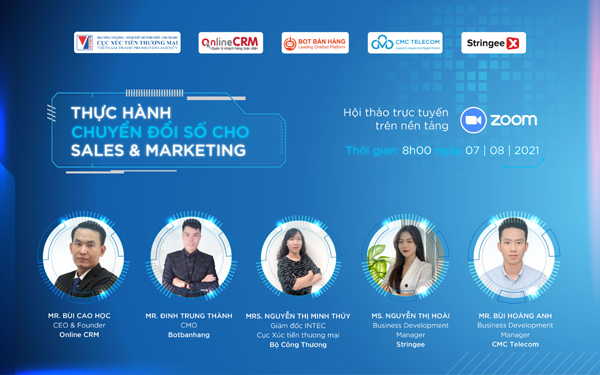 Speakers participated in the Webinar with the topic "Digital Transformation Practices for Sales and Marketing"
The webinar "Digital Transformation Practices for Sales and Marketing" will be an opportunity for C-Level managers to learn and build a digital transformation roadmap methodically, business owners who want to improve, upgrade and optimize the current system or the sales and marketing team want to know more about the application of digital transformation to current work.
Link to register to participate HERE
Contact information: Ms Linh: 0968.1111.98
CMC Telecom is a member of CMC Technology Group with 28 years of development. In 2019, Samsung Group owned 30% of shares of CMC and together with CMC reached a technology corporation providing professional and high-class digital transformation services.
Thuy Ngan
.