The price has skyrocketed in the past 7 days, Solana's total market capitalization is now more than 36 billion USD, reaching the top 7 most valuable "virtual currencies" in the world.
In the past few days, Solana (SOL) is the project with the strongest growth in the cryptocurrency market. This "virtual currency" has just set a new high at 130 USD.
Born in 2017 by founder Anatoly Yakovenko, Solana is a Blockchain network similar to Bitcoin, Ethereum and several other blockchain networks. As a later Blockchain network, Solana has made a lot of improvements and solved the problem of speed and transaction fees that previous Blockchain networks were facing.
Solana's strongest point is that the network supports up to 50,000 transactions per second. This speed is much faster than Bitcoin (7 transactions / sec) and Ethereum (15 transactions / sec). Solana's total transactions per second is comparable to VISA – one of the most popular payment systems in the world.
Comparison table of basic indicators between Solana and some popular Blockchain networks today.
In terms of transaction fees, each transaction on Solana's Blockchain network currently costs only about $0.00001, much cheaper than Binance Smart Chain ($0.01) or Ethereum. Solana's ecosystem of products and applications is also increasingly diversified by the presence of many new projects.
According to Coinmarketcap statistics, at the moment, each SOL coin is currently priced at 123 USD. With a growth of up to 65% in value in the past 7 days, Solana is in the top 5 cryptocurrencies with the highest growth.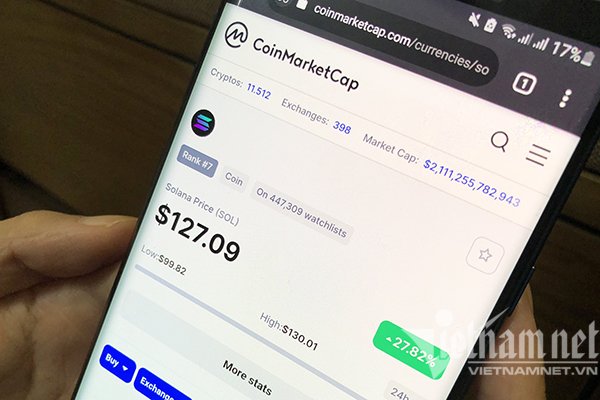 Solana's price has increased 130 times in the past 9 months alone. Photo: Trong Dat
It is worth noting that less than a year ago, in December 2020, the price of Solana was only about 1 USD. Thus, after only 9 months, the price of this "virtual currency" has increased 130 times. This is an extremely rare growth, even in the crypto market
Currently, Solana's total market capitalization is about 36.2 billion USD, ranking 7th out of the 100 largest projects in the cryptocurrency market.
With its advantages, Solana is emerging as a new Blockchain platform that competes directly with those of Ethereum, Polygon or Polkadot. That is also the reason that in recent times, capital flows in the cryptocurrency market are directed to projects belonging to the Solana ecosystem. Along with this, many investors got rich quickly thanks to the crypto craze.
Trong Dat

After Axie Infinity, the world of "virtual money" is feverish because of the money-making game Simba Empire
Although it has only been released for a very short time, the game Simba Empire has attracted great attention when owning a diluted valuation of more than $ 36 million.
.