The Apple CEO said he has been interested in cryptocurrencies for a long time and even holds a portion of the assets in the form of cryptocurrencies.
Recently, The NewYork Times held an online chat with Tim Cook to discuss the next directions of Apple in particular and the Internet world in general.
In this conversation, a lot of people were surprised when the CEO of Apple first admitted to being a crypto investor.
In response to the host's questions about whether Tim Cook owns Bitcoin or Ethereum, the Apple CEO said he has been interested in the topic for a while and also has a certain amount of research into cryptocurrencies. chemical.
Tim Cook suddenly revealed that he is a fan of cryptocurrencies.
Notably, the Apple CEO thinks it makes sense for someone to own crypto as part of an investment portfolio. However, Tim Cook said he himself does not give investment advice to anyone. He also did not disclose the cryptocurrency he is holding.
While acknowledging himself as a cryptocurrency investor, Tim Cook remains cautious, saying this is a personal decision. The CEO of Apple denied that the company could invest the cash that Apple is holding into the cryptocurrency market.
Tim Cook says that Apple has no plans to allow users to use cryptocurrency to buy company products in the near future. The Apple CEO implicitly hinted that Apple is definitely considering some other plan when it comes to cryptocurrencies. Even so, he did not share any specific plans.
As for another hot topic, NFT (Non-fungible token), Tim Cook said he feels this is a very interesting product. But it will take some time for the NFT to develop in a way that is common to the average person.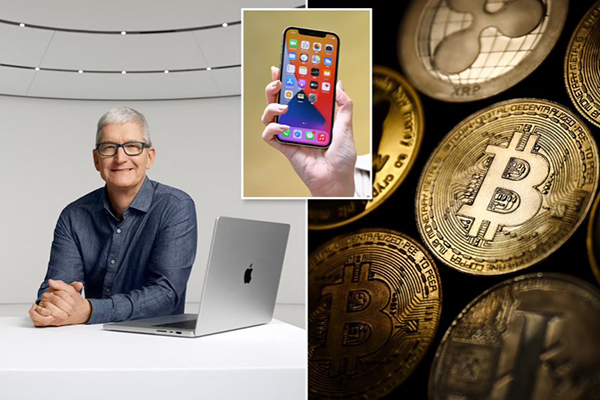 In the near future, Apple will not accept the purchase of iPhone, MacBook with cryptocurrency. However, CEO Tim Cook also hinted about a certain plan of Apple with cryptocurrency.
It is quite interesting that just hours before this exchange, Bitcoin – the world's most popular cryptocurrency broke its peak and recorded its highest price in history. Bitcoin's record price is currently $68,500, more than double what it was at the beginning of 2021.
It is a fact that the world's view of Bitcoin and other cryptocurrencies has changed drastically over the past few years. Unlike previous retail investors, Bitcoin investors now include politicians, billionaires, financial investment funds and even banks.
El-Savador recently became the first country in the world to accept Bitcoin. After El-Savador, many countries in Latin America such as Paraguay, Venezuela, Argentina and even Mexico in North America are also considering legalizing this digital asset.
For Vietnam, in July this year, the Prime Minister assigned the State Bank to lead the study and pilot of a virtual currency based on blockchain technology with the implementation period from 2021 to 2023.
Trong Dat

Buy Bitcoin with 10 times profit and send it to the bank, investors are happy to appear
According to one Bitcoin investor, with the purchase at $35,000 in July, if he took profits now, the amount of money he would earn would be many times higher than depositing interest in the bank.
.