In order to access the system of specific banking applications without risk of security when working remotely, CMC Telecom provides a virtualization solution for workstations with high security, especially deployed in just 1 hour. day.
VDI – Virtualization of Workstation Infrastructure: Trends of Banks
In the process of modernizing core banking platforms and expanding the bank's business network, IT system administrators may encounter difficulties in operating a network with many computers, and at the same time must ensure data security, management and recovery of lost data, meet deployment time, expand storage capacity… The transition to a virtual workstation system and replacement of computers Personal PC thanks to the virtualization solution of workstation infrastructure – VDI will be the "solution" for the above problems.
VDI (Virtual Desktop Infrastructure) is a solution to store and manage workstation operating systems on a centralized server infrastructure. VDI helps banks improve the flexibility of their IT systems, cut investment costs, and can especially quickly troubleshoot problems, keep data safe and improve business efficiency.
A representative of CMC Telecom said that along with the trend of cloud computing, some banks have pioneered VDI solutions in their information systems and brought great success.
CMC Telecom is a reliable partner to deploy VDI solutions for banks
CMC Telecom – A leading provider of VDI . solutions
Recently, CMC Telecom has provided CMC VDI system to a number of banks with many branches nationwide in just 1 day. Accordingly, the number of virtual computers allocated in the system can increase or decrease immediately.
CMC Telecom, with expertise and experience in solving many "technology problems" for banks in Vietnam, is one of the leading telecommunications providers with a highly qualified and certified technical team. international … is a reliable "companion" in the process of digital transformation of the banking industry.
Mr. Le Anh Vu – CIO CMC Telecom shared: "The provision of IT system with CMC VDI service will happen quickly and stop the service as soon as customers no longer need to use it. This is also a feature that banks, as well as many businesses, are very interested in, in addition to ensuring the security of data."
In addition, with VDI, data on users' workstations is located right at the Data Center, instead of scattered and on the local storage system – which is inherently risky and difficult to control for administrators. CMC Telecom owns 3 neutral Data Centers with Tier III standards in Hanoi and Ho Chi Minh City, which will help reduce risks and problems with the bank's operating system.
Working remotely is no longer a problem
As a technology company with strength in security, CMC Telecom provides effective remote working solutions that both ensure safety and save costs when working remotely.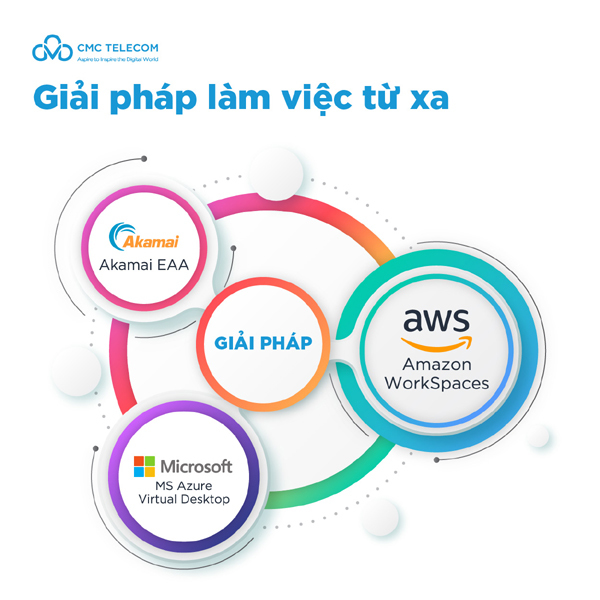 Currently, CMC Telecom provides 3 solutions to help banks work remotely effectively and with high security
Akamai EAA – Enterprise Application Access
Akamai offers an EAA solution that helps banks no longer have to worry about data security when working remotely.
Mr. Le Anh Vu added: "CMC Telecom is Akamai's only strategic partner in Vietnam. Together with Akamai, we can accompany financial institutions and banks in data security, because this is a "vital" issue for businesses in the digital transformation process.
Amazon WorkSpaces – continuous virtualization of computing in the cloud
Amazon WorkSpaces helps banks provide employees with fully functional Windows and Linux desktops in minutes; while increasing security by not storing data on end-user devices, increasing reliability with the power of the AWS cloud.
MS Azure Virtual Desktop – desktop virtualization service
MS Azure Virtual Desktop allows banks to centralize computing resources to reduce IT costs, while improving technology efficiency, to better meet bank requirements.
Thuy Ngan
.