In addition to upgrading a series of new features, in the future, MyTV will focus on creating new products, enhancing the ability to produce unique and exclusive content.
MyTV: Television in your hand
VNPT's MyTV television service (Vietnam Posts and Telecommunications Group) launched in September 2009 and is the first IPTV interactive television service in Vietnam. With the slogan "It's time for TV to depend on you", with just one terminal, customers can use a variety of services from old TVs, smart TVs to tablets or smartphones. intelligence.
MyTV is the first television service in Vietnam to provide HD, 4K quality content with multi-screen interactive features that allow viewers to enjoy all their favorite content anytime, anywhere. In a certain angle, MyTV has changed the entertainment method of Vietnamese families.
As of October 2020, MyTV television service has been provided to customers on most of the most popular multimedia entertainment platforms today such as: applications on smart TV (MyTV B2C), applications on Mobile phone / tablet (MyTV for Smartphone), an application integrated on Android Box device turns ordinary television into smart TV (MyTV Box 2020).
Along with developing on multiple platforms, registration for installation and payment is also more convenient. Traditional MyTV customers need to install VNPT's Internet Fiber VNN or use one of VNPT's integrated Home packages (including MyTV TV – Internet Fiber VNN – 4G Vinaphone data) with economic package rates for everyone. to use MyTV service on TV.
In addition, customers using any Wifi / 3G-4G network of carriers in Vietnam can also have entertainment with the MyTV application on mobile phones / tablets.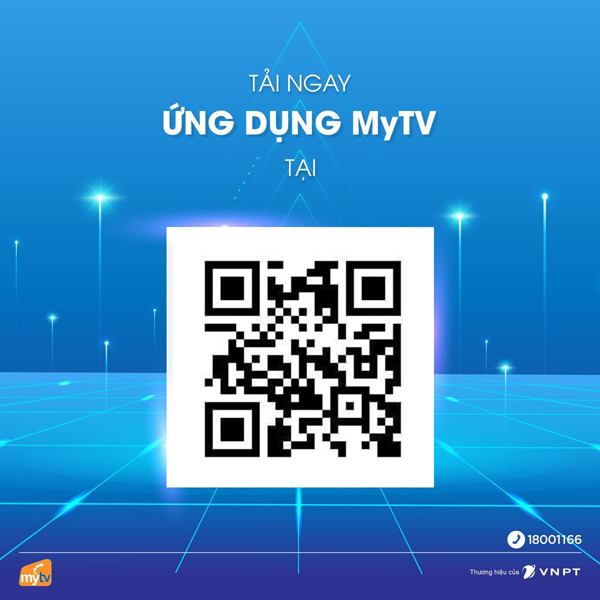 Scan Qr Code to download MyTV application on mobile phone and experience the basic package for free
Launched many new features
MyTV Multiscreen is a multi-screen feature for MyTV service, allowing customers using MyTV service on a decoder (Set-top-Box) or on a smart TV (SmartTV) to register and use services. service on mobile devices (Smartphone / Tablet) with Internet connection, including unlimited Internet infrastructure, wifi, 3G, 4G network of operators in Vietnam.
Remote Controller is a feature of the remote control. This feature allows integrating TV remote control on your smartphone to control using MyTV TV service, not only like a traditional remote but also more responsive, controlling TV at a further range …
MyTV is also leading the market segment with nearly 200 domestic and international TV channels. MyTV's cooperation with many domestic and foreign partners such as LionsGate, MGM, Sony Pictures, iQiYi, Qnet, VTV Cab, Danet, K + … allows customers to watch thousands of movies, many 4K VOD content for free with High Quality.
Not only that, MyTV also invested in the copyright to broadcast live many sports tournaments such as: NBA, FA Cup, World Cup, US Open, Copa America … and many international sports tournaments from service providers. like: Premier League. , Champions League, Europa League, Bundesliga, La Liga, Nation League …
In the future, MyTV will focus on creating new products and enhancing its ability to produce unique and exclusive content, said the representative of VNPT. And in particular, MyTV will develop a complete application ecosystem for its customers; is the key provider for digital services of VNPT Group; and become an open platform for content distribution (MyTV hub); at the same time bringing the most modern technologies to MyTV such as AI, VR, AR … to increase user experience and provide the smartest service for customers.
To subscribe to MyTV service on TV, customers can choose to register / install prepaid on SmartTV or register / install postpaid service with MyTV Box 2020 equipment with packages:
The postpaid fee for MyTV TV service is only from 42,000 VND / month when used via MyTV app on Smart TV and 82,000 VND / month when using via MyTV Box 2020 (price included Box).
Customers who register and pay in advance with VNPT Pay account or the main Vinaphone account can enjoy the preferential price from only 40,000 VND / month when using the MyTV app on Smart TV. By prepaid payment, customers can actively register / pay at home at any time, regardless of the sales / technical team of VNPT.
Refer to detailed information about the service, rates, list of content services and instructions on how to use the features at:
Website: mytv.com.vn
Hotline: 18001166 (free).
Doan Phong
.