Security issues of cryptocurrency projects are constantly being hot spots recently, when hundreds of millions of dollars have fallen into the pockets of hackers.
This is information recently announced by Certik – a security company specializing in the blockchain field. Specifically, as reported by Certik, more than 376.7 million USD was taken by hackers from crypto projects in April alone.
During this period, 31 projects were hacked. Beanstalk – a credit-based decentralized stablecoin is the blockchain project that suffered the most with a total of $182 million stolen by hackers.
Many other famous projects in the blockchain field are also victims of hackers. It can be mentioned that the attack on FEI Protocol took 79.3 million USD, Akutars was stolen 32.8 million USD. In addition, there are small-scale attacks that also cause millions of dollars in damage to projects such as Deus Finance, Agora, Inverse Finance, Elephant Money, Saddle, BAYC, CF,…
Although 2022 is only one third of the way through, the damage from cyberattacks on crypto projects has set a new record.
Since the beginning of the year, there have been more than 1.6 billion USD in cryptocurrency stolen by hackers through smart contract vulnerabilities and the security of projects. This number has surpassed the record of $ 1.3 billion in 2021 and before that of 516 million in 2020.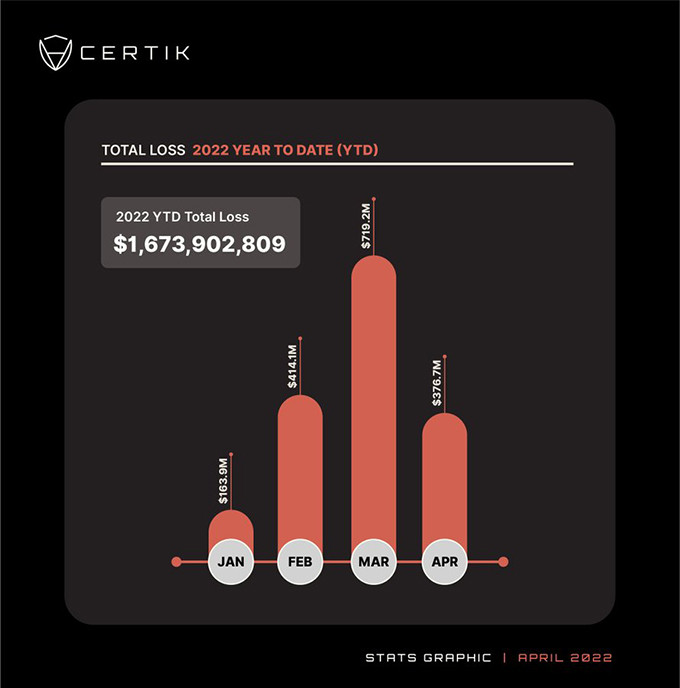 These cases do not include fraudulent actions, cyber attacks that directly target users' crypto wallets.
Recovering stolen funds from crypto projects is very difficult. Recently, in the case of Axie Infinity, just over 5 million USD of stolen money was recovered thanks to the tracing and blocking efforts of the Binance exchange.
Trong Dat
.