To prevent Covid-19, Quang Nam province has deployed many medical declaration applications via QR codes, medical declarations… The whole province has more than 321,570 people registered for Bluezone application.
This evening (July 1), Ms. Pham Thi Ngoc Quyen, Deputy Director of the Department of Information and Communications of Quang Nam province said that the Department is continuing to apply information technology in the prevention and control of the Covid-19 epidemic. .
Accordingly, Quang Nam is promoting communication and mobilizing people to make electronic medical declarations through QR codes, using one of the software: Medical declaration,
NCOVI, Bluezone.
Quang Nam Department of Information and Communications organizes training sessions to install Bluezone application and scan QR codes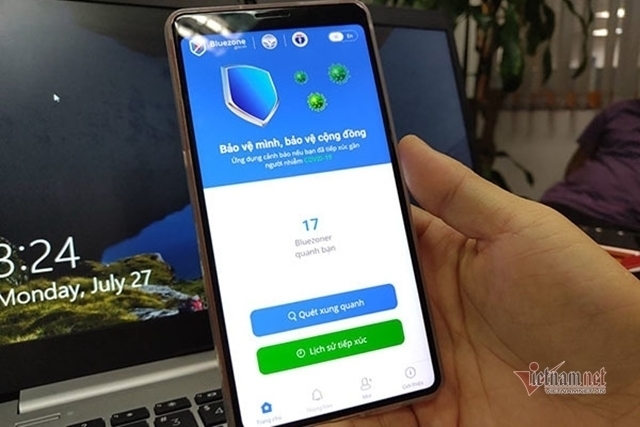 More than 321,000 people in Quang Nam install Bluezone application
Currently, the number of border gate declarations is 1,063, people's health declarations are 231,245, and the number of checkpoints using QR Codes is 4503.
"When people install Bluezone applications, health declarations, NCOVI …, when they go to quarantine checkpoints, they just need to scan the QR code. This is very convenient, there is no need to make medical declarations on paper, so it takes less time and helps the authorities to track quickly," Quyen said.
In particular, Quang Nam province has 321,570 Bluezone application installs, accounting for 21.5% of the population.
In addition, at 5 quarantine points in and out of the province, wifi is installed for people to use their phones to make medical declarations through applications.
Cameras are installed in all 16 paid quarantine areas in Quang Nam, and 10 in the province's 10 unpaid quarantine areas also install cameras.
Quang Nam Epidemic Prevention Steering Committee said that by the evening of July 1, 157,855 samples had been tested, of which: 137 samples were positive (+), 157,718 samples were negative (-).
Results of medical management and supervision of people from Ho Chi Minh City and Hanoi to Quang Nam province from May 31 to now: 5,465 people have been monitored (of which 4,930 people have returned from Ho Chi Minh City; 535 people have returned. from Hanoi city); There have been concentrated medical isolation of 351 people; medical isolation at home 5,114 people; 5,179 people have been tested, all have negative results (-)….
Le Bang
.