On October 11, 2021, MobiFone and CMC Telecom launched mobiCloud – a service to help individual customers store and share data online on the cloud platform. Customers using the service also have a chance to win a 128GB iPhone 12 Promax phone.
MobiCloud "By Vietnamese – For Vietnamese"
Phone memory is always not enough to meet the needs of young people to store images and "produce" daily videos. In addition, the demand for "virtual office on hand" or "virtual classroom in hand" has made the phone memory always in a state of "warning out of space" and makes users often "heartbroken" every time. Consider data cleanup. Not only that, when your phone is lost/broken, your precious personal data or your "once-in-a-lifetime" moments will be at risk of being irrecoverable.
Although the operating systems all provide international cloud services such as iCloud, Samsung Cloud, … but these services are located outside of Vietnam, so the data access speed is limited. . Therefore, users desperately need a cloud service "By Vietnamese – For Vietnamese".
Understanding these things, MobiFone quickly shook hands with CMC Telecom to "launch" a personal data storage service on the cloud platform – mobiCloud. The application allows users to store data and access it anywhere from smartphones, tablets or laptops, PCs, and users can share data with loved ones, friends and colleagues easily and conveniently.
MobiFone cooperates with CMC Telecom to "launch" personal data storage service on cloud platform – mobiCloud
4 outstanding advantages
High speed, stability and security: Built on CMC Cloud platform using international standard data center, customer's security is guaranteed. Moreover, with Vietnamese suppliers, using infrastructure close to the customer's distance, requests are always processed quickly, minimizing latency, the impact of network transmission, undersea fiber optic cable during use. .
Optimizing user experience: With popular international online storage media, users still have many concerns about issues such as backup speed, friendliness, and convenience in use. The highlight of mobiCloud is that it is built on the understanding of the "taste", the habits of Vietnamese users to bring the best experience. Users will also always get 24/7 support without having to wait or face language barriers.
Cross-platform integration: mobiCloud features integration with other cloud storage providers such as Google, Microsoft… Customers can completely centrally manage their data warehouse in just a single application. Best.
Cost savings: Each MobiFone subscriber will immediately have 5GB of online storage space when registering. In addition, customers can actively choose to buy more from a wide range of packages in the mobiCloud application, flexibly according to their needs with reasonable prices from 15GB to 1TB.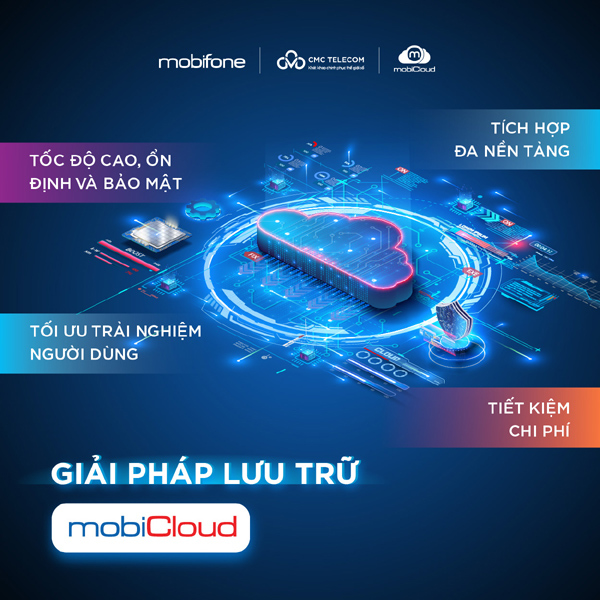 MobiCloud storage solution with many outstanding advantages
MobiCloud – A solution from a "modern" technology platform
Unlike other platforms, MobiCloud is a "make in Vietnam" product with servers located at 3 Data Centers that meet CMC Telecom's Tier III international standards in two big cities, Hanoi and Ho Chi Minh City; using CMC Telecom's CVCS (Cross Vietnam Cable System) backbone network, the first Vietnamese cable route connecting across Southeast Asia to achieve MEF 3.0 certification – this is the standard for Ethernet connection services between international carriers. today's most advanced. Therefore, the distance from the user to the server is minimized, MobiCloud's users will always be guaranteed fast access speed with stable connection and significantly lower latency.
Besides, MobiCloud solution is built on CMC Cloud – a multi-cloud platform researched and developed by experts of CMC Telecom. This is an open platform that allows direct connection to the Cloud platform of AWS, Microsoft and Google. Therefore, MobiCloud has the ability to integrate with the cloud storages of the world's largest technology giants.
The CMC Cloud platform has won international cloud awards such as "Most Innovative Cloud Service Provider 2020" and "Best Multi-Cloud Platform in Vietnam 2021" (Best Multi-Cloud Platform). -Cloud Platform).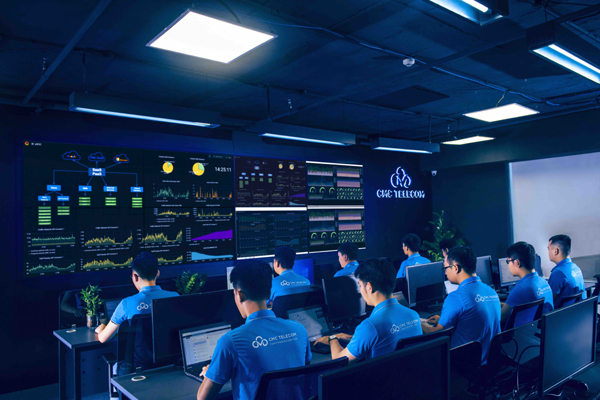 MobiCloud is built on CMC Cloud – a multi-cloud platform researched and developed by experts of CMC Telecom.
Great gifts on the occasion of the launch
On the occasion of the launch, all subscribers of mobiFone who register to use mobiCloud from October 11, 2021 – January 11, 2022 will receive 5 GB of free storage for 3 months. Customers only need to download the mobiCloud application on the CH Play or Appstore app market and register an account to use and receive incentives. Besides, MobiFone customers will also be completely free of 3G/4G data when accessing, uploading/downloading data.

Free offer of 05 GB of mobiCloud data storage
In particular, customers using mobiCloud will be able to participate in the points program "Storage freely – Give gifts immediately" with the final prize will be 1 iPhone 12 Promax 128GB with 1 year of 100GB storage on the application. use free mobiCloud.
To register to use and participate in MobiFone's points program, customers compose a message with the syntax: DK and send it to 999.
In which the PACKAGE CODE of the mobiCloud solution can be viewed HERE
Thuy Ngan
.