On November 18, the General Department of Taxation announced a list of organizations providing e-invoice solutions that fully meet the criteria specified in Clause 1, Article 10 of Circular No. 78/2021/BTC, including the following: MobiFone Invoice electronic invoice service.
Quickly standardizing and meeting the latest regulations of the Ministry of Finance on e-invoices will create favorable conditions for commercial transactions of individuals and businesses (DN) to be smooth and safe. increase competitive strength and effectively reduce costs for enterprises.
Conditions for businesses to confidently digitize
The Government has issued Decree 123/2020/ND-CP regulating invoices and documents. Accordingly, the Decree stipulates that from July 1, 2022, organizations and individuals must apply electronic invoices to replace current paper invoices.
To remove difficulties and obstacles in the process of complete digitization with individuals, enterprises and the Ministry of Finance issued Circular No. 78/2021/TT-BTC dated September 17, 2021 with many new regulations, specific instructions on e-invoices.
According to the Circular stipulating, businesses continue to use software and e-invoice services of organizations providing e-invoice solutions with a technical system to ensure that the data meets the standards prescribed by the General Department of Commerce. tax. Enterprises and business units are authorized to allow qualified third parties according to regulations to issue e-invoices when they do not have enough conditions to satisfy the use of e-invoices completely.
MobiFone with a technical infrastructure system that meets Circular 78 of the Ministry of Finance is ready to accompany businesses in the digital transformation process.
In particular, Circular No. 78 also sets forth conditions and criteria for service providers of e-invoices as well as service providers of receiving, transmitting and storing e-invoice data to tax authorities, including conditions on personnel, finance, technology…
The above regulations are considered to create conditions for businesses to feel secure in digitization, especially in the field of issuing and storing electronic invoices, serving production and business in the context of the new economy and Industry 4.0 is going strong. However, this also poses a challenge for businesses providing solutions and services to change.
Which option for business?
Although the effective date is July 1, 2022, immediately after Circular 78 was issued, businesses and e-invoice service providers quickly caught up with a series of changes. positive.
MobiFone – one of the e-invoice service providers in Vietnam – has upgraded its product to meet Circular 78/2021/TT-BTC and carried out procedures with the General Department of Taxation to request the publication of public statements. Declare information of organizations providing solutions for e-invoices meeting Circular 78 on the website of the General Department of Taxation.
A representative of MobiFone said that the company has completed updating, upgrading and perfecting the software system to fully meet the latest regulations of Circular 78; standards for connection to receive and transmit data issued by the General Department of Taxation in Decision No. 1450/QD-TCT dated October 7, 2021; at the same time ready for solutions, personnel as well as policies to coordinate with 6 tax departments: Hanoi, Ho Chi Minh City, Quang Ninh, Hai Phong, Phu Tho, Binh Dinh to deploy training activities, provide guidance and maximum support to enterprises in the process of implementing e-invoices.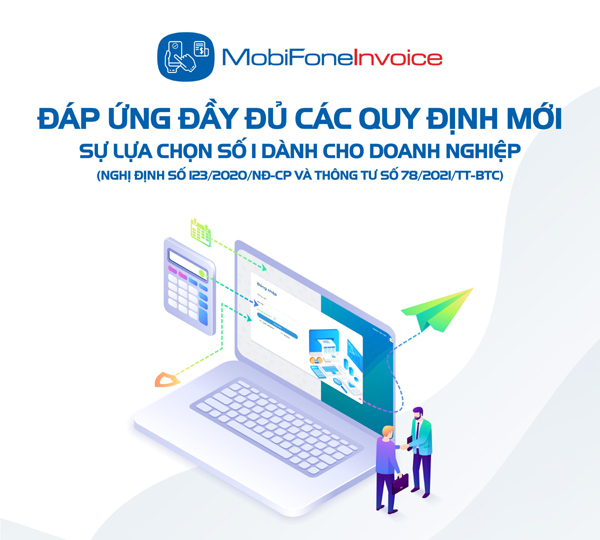 MobiFone Invoice is ready to respond to new regulations
MobiFone Invoice for many years has been one of the electronic invoice service providers dominating the market in Vietnam with a large customer base. On November 17, 2021, this company also officially became one of 18 units providing services of receiving, transmitting and storing electronic invoice data nationwide. With the advantage of being both an e-invoice service provider and providing the service of receiving, transmitting and storing invoice data, MobiFone's solution is considered to bring outstanding benefits to customers. row.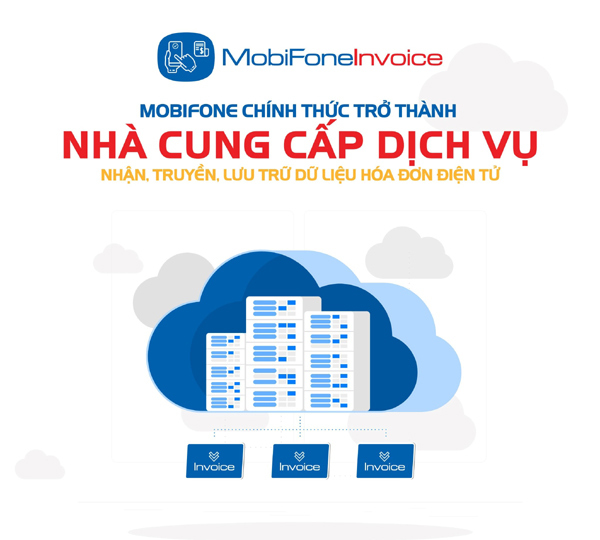 MobiFone is one of the units that are provided with the service of receiving, transmitting and storing e-invoice data nationwide.
With MobiFone Invoice, businesses can rest assured to take the initiative, notify online to the tax authority about the use of this type of invoice, use it as soon as the notice is accepted. It will not take much time for enterprises to notify the issuance of invoices with or without the tax authority's code, as well as to make quarterly invoice usage reports to the Tax office; helps save more than 90% of payment time, manage invoices, just a few clicks the shopper will receive an invoice, avoiding the risk of lost, lost invoices …
From April 1, 2021, to accompany Vietnamese businesses to overcome the pandemic, MobiFone offers up to 1,000 free usage invoices for new registered businesses to experience the features and quality of the product. Besides, MobiFone provides MobiFone Invoice with different packages ranging from package 300 to package 100,000 with corresponding invoice number of 300 – 100,000 invoices with the most competitive cost in the market.
Hotline 9090
Website: https://www.mobifone.vn/doanh-nghiep/cong-nghe-thong-tin/chi-tiet/43
Pearl league
.