As the only foreign partner to participate in the Digital Vietnamese Knowledge System Project (iTriThuc) hosted by the Ministry of Science and Technology, Microsoft has implemented a series of activities to provide answers to the journey of educational digital transformation at Vietnam.
Technology – the driving force behind the future and education
In the first half of 2020, Microsoft Vietnam has freely deployed nearly 4 million accounts worth 27 million USD for schools in 61/63 provinces and cities nationwide. This is considered a revolution of online education in teaching.
The Education Technology Festival takes place on October 28, 2020. Source: Microsoft
On June 3, 2020, the Prime Minister approved the "National Digital Transformation Program to 2025, with an orientation to 2030". To achieve that, it requires a source of labor with high qualifications and solid capacity. Accordingly, education is a priority industry for transformation, because it possesses a large workforce, which is a great driving force to support the country's digital transformation.
In the process of accessing the digital environment, the school optimizes the management of electronic lesson plans, electronic transcripts, electronic communication books, the former head teacher, … Students are also equipped with many techniques. skills required when transitioning to university and professional work environments. As Mr. Pham The Truong, General Director of Microsoft Vietnam shared: "Technology is the main driving force for the future and education. At Microsoft, our vision is to empower every student, student, and teacher around the world to achieve more "and while" distance learning is never an alternative, however will become a powerful tool for digital transformation, teaching and learning in the digital age ".
Educational number conversion, easy or difficult?
During the Covid-19 translation period, the students 'and students' learning was interrupted. In the challenge of finding opportunity, the deployed online lessons foster interaction between teachers and students, inspiring and sparking creativity. Education technology solutions have contributed a lot to Vietnam's 'digital transformation'.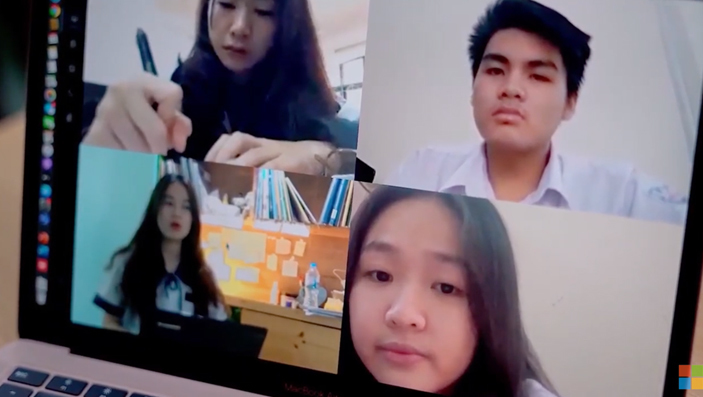 Learn online through Microsoft Teams. Source: Microsoft
Nguyen Tat Thanh Secondary and High School under Hanoi Pedagogical University is one of the pioneers in implementing online teaching model. During social breaks, teachers and students teach and learn on the Teams platform and use Microsoft Office 365 tools. Lessons are fully conveyed, and teachers and students can interact immediately. both in class and after school.
According to research by Manchester Street Research, using Microsoft Team, students are 29% more interactive and 42% more likely to collaborate with colleagues than other software.
In the city. Hai Phong, the Ministry of Education and Training also recorded a record speed of deploying Microsoft Team, in just 27 hours for more than 200 schools and 3.3 million teachers. This shows that, Microsoft Team is not only effective for applying to teaching and working remotely, but also has the advantage of fast deployment on a large scale.
In terms of providing resources to implement digital transformation activities, IIG Vietnam and InnEdu are the first two Global Training Partner (GTP) of Microsoft in Vietnam. The core value of the program is to accelerate digital transformation through skills training and the number of educational specialists for educational units such as departments, offices, and schools to have access to Technology solutions from Microsoft.
Hai Nguyen

Microsoft heats up the tech race in Indonesia
Microsoft will invest in the Bukalapak 'unicorn', which shows the tech giant's interest in Southeast Asia's largest economy.
.