In an excerpt from The Prom, available on Netflix on December 11, we recognize the voice of the great American actress, who does not hesitate to rub shoulders with this new exercise at 71 years old.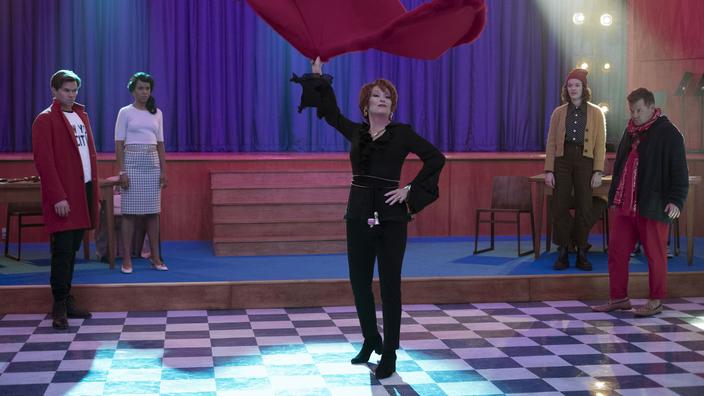 Singing will no longer hold any secrets for Meryl Streep. Already queen of the musical since Mamma mia, the actress, now 71, returns to the forefront with a Netflix film, The Prom, directed by Ryan Murphy.
In a musical excerpt from the film which aired on November 19 and titled Wear Your Crown, a listening ear can hear Meryl Streep rapping for a few seconds, a style exercise she had already gently approached in Into the Woods.
Read also :Meryl Streep Goes Red For Her New Movie
Ryan Murphy told Variety the genesis of his film. When the director offers his team to rap Meryl Streep, it's general disbelief. But the filmmaker does not budge. Tit for tat, he said to his collaborators: "I want her to rap. I need her to rap. " Before adding, "they laughed and left to write the song Wear Your Crown, which is an upbeat headline and makes you feel good. It is a message both to fight against intolerance and pride of being who you are."
The Prom tells how two fallen Broadway stars come to help two high school girls banned from the famous prom because they are homosexual. Meryl Streep will not be the only one to defend this film since Nicole Kidman, James Corden, Kerry Washington and Keegan-Michael Key will be at her side to try to change the mentalities, with homophobic accents, of this high school lost in the depths of the world. 'Indiana.
Read also :Meryl Streep, 43-year career and three Oscars at the service of his convictions
Available December 11 on Netflix, The Prom could be a serious contender for the Golden Globes and the Oscars according to the rumor which is already swelling on the web.
.