To improve the value of Vietnamese agricultural products, farmers need to actively transform digitally and strictly apply traceability, but these solutions exist in the form of "hundreds of flowers in bloom".
Headache with the problem of traceability of Vietnamese agricultural products
Product traceability is the act of allowing users to retrieve and learn about the origin information of the products they have purchased, and trace back to review each stage of harvesting, production, and processing. or product distribution.
Traceability technology has been applied by developed countries for a long time, as a must-have for products if they want to circulate on the market. In Vietnam, traceability has only been interested in recent years, especially after the Government's policy of stamping the traceability of agricultural products.
Stamping traceability of agricultural products at a garden house in Hai Duong. (Photo: Trong Dat)
However, it is a fact that the traceability system for agricultural products in Vietnam is currently not consistent with GS1 standards of the Global Barcode Organization. Instead, the management and retrieval stage in Vietnam often uses identification codes, with an automatic structure, which only makes sense when used internally.
This leads to the fact that it is very difficult to manage the origin of agricultural products, and it is easy to duplicate codes between different traceability systems. In addition, this approach also makes it difficult to interact and exchange information between systems when tracing products in the supply chain.
According to Mr. Nguyen Van Doan – an expert from the National Barcode Center, in Vietnam, there are more than 60,000 businesses that are members of GS1 with more than 600,000 products using codes and barcodes. Every year, about 7,000 businesses register new codes and barcodes.
Mr. Doan said that there are many traceability solutions on the market, but these solutions exist in the style of "hundreds of flowers in bloom".
When looking on the app stores, it is easy to find a lot of different traceability apps. This makes it difficult for farmers to choose a suitable solution.
In the actual implementation, when scanning the traceability stamp, many tools only return some general information, in an electronic form of the product's label instead of the history of that product. This is a very common phenomenon in Vietnam.
In addition, it is a fact that when scanning agricultural products with traceability stamps, every product defaults to 7 days of fertilizer isolation and the number of pesticide isolation days is 7 days. 10 days. This proves most likely to be incorrect information.
Another problem is the lack of information, incomplete data elements of current traceability solutions.
Traceability: Solutions to improve Vietnamese agricultural products
According to Ms. Nguyen Thi Thanh Thu – Member of the Executive Committee of the Vietnam Digital Agriculture Association, digital transformation will help traceability, transparency, and timely support for facility owners in the supply chain.
For example, in the process of exporting agricultural products to China, traceability helps importers see the fields and factories from the exporter, thereby creating trust and helping to cut transportation costs. for inspection and supervision.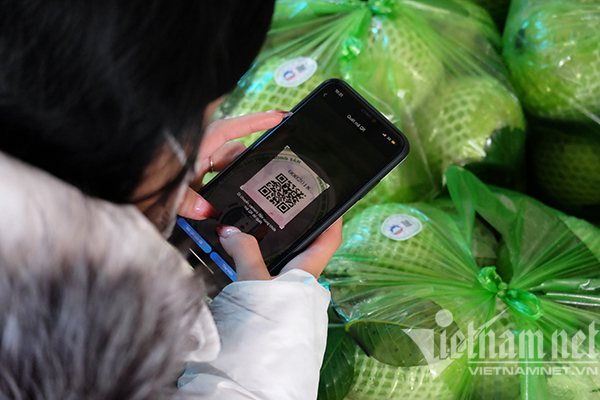 Applying agricultural digital transformation, including traceability solutions, is said to be a way to raise the value of Vietnamese agricultural products. (Photo: Trong Dat)
A representative of the Vietnam Digital Agriculture Association said that the biggest benefit of information transparency is to protect the brand and avoid being faked by others.
The most noticeable is in the case of a batch of Hai Duong litchi but introduced as Luc Ngan lychee, the origin check will help consumers immediately identify the fake product, thereby keeping the brand reputation. lychee. Farmers therefore need to change their thinking from being traceable to proactively transparent about the origin of goods.
The biggest difficulty for the process of implementing digital transformation and traceability of agricultural products is that there are many legal regulations on goods circulation management, but there is a lack of strict sanctions to handle violations, especially especially with agricultural products.
This leads to obscure information, unfair to those who circulate in the market. The most obvious example is that some street vendors can carelessly trade agricultural products on the street even though the user is not clear about the origin of the goods.
Another problem is the limited awareness and understanding of the task force staff. Besides, a part of people still do not know how to protect their products and brand reputation.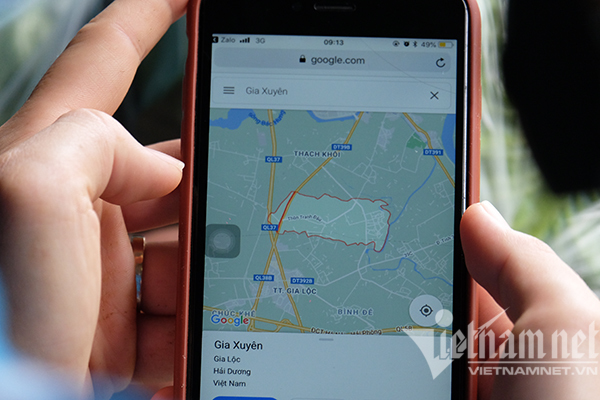 With good traceability solutions, people can look up the exact location of the producer of that agricultural product on the map. In addition, they can look up each stage performed during production, harvesting, transportation, and distribution. (Photo: Trong Dat)
According to the representative of the Vietnam Digital Agriculture Association, the state of traceability software disorder and app disorder is quite common. Vietnam's traceability criteria are still backward compared to the world market. Besides, the lack of initiative in innovation makes people and businesses constantly surprised by the technical barriers of the importing country.
In order to build and improve the value of Vietnamese agricultural products, a representative of the Digital Agriculture Association said that Vietnam needs to strictly manage and be ready to change inappropriate management regulations.
There is still a situation where people take notes and keep records in an anti-counterfeit way. There are many cases of violations of forging product documents, certifications of standards, codes of growing areas, etc. Therefore, the most important thing is to change the perception towards the application of technology for agricultural traceability. produce.
The consequence of this lack of information is the loss of confidence of consumers in the system of management, monitoring and distribution of agricultural products. Leads to market instability, thereby causing damage to both producers and consumers. Information transparency will be a mandatory requirement if you want to improve the prestige and value of Vietnamese agricultural products.
Trong Dat

6 hours and 11,000 VND for agricultural products from farm to table
No longer having to throw away vegetables because they can't be consumed, the lives of many farmers in Hai Duong are now more secure thanks to putting their agricultural products on the e-commerce platform.
.