In some Southeast Asian countries such as the Philippines and Malaysia, many people have had a stable income to live on after the past 2 years of the pandemic thanks to Vietnamese games.
Game to earn (play to earn) is one of the most prominent technology trends in 2021. The fact that the Axie Infinity game has reached a billion USD market capitalization and the Vietnamese blockchain game phenomenon that has made its mark on the world map is even considered as one of the 10 typical ICT events in 2021.
Different from traditional game genres, "play to earn" style games bring a completely different definition. Instead of having to spend money to buy games for entertainment, play to win (play to win), now users can also earn money through games.
The emergence of blockchain games is a prominent technology phenomenon of 2021.
It is possible to do that because "play to earn" games often have a combination of Blockchain technology. At this time, the types of scores that players achieve in the game will be designed in the form of tokens. These tokens are convertible into cryptocurrencies with measurable value.
In fact, there are times when blockchain games developed by Vietnamese people have surpassed ordinary entertainment value. The proof is that many people in Southeast Asian countries such as the Philippines and Malaysia have earned a stable income from games to survive 2 years of the pandemic.
According to CNBC, at the height of the Covid-19 epidemic in the Philippines, most people had to stay at home due to the effects of social distancing. That's also when the game Axie Infinity became a phenomenon in this country when helping many people in the city of Cabanatuan north of Manila have more income.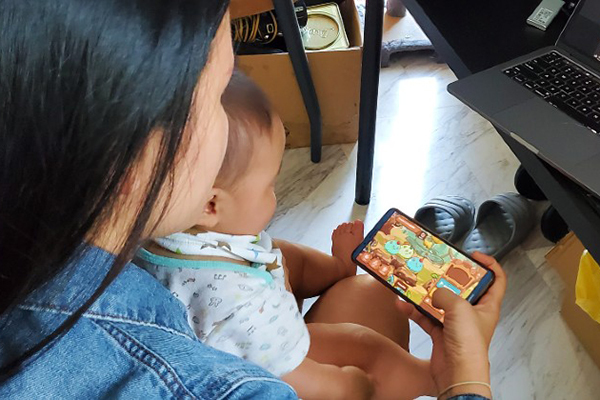 A housewife takes advantage of "plowing" games to earn money while looking after her children.
"At first, I didn't believe that this game could really make money by playing, but I tried it." A Filipino gamer shares about Axie Infinity in the documentary.
According to this person: "Due to the pandemic, we have no way to make money. That's why it spread here in Cabanatuan City."
Not only blooming in the Philippines, Axie Infinity also has a great influence in Malaysia. Sharing on The Rakyat Post, Joe Kit Yong – co-founder of Lorcan Gaming said that blockchain games like Axie Infinity have been quite popular in Southeast Asia. Many gamers also consider this as the main source of income in the context of the pandemic.
In fact, although many players have made money from Axie Infinity, no "lunch" is free. To earn money from Axie Infinity, the player must own 3 axies (game characters).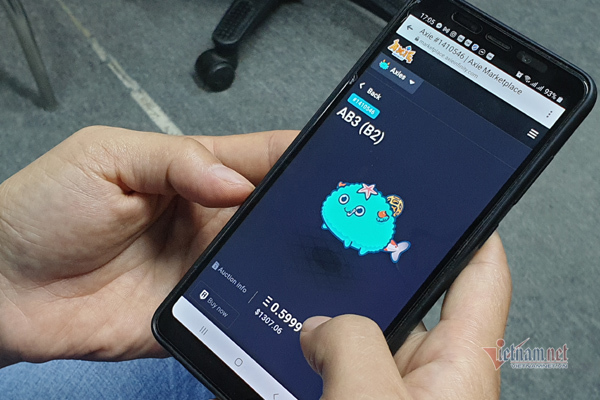 To make money from the game, Axie Infinity players will have to spend a small amount of investment capital.
Axie game characters have an average selling price of about 300 USD. There are even axies that are sold for millions of dollars. With such a high entry fee, not everyone can afford to participate in this game.
That is also the reason that following Axie Infinity, there are many other blockchain games that have emerged with the difference that the entry barriers for new players are less than Nguyen Thanh Trung's game.
According to Cointelegraph, besides Axie Infinity, Bemil is another Vietnamese game that has attracted the participation of Filipinos recently. Currently, this game has over 100,000 app downloads with tens of thousands of people participating in communities on social networks.
To develop the community in this Southeast Asian country, Bemil even launched a campaign to support many container houses for Filipinos who lost their jobs with a budget of about 5,000 USD per month.
More and more Vietnamese gaming communities appear in Southeast Asian countries.
Not only Axie Infinity, Bemil, many other Vietnamese blockchain games such as Thetan Arena, Titan Hunters, Sipher, Atlantis Metaverse are also gradually following and showing their influence.
The spread and influence of Vietnamese blockchain games can be considered as a bright spot of Vietnam's technology industry in 2021. This direction also opens up many new development prospects to go global for companies. Vietnamese technology company.
Trong Dat

Don't let Vietnamese startups have to go abroad to start up
Vietnam should learn from the experience of attracting foreign investment in the technology startup sector of India and Singapore. These are the bright spots of startup investment in the world.
.