Strong impression from the metal shell
Possessing a metal design and luxurious space gray (Space Gray), Huawei MateBook 14 attracts users at first sight. The manufacturer has used a 150-grit sand polishing process, which creates a smooth, metallic surface and feels comfortable in the hand.
Interestingly, despite possessing a metal design, this laptop is extremely light, weighing only about 1.49kg, so it is very convenient to carry coffee or travel. Metal material is anti-fouling and anti-corrosion so users can be completely assured during use.
Edge-to-edge 2K touch screen
Huawei is one of the first manufacturers to successfully commercialize laptops with ultra-thin bezels on all four sides. This legacy of technology is applied to the MateBook 14, creating a device with a screen-to-body ratio of up to 90%. The viewing angle from the device is thus expanded to its fullest extent, creating a sense of immersion and seamlessness regardless of whether you are working or playing.
Compared to the previous generation, the new Huawei MateBook 14 has added touch features on the screen, helping users interact more flexibly. The device also continues to use a 3:2 screen ratio, allowing more content to be displayed vertically. This design gives a clear advantage in web browsing or photo editing tasks.
In terms of display quality, the device is equipped with the Huawei MateBook 14's high-resolution 2160 x 1440 display. The device is also TÜV Rheinland Low Blue Light and TÜV Rheinland Flicker Free certified for its ability to protect users' eyesight. for long time use.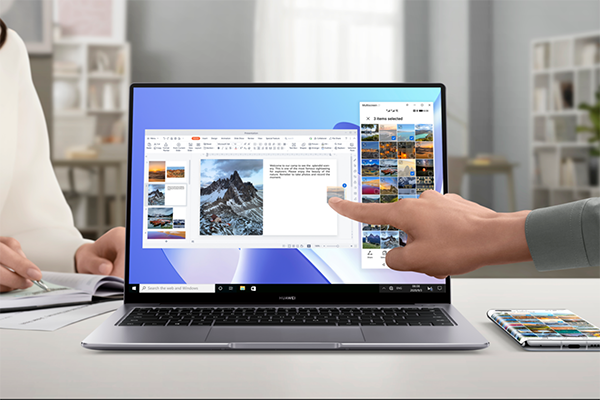 Powerful processing performance
Huawei MateBook 14 is equipped with 12th generation Intel Core processor, 16GB RAM and 512GB SSD hard drive. With this level of configuration, users will be relatively comfortable when storing or handling multi-tasking.
The device's multi-core CPU architecture saves power, intelligently coordinates resources, and improves performance by 87% compared to the previous generation. The problem of laptop overheating when operating with high performance is completely solved by Huawei by adding two Huawei Shark fin fans and two large heat pipes with a diameter of 6mm for even heat dissipation.
Specialized features for online meetings
Huawei MateBook 14 supports the Personal Voice Enhancement feature. This is a solution for meeting and learning online. This technology analyzes the sound and leverages AI to isolate and increase the volume of the user's voice when speaking into the microphone, while reducing background noise from surrounding voices. Therefore, even when users are in public areas such as offices, coffee shops or on their way to work, the information transmitted in online meetings is always clear.
Turn any device into one with Super Device
Super Device is the core technology that helps Huawei devices interact and work with each other without the need for additional cables or downloading additional 3rd party applications.
This technology is integrated and upgraded on the new Huawei MateBook 14 version. If you use Super Device to connect the MateBook 14 to a smartphone or tablet, users can access and edit files, manage three phone application windows simultaneously, and make video or audio calls bar from your phone through the MateBook 14 and even use a mouse and keyboard to control the smartphone.
Also thanks to the Super Device feature, the Matebook 14 can also connect to the Huawei MateView screen, helping users view content on a larger screen, or automatically detect peripheral devices such as Huawei headsets, mice, and desks. keys, speakers and printer.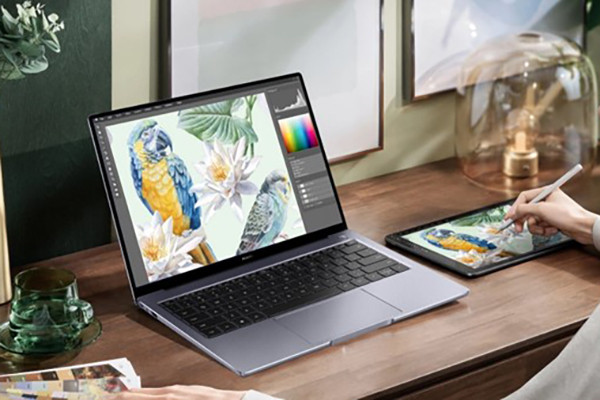 Using the phone app on a laptop
While many manufacturers separate the operating systems of computers and phones, dividing applications into two different platforms, Huawei has pioneered to break that line with AppGallery.
Users can easily search for mobile apps like TikTok, CapCut, Mobile Legends… through AppGallery and install them on the new MateBook 14 with just one click. This is one of the highlights of Huawei Mate 14 compared to many other competitors on the market.
Trong Dat
.