AirCity's goal is that after its success in Vietnam, this startup will convert the number of rentals of 100,000 buildings and apartments in cities in Southeast Asia.
The first startup to appear in episode 9 of the program "Shark Tank Vietnam" was AirCity of founder Le Hoang Nhat. This is a startup that provides a full-service building management service using a technology platform.
AirCity manages guest check-in – check-out, contracts, incidents, collection – payment, invoice issuance, building maintenance, periodic monitoring, cleaning and collection host…
According to co-founder Le Hoang Nhat – AirCity solves 3 "pains" of current landlords about rental housing. The first is a financial problem because some tenants often leave the deposit, avoid the deposit or even cause property loss.
The second is about the mental issue when the landlord has to be on duty 24/7 to take care of residents, guests, as well as manage human resources. The third is the difficulty of the landlord in expanding the business scale because of the two problems mentioned above.
Sharing about his startup, Hoang Nhat said, AirCity is currently helping 12 partners manage 40 buildings with more than 500 serviced apartments in Ho Chi Minh City, Hanoi and Can Tho.
To do that, this startup has built a data platform that connects and combines with other technology ecosystems.
AirCity has room sales data being deployed on Tiki, fee information and confirmation invoices, automatic debit statement notification, etc. In addition, this unit also supports management by AI camera for face authentication and check-in without using fingerprints or magnetic cards.
This startup started operating in December last year with an investment of $ 85,000 for 12% of the shares from the Antler program of a global investment fund.
AirCity's goal is to transform the number of rentals of 100,000 buildings and apartments in cities in Southeast Asia. The startup also hopes to become a tech mini-unicorn.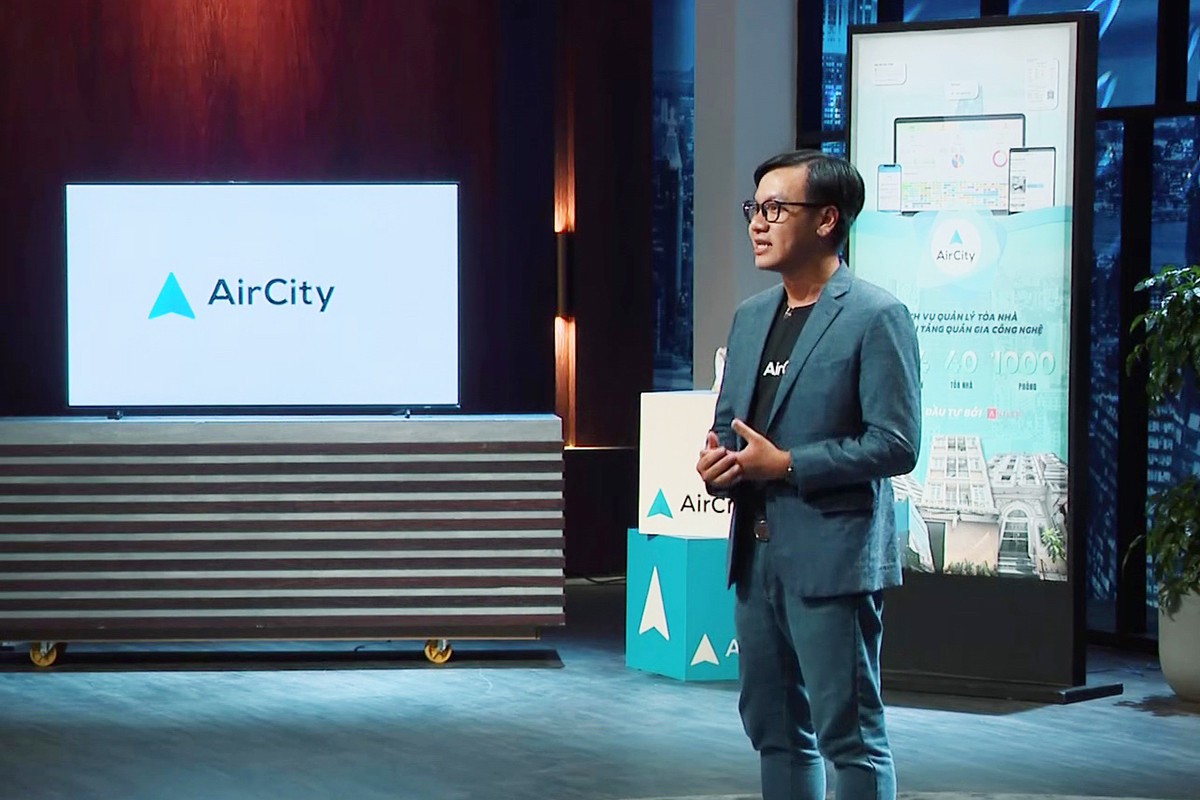 According to Le Hoang Nhat, AirCity is working with a few venture capital funds such as Golden Gate Ventures, Access Ventures, VIC, VIK partner. Coming to Shark Tank, AirCity wants to be invested by the "sharks" of the program with a valuation of $ 100,000 for 2% of the shares.
Sharing more about the financial ability, the founder of Aircity said that this year the startup is expected to have a revenue of 48 million dong in Q1, 110 million dong in Q2, 230 million dong in Q3 and 460 million dong in Q4. The startup's total revenue in 2022 will be about VND 850 million. AirCity's revenue comes from management fees, 5% of building revenue.
AirCity also helps landlords to rent rooms by working with outside brokers and selling directly on Tiki. Currently, the startup only manages rental houses and townhouses and has not yet entered apartments. According to the founder, the goal of the startup is to find a capital of 1 million USD to build a technology team for rapid development and large scale.
Before sharing the startup, Shark Hung (Pham Thanh Hung – Vice Chairman of the Board of Directors of Cen Land) was the only shark at Shark Tank who was interested in AirCity. After a while of negotiation, the founders of AirCity and Shark Hung closed the deal with an investment of $ 100,000 for 10% of the shares.
Trong Dat
.