After two delays, Vietnam's NanoDragon satellite will be put on the launch pad for the third time by the end of next week.
According to the official announcement of the Japan Aerospace Agency (JAXA), the new launch schedule of the NanoDragon satellite will take place on November 7, ie next Sunday. This operation was carried out at Uchinoura Launch Site (Kyushu Island, Japan). The time of the rocket launch will be between 7:48 and 7:59 minutes.
Model of Epsilon No. 5 rocket (white) and NanoDragon satellite (blue). Photo: Trong Dat
NanoDragon is a nano-class cubesat satellite manufactured by scientists from Vietnam Space Center, Vietnam Academy of Science and Technology. This satellite weighs about 4kg with dimensions of 3U (100 x 100 x 340.5 mm).
NanoDragon satellite was developed with the aim of demonstrating that it is possible to use micro-satellite beam technology to receive automatic identification system (AIS) signals used for vehicle tracking and monitoring purposes. convenience at sea.
This is the third time the NanoDragon satellite has been launched. This time, NanoDragon will still be sent to space by the Epsilon No. 5 booster along with 8 other satellites.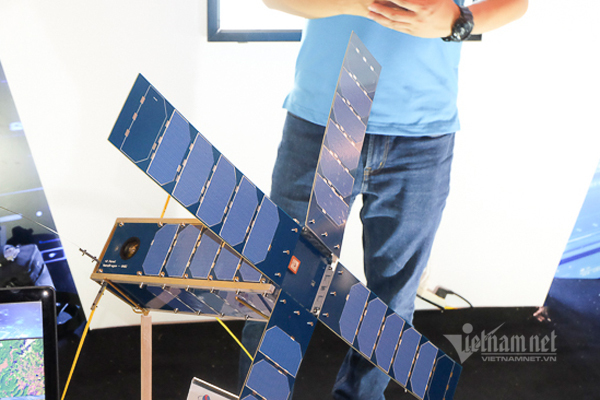 Vietnam will launch the NanoDragon satellite early next month. Photo: Trong Dat
The plan to launch the NanoDragon satellite was once scheduled for October 1 and October 7, 2021, but both times had to be postponed due to technical reasons. The Japanese Aerospace Agency (JAXA) therefore decided to postpone the launch of the Epsilon No. 5 rocket.
According to the plan, due to the common use of several launch devices, the launch date of Epsilon No. 5 rocket will be moved to after the time of H-IIA rocket No. 44 launched into space. This event took place last October 26. That's why the Japanese Aerospace Agency is planning a new rocket launch to put Vietnam's NanoDragon satellite into space.
Trong Dat

China develops and tests new anti-satellite weapon
Chinese scientists claim to have built and tested an anti-satellite robotic device that can put explosives in the mouth of a satellite's exhaust to destroy it.
.