In the days of implementing social distancing in Long An, the provincial e-Government Zalo page continuously updates the epidemic situation, the online Public Service Portal ensures a smooth service to handle documents and administrative procedures for customers. people, businesses.
"Sweet fruit" for persistent efforts
In Long An, for many years, from the provincial government to agencies, sectors and localities, the application of IT has been continuously enhanced in administrative reform and e-government building.
In particular, in 2020, when the Covid-19 epidemic appeared and there were many complicated developments, the province continuously made impressive progress in the "digitization" process. As Long An completed the construction of the Provincial Data Sharing and Integration Platform Software Suite (LGSP) to serve the sharing and connection of IT application systems and specialized databases within the province and between the province. Ministries.
Up to now, Long An has put into operation many services: one-stop service – public service; Database mining services/National Information System (Connecting electronic civil status records, exploiting national enterprise databases, Issuing unit codes related to the Budget, National Public Service, User List) National General, Exploiting the National Social Insurance Database; Public Administration Service). Long An simultaneously connected and put into operation many services, national online payment platform (Paygov) integrated into the Provincial Public Service Portal; successfully connected to the National Database on DN registration and the National Database on Population.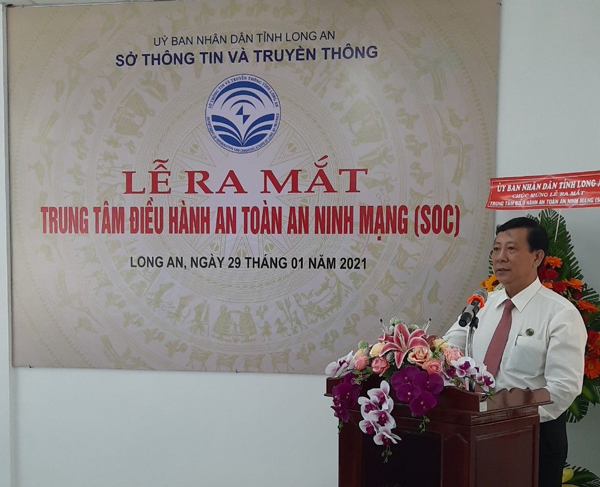 Currently, Long An has also achieved many impressive results in IT applications and services for internal operations of state agencies. IT infrastructure for building e-government and developing smart city services in Long An is also gradually being invested methodically. Dedicated data transmission network is deployed synchronously for 100% of departments, branches, districts, communes and high-speed Internet connection. At the same time, document management and administration software is upgraded and deployed synchronously for 100% of state agencies from province to commune, ensuring 4-level communication sending and receiving from the central to local levels via the Inter-Axis. communicate national documents under the direction of the Government,…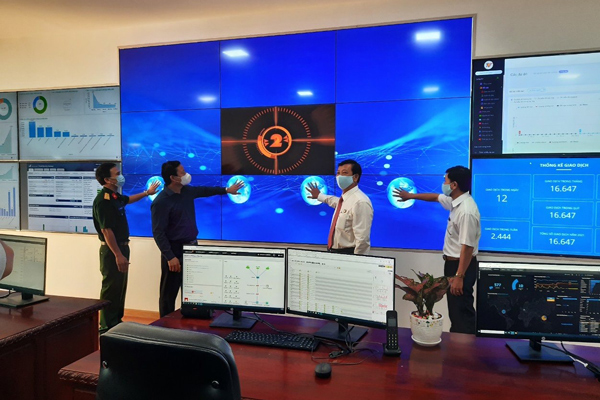 By 2021, when Covid-19 broke out strongly, Long An's efforts in digital transformation, building e-government, moving towards digital government have really been effective, serving people and businesses with 161 online public services at level 3 (8.7%) and 1,421 online public services at level 4 (reaching 76%, up 59% compared to 2020), fulfilling the goal of providing 100% of public services eligible to go online to level 4 (beyond the provincial target in 2021 by 35%).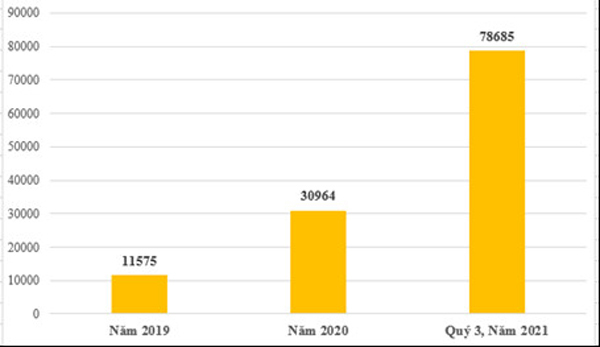 The situation of receiving online applications on the Public Service Portal of Long An province over the years
During the time of social distancing due to the complicated development of the Covid-19 epidemic, the Provincial and District Public Administration Service Centers do not accept applications directly, the Online Public Service Portal (https://dichvucong.longan) .gov.vn/) and the public postal service is a bridge, effectively supporting people and businesses to submit documents on the Public Service Portal, combined with receiving and returning results via the public postal service. benefits, ensuring smooth receipt and handling of documents and administrative procedures of organizations and individuals. The result of the timely settlement of applications published on the Public Service Portal of the province is well maintained with 99%.
Notably, in the first 9 months of 2021, there were 77,769 applications submitted online through the online Public Service Portal of the province (an increase of more than 2 times compared to 2020). The administrative reform index (PAR INDEX) in 2020 reached 86.25%, ranking 7th out of 63 provinces and cities across the country.
In addition, every day, residents of Long An can update official and timely information about the epidemic situation in the area via Zalo channel "E-Government of Long An province" and the province's Covid map. Through the Zalo channel of e-Government of Long An province, people are also convenient to find out information, register to submit online applications for levels 3 and 4, look up records by code or QR code to know the status of their application. profile,…
Take advantage of digital transformation opportunities, promote the construction of digital government
The outbreak of Covid-19 has affected all aspects of life. However, the pandemic is also a "leverage" for consumption habits, using online services in all aspects of life. Therefore, this is an opportunity for many localities to make a breakthrough in digital transformation, contributing to speeding up the process of building digital government, developing the digital economy and digital society.
In order to catch up with opportunities and show the high determination of Party and State leaders, at the end of August 2021, the Standing Board of Long An Provincial Party Committee approved and signed the Resolution on Digital Transformation of Long An Province to 2025. , with orientation to 2030 with the goal of synchronous digital transformation on 3 pillars: Building digital government, digital economy, and digital society in the whole province, striving to stand firmly in the group of provinces and cities with the highest high ranking in digital conversion.
The resolution also emphasizes 8 key targets that Long An must complete by 2025, including: achieving above the national average for the digital transformation targets set out in the National Digital Transformation Program for the period of 2021 – 2025; 100% of online public services are eligible for Level 4; complete the construction of the Provincial General Data Warehouse; digital economy accounts for 10% of GRDP; fiber optic broadband network infrastructure covers over 80% of households and 100% of communes; universalize 4G/5G mobile network services and smart mobile phones.
With that determination, Long An province is focusing on implementing many tasks and goals, promoting the building of e-government, applying IT to the activities of state agencies, moving towards digital government. In which, it is possible to focus on building a shared database warehouse and open data portal of the province; Build a centralized and multi-tasking Smart City Monitoring and Operation Center (IOC) of the province and develop a number of essential smart urban smart city services.
Long An also strives to universalize 4G/5G mobile network services and reach 100% of smart phones. Basically, households across the province have universal access to internet; 100% of adults ensure the conditions for universal smartphone access…
At the same time, Long An also determined to pilot digital transformation in 3 units including: 2 communes (in Can Giuoc and Chau Thanh districts) and 1 ward (in Tan An city) and the Department of Information and Communications. . Implement the model of completing the implementation of basic smart city services in Ho Chi Minh City. Tan An aims to draw experiences from practice to serve as a basis for synchronously implementing the Digital Transformation Program of Long An province to 2025, with orientation to 2030.
D. An
.