Logistics robot VMR-01 of Viettel Cyber ​​Center (VTCC) helps reduce 50% of personnel operating the sorting system, dividing and selecting goods, equivalent to a reduction of about 20 personnel / system.
Automation is an inevitable trend in the development process of enterprises in the 4.0 era, opening up many opportunities for technology enterprises to develop robotics, apply the most modern technology platforms to create products that meet a great demand from the market. In Vietnam, Viettel Cyber ​​Center (VTCC) is a pioneer, leading in technology research and development and providing solutions in the field of artificial intelligence to promote digital transformation for the Group. Viettel, the Government and businesses, fulfill the mission of creating a digital society.
At Viettel Post's warehouse, many transportation stages are no longer handled by humans, but are transferred to a "friend" named VMR-01. VMR-01 is the pioneering logistics robot using computer vision navigation in Vietnam, developed by Viettel Cyberspace Center. This robot can withstand a load of goods up to 300kg, works continuously for 8 hours, moves goods intelligently, scientifically, exactly according to the specified movement path in the warehouse without supervision. avoid any confusion, problems… commonly found in manual labor.
Robot VMR-01 does the job of moving goods
VTCC's "VMR-01 logistics robot" is applied in the process of taking goods from the sorting line, dividing and selecting trucks to transport goods to customers. The application of logistics robots in Viettel Post's warehouse has reduced 50% of the personnel operating the sorting system, equivalent to a reduction of about 20 personnel / system", said Nguyen Kim Thuan, manager of the automation department of Viettel Post. , excited to share.
"Robots have helped improve productivity by 2.5 times the normal labor speed, reducing warehouse operating costs. It is important that using technology like this helps to reduce accidents when performing traditional manual work with forklifts and diesel forklifts. Workers will focus on taking on other jobs that are less arduous, dangerous and repetitive. Thanks to that, people can focus on more complex tasks," added Mr.
The 'brain' that operates the robot is 10 times cheaper…
The "brain" of VTCC's robot is located in computer vision technology. With this technology, the robot is capable of building maps, reproducing landscapes, precise and clear paths, guiding and directing the way. During the move, the robot will always update status information such as location, the task being performed, and send signals to the server. All obstacles appearing on the moving journey are recognized, detected, and assessed by the robot, automatically offering a treatment plan without human intervention.
This is the first time in Vietnam that computer vision technology plays the role of the "brain" of the operating robot, instead of using radar or LiDAR technology commonly found in other operating robot models with the same function. use. The total cost for sensors on robots using LiDAR technology is more than 200 million VND. For VTCC's robots, when using computer vision core technology, high-cost navigation sensors such as LiDAR are all replaced by cameras costing just over 20 million VND, imported from camera suppliers. brand in the world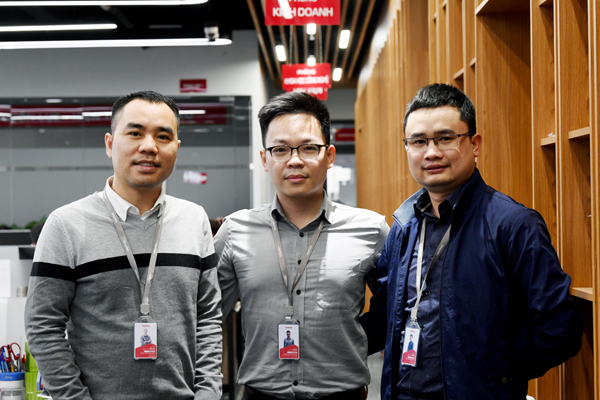 Robot development specialist at Viettel Cyberspace Center
The starting point of the journey towards smart logistics
In the coming time, VTCC will not only improve its functions and apply robots to reduce many stages that are using a lot of workers in the transportation and sorting lines in Viettel Post's warehouses, but also provide other services. solution to synchronize technology, completely transforming Viettel Post warehouse into a smart warehouse, affirming Viettel Post's brand as the leader in automation and digital transformation in the logistics industry in Vietnam.
"In the next 10 to 20 years, Viettel Post wishes to bring numbers, machines, and automation to increase productivity, towards human values. Humans do less work, manage more to dedicate their capacity and intelligence to higher jobs that machines cannot replace. We expect VTCC to accompany Viettel in researching and developing more intelligent robots, bringing many modern and optimized technology solutions to enhance digital transformation at Viettel Post", Major Nguyen Hoang. Long, Deputy General Director of Viettel Post shared VTCC's robot development potential in the field of logictics.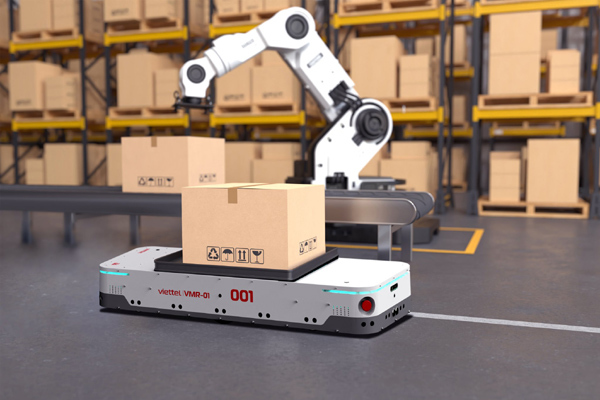 Robot VMR-01
In addition to the order to produce logistics robots from Viettel Post Corporation equipped in the megahub in Hanoi, VTCC has surveyed and advised its partner Digiworld (Digital World) on bringing logistics robots into application in the future. warehouse in Dong Anh, Hanoi. Looking back on the journey to conquer AI core technology in robotics, Lieutenant Colonel Hoang Ngoc Duong, Deputy Director of VTCC is proud: "VMR-01 is the first robot product line of VTCC in the field of logistics robots. This is the basis for the center to develop robots to perform other functions in the warehouse such as robots with fork lifts to transport pallets, robots to pull carts, robots to pick up goods, etc. These options will satisfy you. specific requirements of most future warehouse types.
In addition, the goal of VTCC is to build an AI Robot platform – a software platform that can be applied to develop most types of autonomous robots, helping to reduce the time in the robot development cycle. We aim to lead the artificial intelligence industry in Vietnam, master AI core technology to apply and develop smart products, contributing to creating a smart society."
In the development strategy for the period of 2021 – 2025, VTCC promotes research and development of smart devices, robotics using AI, Big Data in the postal industry, effectively supporting office and restaurant jobs. hotel … aims to become one of the four leading core technology research units in Vietnam. The logistics robot VMR-01 was successfully tested in the warehouse of Viettel Post Corporation (Viettel Post) as one of the first achievements.
Xuan Thach
.