With a "comfortable" price, LG A1 still owns high-end OLED technology, providing outstanding image quality, a wide choice of screen sizes to meet the diverse needs of each family.
Thanks to its outstanding performance, OLED is seen as the future of the TV industry. But at the same time, the amount of money that customers have to spend to get this high-end experience is not small, because OLED technology requires a complex, rigorous manufacturing process and expensive components.
But in recent years, LG has continuously improved its production line, aiming to "universal" OLED TVs for everyone. The most obvious proof is the A1 OLED model, which is considered to have a moderate price and a wide choice of screen sizes, helping to bring the high-end experiences of OLED technology closer to users.
High-end TV, why must it be OLED?
OLED is considered the most advanced display technology today because of the difference in its structure. OLED stands for Organic Light-Emitting Diode, which is an organic light-emitting diode. Using a panel with light-emitting organic diodes, each pixel on an OLED TV itself has the ability to light up or turn on and off independently when an electric current flows through.
Because it does not use a backlight, OLED TVs are much thinner than LCD TVs, LED TVs or even Mini LED TVs. In addition, because each pixel can be turned on and off independently, the black color of the OLED TV is absolute, each small dot will display the right color and brightness intensity with the images to be reproduced. That superiority has been confirmed by the global testing agency Intertek that the LG OLED display has 100% color fidelity.
Thanks to the panel that does not use lighting like conventional LED TVs, the black color on OLED TVs is deep, and the image contrast is at its maximum.
A puzzle piece for the full experience on OLED A1
Owning a new OLED panel is half the success, how to make the most of that hardware platform is also extremely important. Like an artist who has a full range of brushes and colors, now how to create a vivid and realistic picture from these materials.
On LG A1, the Korean manufacturer has equipped the α7 Gen4 4K AI processor with deep learning algorithms to analyze and optimize content. Before being displayed, each image is recognized for its content, removed for noise, and then automatically calibrated for the best display.
Similar to audio, through data of 17 million different sounds, the processor on OLED A1 will fine-tune voices, effects and frequencies for optimization. Both picture and sound are processed in sync with each other through the α7 Gen4 4K AI chip, making the viewing experience complete.
LG A1 inherits many features from the high-end line
Not only owning a 4K OLED panel and AI processor similar to other high-end OLED models of LG, OLED A1 also shares many powerful platforms. Including Dolby Vision IQ – a technology that intelligently adjusts picture settings based on content genres and surroundings, suitable for the placement of the TV in each room.
Meanwhile, Dolby Atmos brings the surround sound experience from the cinema right to your home. These two audio and visual technologies work together, enriching the experience both visually and aurally. HDR10 Pro or HLG technology is also fully equipped on LG OLED A1.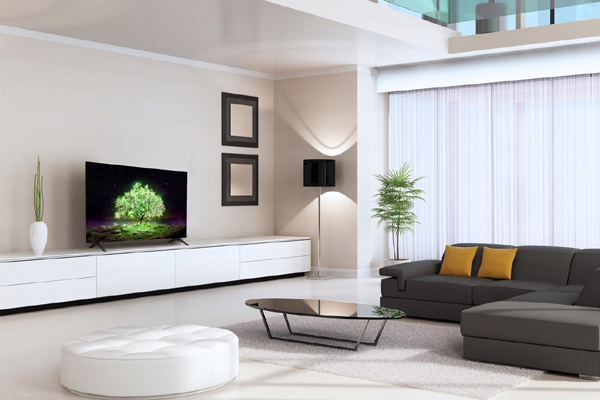 LG OLED A1 possesses most of the typical features of the high-end OLED series
Sharing the same LG platform, the A1 model also runs webOS 6.0 with the advantage of an intuitive interface, smooth operations and fast response. Especially on the latest generation, LG TVs will automatically "learn" and "understand" the user's viewing habits, thereby making appropriate content recommendations. When combined with the "flying mouse" Magic Remote will bring a convenient experience, helping users interact easily with the TV.
Diverse options, full of offers
With a price from 28.9 million VND, you can already own a 48-inch LG OLED A1 model, suitable for rooms with moderate space. If placed in a larger living room, the 55-inch and 65-inch versions, with the proposed price of VND 35.9 million and VND 49.9 million, respectively, will be an option worth considering.
Especially in this October, LG offers up to 30% off all Smart TVs when shopping at any electronics store nationwide. In addition, customers will receive an additional entertainment application package worth more than 2 million VND and receive a warranty program of up to 3 years. If you already own an LG smart TV, you can register as a member to receive a free 12-month gift to explore the FPT Play entertainment treasure.
In addition to launching mid-priced products, the Korean electronics brand continuously has "terrible" offers for users to easily access the high-end LG OLED TV product line.
Pearl league
.