According to a representative of the ICT Regulatory Authority of Kuwait, Covid-19 has created disturbances that accelerate digital transformation. And this process helps to create a set of strategies to improve living standards, the services provided to the people.
Digital transformation takes place at an unexpected speed because of the Covid epidemic
On the evening of October 14, within the framework of ITU Digital World 2021, the Ministerial Conference session themed "Digitalization of daily life: Government services and digital content promoting digital transformation" took place online through the platform. number block.
The ministerial session closed the year's biggest event of the member countries of the International Telecommunication Union (ITU) with the participation of Minister of Information and Communications Nguyen Manh Hung and ITU Secretary General Houlin Zhao.
Minister of Information and Communications Nguyen Manh Hung attended the Ministerial Conference on the evening of October 14. (Photo: Le Anh Dung)
Assessing that this roundtable session is a good opportunity for countries to exchange ideas and good practices in pursuing the journey of digital transformation, Ms. Agne Vaiciukevichiute, Deputy Minister of Transport and Communications of Lithuania said: The policies of the Digital Agenda, robust digital infrastructure at affordable prices and broad access, will provide the "backbone" for the digitization of economies.
The speakers all agreed that the Covid -19 pandemic had a strong impact, forcing countries to accelerate digital transformation.
Emphasizing the significance of digital transformation for the education sector, Mr. Thomas Davin, Global Innovation Director of UNICEF said: Before Covid-19, we had about 260 million children out of school and about 825 million children, young people on the verge of adulthood are not equipped with the appropriate skills at the secondary level, which they should have received from schools.
Currently, during the pandemic, 1.6 billion children have had their education disrupted. More than 18 months have passed since the outbreak began, but about 18 million children are still suffering the consequences of school closures. The only solution to this is a digital connection. "If schools, communities and those children are connected, this is really the first step in progress.", said Mr. Thomas Davin.
Tsoinyana Rapapa, Minister of Technology, Science and Communications of Lesotho emphasized: The pandemic has challenged the way we operate our normal lives. And while the pandemic has not spared any country, there are important lessons to be learned. "We learned that a lot of effort is needed in digital transformation to turn theory into practice."Mr. Tsoinyana Rapapa shared.
According to him, the pandemic has shown that the Government needs to prioritize policies and support ICT infrastructure for the digital transformation of services. Government initiatives have been implemented independently in various countries. This is because of the localization in each country.
Therefore, the Lesotho representative suggested that countries need to focus on information to effectively promote the use of ICT and that the Government should play a leading role. "This includes policies that promote investment in native content in developing countries. Stakeholders also need to have strong participation, including the private sector and some other sectors.", Mr. Tsoinyana Rapapa explained.
At the same time, countries need to invest in building contingency funds to reduce digital inequality; while ensuring everyone has affordable, reliable Internet access and enough bandwidth to meet their daily needs.
"I urge regulatory agencies to continuously adapt to change, renewing themselves to understand digital transformation issues and perspectives. This call needs cooperation between governments, regulators and it will benefit everyone.", Minister of Technology, Science and Communication of Lesotho stated his views.
Digital transformation is the most important catalyst for growth
With a speaker from the ICT Regulatory Authority of Kuwait (CITRA), Mr. Salim M. Al-Ozainah, Chairman and CEO of this unit, said that the Covid-19 pandemic has created disturbances. mixing causes the digital transformation to happen at an unexpected speed.
Governments are moving many public services online to ensure they are accessible to the public. The private sector also promotes online trading, education moves online so students can continue their studies… "New conditions force management agencies and businesses to have appropriate policies and strategies to adapt", said Mr. Salim M. Al-Ozainah.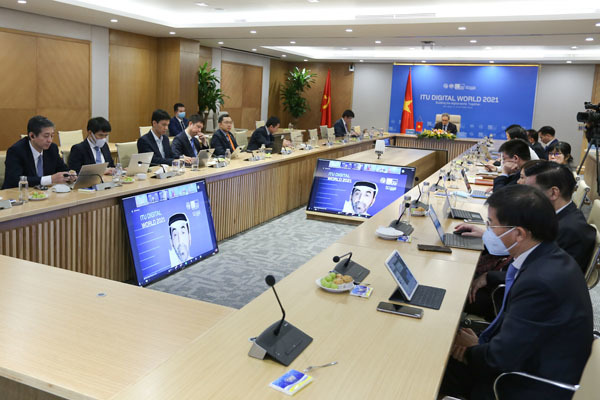 The Ministerial Meeting on the evening of October 14 was themed "Digitalizing daily life: Government services and digital content to promote digital transformation" (Photo: Le Anh Dung)
CITRA representative commented: Digital transformation and cloud application exploitation will help cut time, costs and achieve more flexibility and efficiency in communication and other areas of business life. socio-economic.
Not only that, this process will expand the scope of development, change and accuracy of shifting priorities of the economy, local markets and industrial sectors. Digital transformation is an important driver and catalyst for growth.
Three key digital transformation priorities
Also seeing the impact of the pandemic on a positive side, Majed Sultan Al Mesmar, Director of the Department of Telecommunications and Digital Government (TDRA), the United Arab Emirates, said that the pandemic has helped countries realize the great benefits of digital transformation, whether in terms of socio-economic or environmental aspects.
Sharing her country's experience, Lithuania's Deputy Minister of Transport and Communications, Agne Vaiciukeviciute said, based on the foundation of the digital infrastructure, Lithuania has identified three main priorities for digital transformation including governance. Public IT, open data and driving digital innovations.
Lithuania is exploring how to govern IT to create a strong digital base for the public sector to grow GDP, reduce public spending, facilitate businesses and people to do business, improve competitiveness. painting. At the same time, fully consolidate state data sources so that IT infrastructure services and processes of public organizations are centrally managed efficiently and securely.
"We have invested around 95 million euros to ensure the success of this reform. Another 15 million Euros were allocated to strengthen the national ID system's cybersecurity. We will promote open data systems in public policy to improve the quality and foundation for the public scientific community and businesses. Other communities can also use it easily.", Ms. Agne Vaiciukevichiute shared.
The Lithuanian government also prioritizes promoting digital innovation. Efforts to revive the economy and develop sustainable LANs have resulted in financial incentives of 50 million euros for startups, which will have many products and solutions on Blockchain technology, AI and other technologies. urban processes that the country considers an important part of its digital transformation policy.
Challenges to maintain trust in the digital environment
With Indonesia, Ms. Mira Tayyiba, Secretary General of the Ministry of Information and Communications of this country, affirmed that digital technology has become the mainstay of Indonesia in responding to the Covid-19 pandemic. Since the beginning of the epidemic, the digital sector has been among the fastest growing, reaching a rate of 10.58% in 2020 and cumulative growth of 7.78% in the first half of this year.
The digital sector is also a driving force for businesses to persevere through the crisis. The pandemic has prompted countries to work harder and more efficiently as they accelerate their digital transformation agenda.
"The pandemic accelerates the Government's efforts in providing public services to create a recovery in Indonesia. We have built an integrated application to support people, by October 2021, there are 52 million users. This application provides vaccination registration, number service and many other conveniences. Digital technology creates opportunities for everyone, including small and medium-sized businesses, to participate and benefit from the activities of the economy."Ms. Mira Tayyiba said.
However, the Indonesian Minister of Information and Communications said that the ability to access digital services due to insufficient infrastructure or high costs or insufficient capacity to use digital technology will certainly widen the digital gap. Therefore connectivity and bandwidth must be increased.
In this context, the Government of Indonesia, through the relevant ministries, departments and agencies, has focused on providing reliable and affordable Internet access as well as equipping citizens with the necessary knowledge to ready to digitize.
Talking at the roundtable session, from the experience of the unit that has been participating with Government agencies in bringing state services to the people, Viettel General Director Le Dang Dung pointed out one of the The challenge for digital transformation in the post-pandemic era is to maintain trust in the digital environment so that people can confidently work and live mainly in that environment.
"Ensuring network security is a prerequisite. Building a safe and transparent digital environment must be a joint task of governments and businesses.", Mr. Le Dang Dung emphasized.
ICT reporter group
What do Vietnamese tech giants perform at ITU Digital World?
Vietnamese technology enterprises showcased many Make in Vietnam solutions and products at the 2D and 3D online booths during the ITU Digital World event, bringing unique experiences to viewers.
.