This is the concern of many readers before the information that Vietnamese scientists are researching the use of AI technology in combination with coughs to find people with Covid-19.
As VietNamNet once reported, a group of Vietnamese scientists has implemented a project to use AI to analyze coughs. When a suspected infected person coughs into the phone's voice receiver, the AI ​​will analyze the cough and make a diagnosis if they have Covid-19 or not.
Their solution will help classify and find people infected with Covid-19 quickly and without testing. The above method also helps to limit the risk of cross-contamination in the testing area when crowded with people. So is this a possible solution to combat the spread of Covid-19?
Cough analysis can find disease
A good mechanic can hear the car and find the fault. This is also true of the medical profession when the cough is one of the signs reflecting the health status of each person. This fact has been proven when many works around the world apply the study and analysis of coughs to find diseases.
Since 2012, scientists from the University of Queensland (Australia) have had patented research on using technology to analyze coughs, which can then be applied to health diagnoses.
A research team led by Associate Professor Udantha Abeyratne (University of Queensland) has developed a diagnostic tool that uses smartphones to find respiratory diseases such as asthma, pneumonia and chronic obstructive pulmonary disease using only listening to the patient's cough.
Cough sounds can be recorded and analyzed using a computer to find unique features to diagnose respiratory diseases.
According to Associate Professor Udantha Abeyratne, doctors often treat cough as a symptom rather than a descriptive sign of illness. However, there are many different types of cough, cough can be wet or dry, hoarse, wheeze or cry out loud, …
With those symptoms, people call it cough symptoms. However, these descriptions are still very general. That's why scientists want to use signal processing and machine learning technologies to read what those coughs mean.
With research by scientists from the University of Queensland, the use of smartphones to record coughs for diagnostic purposes can support health work in remote areas where people have difficulty accessing health services. medical facilities.
How is a cough diagnosis made?
A simple stethoscope can perceive sounds around 3kHz. Meanwhile, cough can include sounds with frequencies up to 60 kHz, far beyond the range of human hearing. That is why the same cough sound contains a lot of different information that the human ear cannot perceive.
In addition, the cough also includes information about the rate of breathing, the contraction of the chest. For example, in someone with asthma, the constriction of the bronchi limits the rate of airflow during a cough and also produces other characteristic resonant sounds.
In pneumonia, lung tissue can become infected, leading to a buildup of secretions in the bronchi and air sacs (alveoli). This limits the overall volume and velocity of the airflow and causes specific sounds. This is an important input to recognize and find the disease.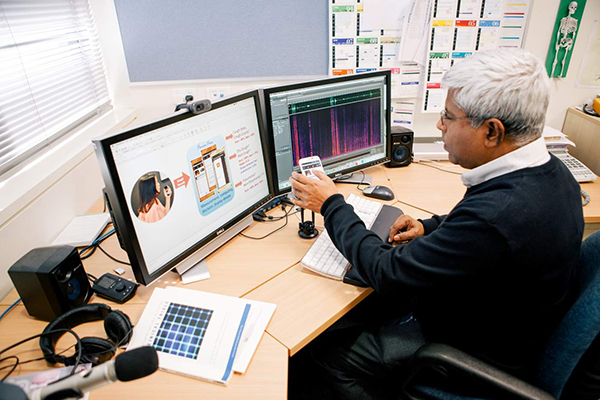 Coughs contain sounds that the human ear cannot hear. However, these differences can be easily recognized by machines and artificial intelligence.
To analyze the cough, the first thing the diagnostic tool will allow is to record the cough with the phone. The tool then automatically extracts the cough sound, analyzing it with machine learning algorithms to see which sounds most closely resemble the symptoms of a disease.
In its simplest form, the technology can be developed into a smartphone app. Users can download and use the application without the need for accessories, attached sensors or even a network connection.
With work from the University of Queensland, their technology could be offered as a tool in pulmonology departments in hospitals. The results of this research group help diagnose pneumonia with much higher accuracy than the WHO method. Research results also show that this method can be applied to other respiratory diseases such as asthma, bronchitis, …
How Vietnam uses cough to find people infected with Covid-19
Talking to PV VietNamNet, Mr. Le Hung – project coordinator of using cough to find people with Covid-19 (AICOVIDVN) said that the Vietnamese research team will take advantage of previously published results of scientists. Studied at Massachusetts Institute of Technology (MIT, USA).
Accordingly, unlike the cough of ordinary people, the cough of a person with Covid-19 can be detected through 4 biomarkers.
These markers include muscular dystrophy, degeneration, muscular degradation, changes in vocal cords (Changes in vocal cords), changes in expression/ changes in sentiment/mood and changes in sound from the lungs and respiratory tract.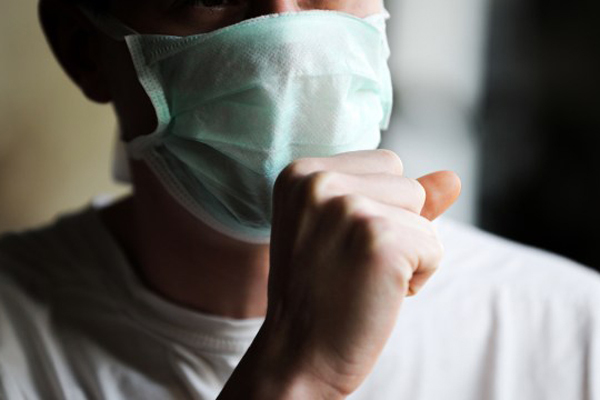 The analysis of cough can completely help find people infected with Covid-19.
To find out who has Covid-19, the Vietnamese research team will use an AI algorithm to analyze thousands of cough samples of people who are positive for Covid-19. In addition, there are thousands of cough samples from people who are not sick or have other diseases that damage the lungs.
The system will automatically recognize the vulnerability characteristics caused by Covid-19 only. These are signs of damage that the human ear cannot detect. This is the power of AI technology.
Of course, to get accurate results, the research team needs to use the right AI method, along with many complex filters, Hung said.
The research team of the AICOVIDVN project is also in need of more Vietnamese cough samples, along with information about the person who gave the sample positive or negative for Covid-19.
AICOVIDVN urges all Vietnamese people, especially subjects F0, F1, F2,F3 to record a cough sample, then send the file to Zalo Group at the data reception portal: bit.ly/dulieutiengho or Messenger of Official website of the project: m.me/aicovn
This is a simple but meaningful measure to join hands with Vietnamese scientists to develop a tool to find people with Covid-19 using technology.
Trong Dat
Vietnam studies using cough to find people with Covid-19
This project will use artificial intelligence (AI) to find people with Covid-19. This is a research project with the participation and collective contributions of many Vietnamese scientists.
.