Apple will launch the new iPhone 14 series in less than 3 months. Some features and specifications of the new iPhone continue to leak, notably with the iPhone 14 Pro model.
Follow 9to5Macpost on Baidu recently revealed the battery capacity of each new iPhone 14 model. Some iPhone 14 models will receive outstanding battery upgrades, the most notable of which is the iPhone 14 Pro version.
Accordingly, the standard iPhone 14 will have a 3,279mAh battery and the iPhone 14 Pro will have a battery capacity of 3,200mAh. For comparison, the battery of the iPhone 13 is 3,227mAh and the iPhone 13 Pro is 3,095mAh.
However, the iPhone 14 Pro Max model has a 4,323mAh battery, slightly down from its predecessor iPhone 13 Pro Max at 4,352mAh.
The only new iPhone model that can't be compared is the rumored iPhone 14 Max, which will have the largest battery in the upcoming iPhone 14 series at 4,325mAh.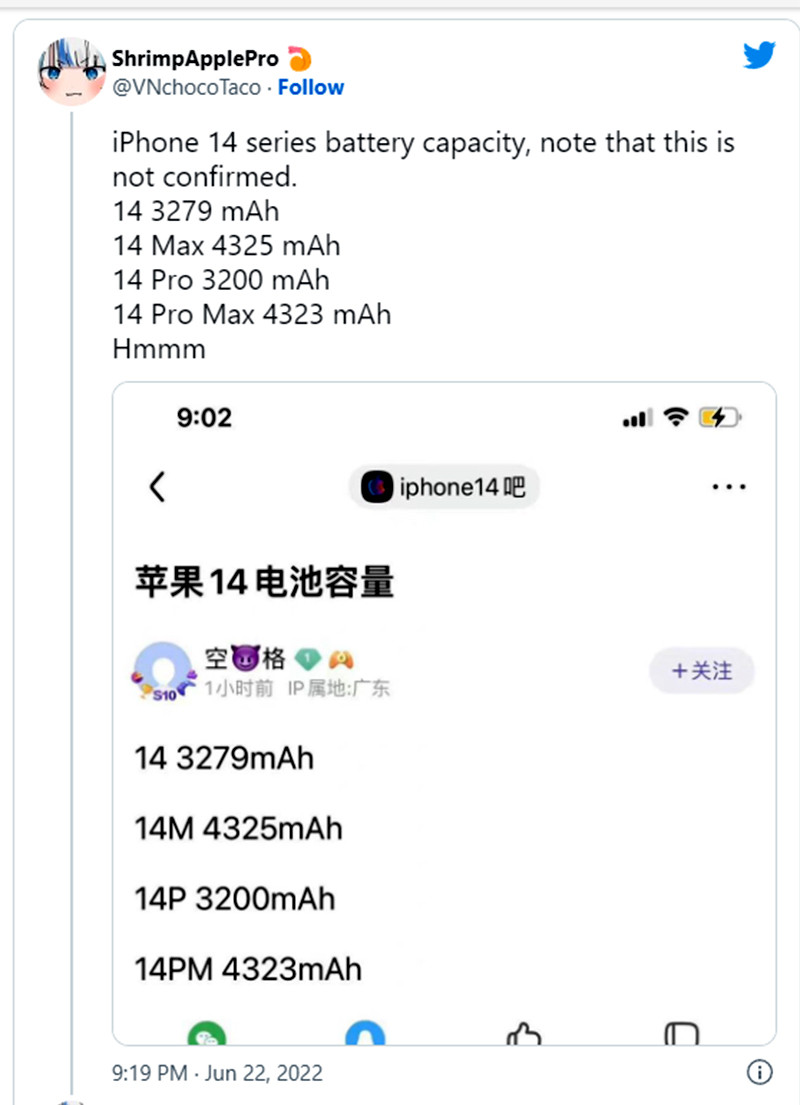 Of course, a large battery is not a decisive factor in battery life and user experience. The battery capacity of the iPhone is often lower than that of high-end Android smartphones, even losing to mid-range Android phones. But Apple smartphones are often better optimized.
For example, the iPhone 12 Pro Max has a battery at 3,687 mAh, a figure that is not impressive when compared to Android flagships like the Galaxy S20 Ultra which is 5,000 mAh. However, according to the test of PhoneArenathe web surfing time of the iPhone 12 Pro Max is 14 hours and 6 minutes, while that of the Galaxy S20 Ultra 5G only reaches 12 hours and 23 minutes.
With the predecessor of the iPhone 14 Pro, the iPhone 13 Pro, the 3,095mAh battery provides more than 11 hours of continuous use. Therefore, if the iPhone 14 Pro has a larger battery than its predecessor at 3,200mAh, this will be a significant upgrade.
In addition to the battery capacity, 9to5Mac Also citing a recent report by analyst Ming-Chi Kuo said that this year's iPhone 14 series will receive the biggest front-facing camera upgrade in years, with autofocus and larger aperture. High-end iPhone models including iPhone 14 Pro and iPhone 14 Pro Max will use a "punch" screen instead of a "rabbit ears", a new A16 Bionic chip and a 48MP main lens rear camera.
A highly-anticipated feature that will be available on the iPhone Pro versions is the always-on display, which may also be the highlight for the new iPhone expected to be released in September.
See the latest iPhone 14 Pro concept:
Hai Phong
.