On the afternoon of July 11, in Thai Nguyen, Thai Nguyen Department of Information and Communications in collaboration with the National Electronic Authentication Center (NEAC), the Club of Digital Signatures and Electronic Transactions of Vietnam officially opened the integrated solution. remote digital signature on the Provincial Public Service Portal.
On the online public service portal of Thai Nguyen province at the address dichvucong.thainguyen.gov.vn, the locality is providing 1,231 level 4 public services, including 1,072 administrative procedures at provincial level, 115 administrative procedures at district level. and 44 administrative procedures at commune level.
In the context of strong digital transformation, digital signatures become an important part of the digital infrastructure, helping to ensure safe transactions in the digital environment. However, the traditional USB token digital signing technology has many inconveniences such as requiring computer operations, always having to carry hard equipment, and costly USB tokens.
Therefore, current users are mainly organizations, enterprises and state agencies, used in tax declaration services, social insurance and electronic customs. The scope of use and the proportion of individual users is extremely modest.
Sharing at the event, Mr. Nguyen Thien Nghia, Deputy Director in charge of NEAC Center said that so far, there are 1.5 million digital signatures being used by agencies and organizations and about 350,000 personal digital signatures. . But online activities using digital signatures are limited mainly to 4 activities including electronic invoices, electronic tax declarations, electronic customs and social insurance. For online public services, the use of digital signatures has been initially implemented, but there are still difficulties because people use digital signature services of many different service providers.
"Thai Nguyen is the first province to solve this problem, applying a unified standard, so that all digital signature service providers can connect through the province's public service portal"information, Mr. Nguyen Thien Nghia.
Specifically, in order to cover digital signatures for people and promote digital transformation, Thai Nguyen is one of the pioneer localities to integrate digital signature authentication services under the remote digital signature model into the Translation Portal. provincial public service.
Remote Signing is a new digital signing solution that offers the highest level of convenience, compliance, and security on mobile devices for signer authentication. With Remote Signing, users do not need USB Token like traditional digital signatures, but can use smartphones and tablets to digitally sign. Remote Signing brings many conveniences, especially for individual users when allowing digital signing anytime, anywhere at a reasonable cost.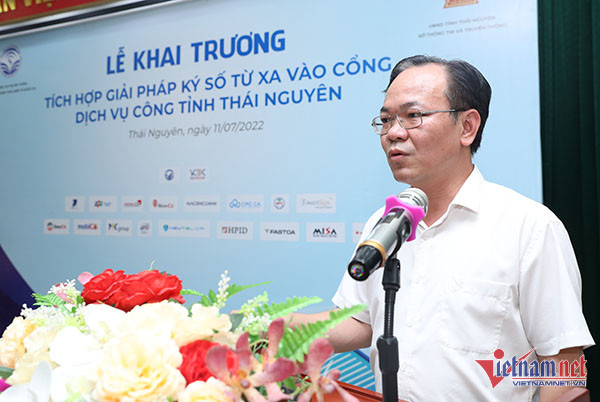 Mr. Do Xuan Hoa, Director of Thai Nguyen Department of Information and Communications, Thai Nguyen province said: The integration of remote digital signing solution into Thai Nguyen Public Service Portal will help simplify people's use of digital signatures, while still ensure the integrity, authenticity and non-repudiation of data when digitally signed. Thereby, speeding up the digital transformation of Thai Nguyen province.
Mr. Ngo Tuan Anh, Chairman of the Vietnam Club of Digital Signatures and Electronic Transactions, said: With remote digital signature, people and businesses can use the mobile phone they are using every day to sign. . This is a radical change, convenient for users.
"We hope that the widespread deployment of remote digital signing services will accelerate the digital transformation process in Vietnam, contributing to realizing the goal of the national strategy to develop the digital economy and digital society until the end of the year. 2025, with a vision to 2030, in which the percentage of the adult population with digital signatures or personal electronic signatures reaches over 50%.Mr. Ngo Tuan Anh said.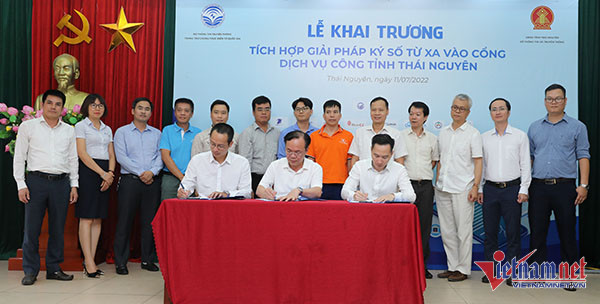 Also at the opening event, public digital signature authentication service providers signed a memorandum of understanding with the Department of Information and Communications of Thai Nguyen province to provide people with the service free of charge for 6 months.
With this agreement, Thai Nguyen people have the opportunity to experience a remote digital signature solution to perform electronic transactions, improve work efficiency, increase publicity, transparency in management, increase convenience. benefits and improve trust when participating in electronic transactions.
Van Anh
.