As an all-in-one integrated solution, CMC Cloud Link brings a new generation streaming support tool for broadcasters on OTT application.
Appearing at the seminar "4.0 technology solutions for the radio – television industry and the financial autonomy plan for Radio – Television stations", Mr. Le Anh Vu – Creative Director of CMC Telecom gave the report on a wave of shift from traditional television to digital environment in 2021.
Accordingly, entertainment services based on OTT platforms (such as Youtube, Netflix, Facebook …) will grow more dramatically in the coming period and tend to replace traditional television services. Proof of this claim, according to a report of PwC Global Entertainment & Media Outlook in the period of 2019 – 2023, entertainment services on the VR platform, the OTT platform in the world will have overwhelming growth. other types, while traditional television, magazines, newspapers are forecasted to be the lowest types of growth and are at risk of negative growth.
According to PwC's Global Forecast report, new services such as OTT, VR, Video games / E-sport, Live Streaming advertising will have the highest average growth rate.
As a solution advisory technology unit for the Broadcasting and Television industry (PT-TH), CMC Telecom introduced nearly 40 television units in the Southern provinces of a "Make in Vietnam" streaming platform. new generation – CMC Cloud Link.
Designed with the goal of optimizing TCO costs, investment and operating costs, CMC Cloud Link is an all-in-one solution, including storage, streaming, CDN content distribution solutions, Cloud CMS system helps to manage live / Video on Demand content with additional smart data analysis features to optimize user experience. In addition, as an open platform, CMC Cloud Link will be integrated with an SDK / API tool to help broadcasters be proactive in developing new features instead of having to buy packaged products.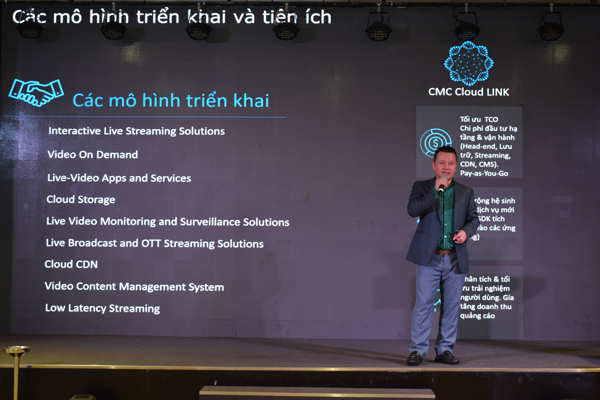 Mr. Le Anh Vu – Creative Director of CMC Telecom introduces CMC Cloud Link solution – a new generation streaming platform for OTT applications to domestic television stations
CMC Telecom has the advantage of being the leading converged service provider (CSP) in Vietnam as well as owning an open cloud infrastructure capable of connecting directly to the cloud of AWS, Microsoft and Google. Thereby, the birth of CMC Cloud Link will create a strong support platform for units to digitize content on OTT platforms.
Also in the seminar "Technology solutions 4.0 with PT-TH industry", AWS Vietnam also offered solutions to support manufacturers, including the application of cloud computing platforms, AI / ML technology to Create a supply chain that automates the content processing, helping to reduce the burden of program production.
Rely on AI / ML technologies developed on the Amazon SageMaker platform such as Amazon Rekognition to automatically identify and control content quality – like information about characters, places, objects in the video or flagging for prohibited, violent content. With sports TV channels, ML and Analytic will help provide a more enjoyable viewing experience by providing detailed insight on distance, speed, player / player info, match notes , predict the situation and interact with other viewers.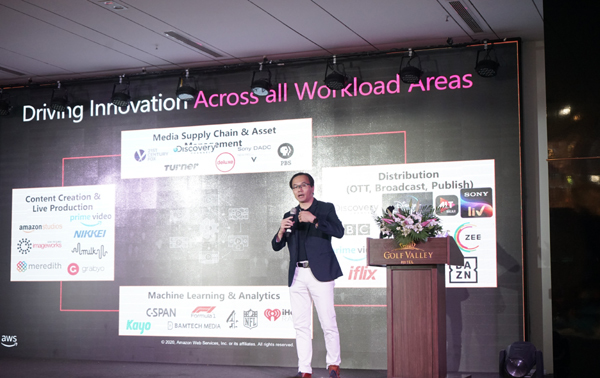 Mr. Luu Danh Anh Vu, Director of Partner Development, AWS Vietnam shared the success stories of world-famous media channels such as Netflix, Discovery … to support the TV station in building. digital content
Mr. Le Anh Vu – Creative Director of CMC Telecom emphasized: "The Covid-19 epidemic is changing completely the entertainment needs around the world. This will be a good time for Vietnamese television to catch up and change. I am in line with the trend. Make good use of the advantages of national digital infrastructure, strong telecommunications infrastructure as well as appropriate cloud computing infrastructure and IT solutions will create a resilience for PT-TH industry in 2021 "
Thuy Nga
.