Two of the videos removed by Hung Vlog are only a small part of the malicious videos removed from YouTube.
Vietnam ranks 12th among the countries with the most videos removed from YouTube
Since 2010, Google has put in place a transparency reporting system to tell users about the number of videos that have been removed on YouTube and why they were removed. According to the report as of 2019, Google received 348 requests from Vietnam and removed more than 15,000 content, reaching the rate of 81% of meeting requests from regulators.
Most of the content requested to be removed came from YouTube, which has been a controversial platform for many years not only in Vietnam but also globally. Worldwide statistics in the second quarter of 2020 show that YouTube removed 11.4 million videos, but just over 550,000 videos were actively removed by users, flagged or requested by local authorities. host countries.
Notably, the number of 11.4 million videos removed in the second quarter is a record number in the past 3 years. It shows that YouTube relies heavily on AI automatic censorship and often leaves a lot of malicious videos. In Vietnam alone, more than 222,000 videos were removed in the second quarter of 2020, ranking 12th globally.
In the past 1 year, Vietnam's highest ranking is 6th with more than 260,000 videos removed in the third quarter of 2019. The countries regularly in the top group are the US, India, Brazil, the Netherlands and Russia.
In addition, the Google report also has statistics on comments and YouTube channels that have been removed. However, there is no independent report for each country in this category.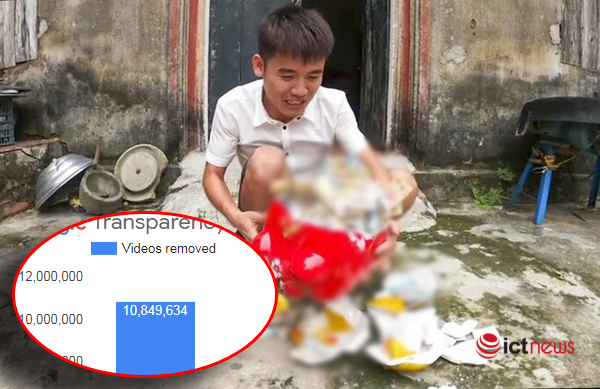 Hung Vlog's two removed videos are just a tiny fraction of the millions of videos removed on YouTube every quarter
There are still no statistics in the third quarter of 2020, but from two videos that Hung Vlog actively removed, this number is only a very small part of the malicious videos that are rampant on YouTube. Moreover, Hung Vlog only accepted to remove the clip after the Bac Giang Department of Information and Communications stepped in, sanctioning this YouTuber with the amount of 7.5 million and 10 million dong after two consecutive violations in just 1 month. here.
These clips are "Troll sister, brother eat chicken porridge pot and the end" posted on September 5 and "Troll stole money, broke her sister's piggy bank, brother went out to eat and the end "Posted to YouTube on October 3.
Both clips were requested to be removed for providing and sharing information that was inconsistent with the national traditions and customs, according to point b, clause 1, Article 101, Decree No. 15/2020 / ND-CP Quy to sanction administrative violations in the fields of post and telecommunications, radio frequency, information technology and electronic transactions.
After Nguyen Van Hung, another famous YouTuber, Nguyen Thanh Nam, also actively removed 6 videos that were considered offensive, non-educational, and had been criticized a lot by viewers. .
However, it is too early to say that the YouTube environment in Vietnam is clean again. According to experts, as long as YouTube keeps recommending videos based on views and autoplaying videos according to random content, then malicious videos still have a way to spread to many viewers. more.
Phuong Nguyen

Why is Hung Vlog's 'whole chicken porridge pot' video viral?
Rated as offensive, not suitable for fine customs, but the prank video genre is often very viral when it hits the psychology of a part of viewers.
.