In addition to the two top app stores, AppStore and Google, many Vietnamese game developers are looking for new opportunities at Huawei AppGallery – the third largest mobile app store in the world.
Launched slower than two rival app stores, but Huawei AppGallery with great potential from the billion-dollar market and the number of users available from the world's leading phone maker – Huawei, Huawei's app store is easy easily to No. 3 and now offers millions of attractive applications in areas such as gaming, shopping, food delivery, travel and entertainment.
Especially in the gaming field, Huawei AppGallery has surpassed 12,000 applications with more than 80 million downloads. Total game revenue and paid players on the platform have also recorded impressive growth of 100% and 120% in 2019.
Mr. Dinh Hong Ha – Ecosystem Development Manager, Huawei Vietnam shared about the potential of the third largest global application store.
Not only at the impressive growth rate, what makes Huawei AppGallery superior to its competitors is an ecosystem with comprehensive support capabilities. In its app store, Huawei has built an intelligent editing system that detects quality apps and suggests them to users. This will help quality game products at Huawei AppGallery be recognized and easily accessible to many potential customers from the beginning without having to come from the famous or famous developers in the market. school.
Amanotes is one of the top 20 app developers in the world with popular music games such as Magic Tiles 3, Tiles Hop, Dancing Road by mid-2020, Amanotes has achieved more than 1 billion downloads. global, and more than 95 million monthly users.
Commenting on the cooperation with Huawei AppGallery, Mr. Vu Nam Hung, Distribution Director of Amanotes said: "Amanotes always expects to bring new and unique experiences between music and games to everyone regardless Skin color, ethnicity, or territory: "Everyone can Music". To be able to reach that vision, there is indispensable companions with Amanotes: strategic partners in games and music to create a global impact together.
We also fully believe that Huawei, with an ecosystem on the rise, will become an important companion of Amanotes in the near future. And through the program "Huawei AppGallery – Global Connect", we hope to help many game creators in particular, and applications in general, reap many suitable values ​​for development strategy. mine".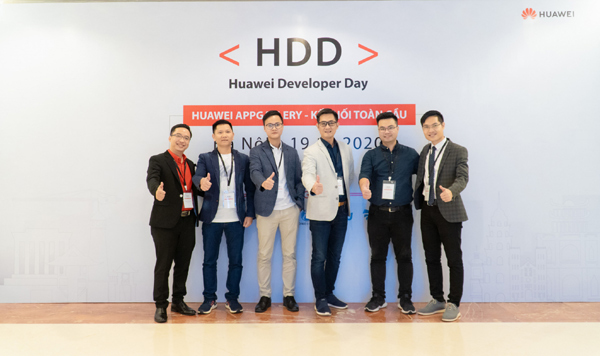 Representatives from Huawei and leading application developers in Vietnam at the event
Huawei pays special attention to app developers in each country with a desire to bring users more quality content and support small and medium developers. Huawei AppGallery increases its share of profits for developers so that they can reinvest to improve product quality.
In addition, Huawei actively consolidates and perfects the advertising platform that makes it easy to connect advertising partners with developers, thereby promoting in-game advertising to optimize profits.
Not only that, Huawei also pays special attention to the developers in each country and locality with a separate team to help partners in a timely and effective manner to overcome barriers. language or cultural differences when bringing their products to international markets.
Huawei AppGallery with many attractive policies promises to become a new potential playground for Vietnamese application developers.
Pearl league
.