With technology products with strong performance, stable operation to help promote business efficiency, and at the same time being environmentally friendly, HP conquers businesses with sustainable development goals.
Meet business goals and social and environmental goals
In a progressive society, business is not only a matter of profit but also how to develop sustainably. This is also what many young people are striving to pursue, including Marina Tran Vu, CEO of EQUO Vietnam, a successful start-up with "green" products to replace single-use plastic.
In the talkshow "Creating a competitive advantage for Vietnamese products in the international market", Marina Tran Vu shared many experiences in using technology to effectively serve business with environmental protection factors. school. These shares have received a lot of attention from young founders because this is the development trend of the future.
EQUO Vietnam aims for sustainable development through for-profit business
At the seminar, the young CEO shared his own perspectives on balancing the mission for the community with business for profit. For Marina Tran Vu, EQUO Vietnam is not a non-profit organization; EQUO Vietnam is a for-profit business, with the goal of becoming a successful business that can influence and change the consumption habits of plastic products on a larger scale.
This has made EQUO Vietnam consider choosing technology products with strong performance and stable operation to support and promote business performance, while still ensuring the element of social responsibility. society and the environment. That is also the reason why this start-up believes in HP, a leading brand in innovation with a vision towards sustainable values, constantly providing customers with quality and affordable products. Contains recyclable, environmentally friendly ingredients.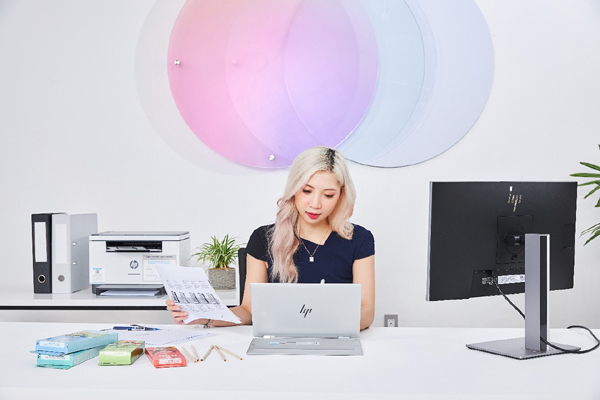 CEO of EQUO Vietnam believes in HP, the leading brand in innovation
HP is a pioneer in environmental protection when it is committed to reducing the amount of plastic used in packaging by 75% by 2025, reducing greenhouse gas emissions by 30% by 2025. And HP is aiming to become the world's most sustainable technology company by 2030.
Effective cost management from investing in technology solutions
Sharing about the issue of using reasonable costs of start-ups and the need to equip technology equipment to support working and operating the company, CEO Marina Tran Vu said: "For a newly established startup. , there are also cost constraints, so I tend to invest in products with high durability, to reduce costs and repair time, as well as to ensure work efficiency."
With these requirements, HP suggested to EQUO Vietnam a set of solutions including EliteBook x360 830 G8 laptop, E-series computer monitor and LaserJet M236dw printer. These are products equipped with many intelligent features to serve the needs of the job.
Possessing a flexible folding design with four modes of use, the EliteBook x360 830 G8 breakthrough with 11th generation Intel Core processors, with integrated Iris Xe graphics for flexible, powerful, and powerful performance. breakthrough for businesses. In addition, the product line is also equipped with many features to help businesses meet the hybrid working model. Prominent is the optimal audio technology for online meetings taking place more and more often at the present time. The dual speaker system tuned by Bang & Olufsen delivers clear sound with rich sound quality; three microphones and AI noise cancellation technology for clear voice recording, ensuring meetings as lively as face-to-face meetings.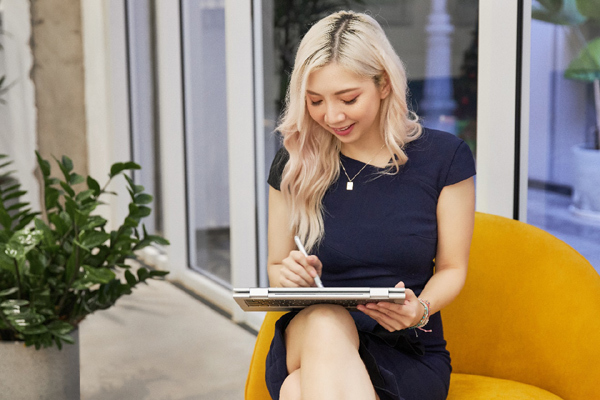 HP EliteBook 800 series G8 with flexible, premium design and outstanding performance
To expand the working space, the HP E-series computer screen that connects the laptop to the large screen is also a worthwhile investment to improve work efficiency, suitable for the jobs that need to be done. Process lots of data, tables, or work with highly detailed technical drawings. At the same time, these display devices also have built-in always-on HP Eye Ease technology, which both reduces blue light and ensures color accuracy and sharp display quality that will help users better protect their eyes when work continuously for a long time.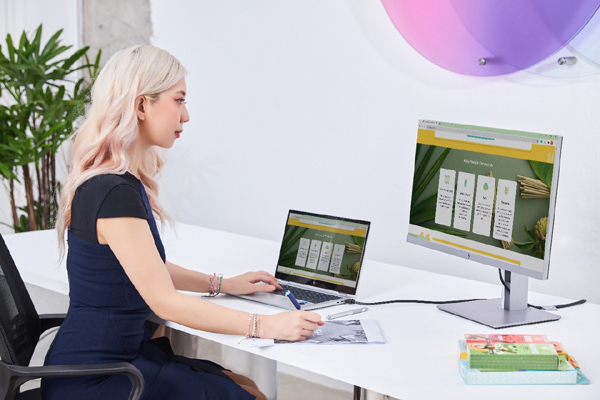 Expand your workspace and protect your eyes with HP E . series monitors
Meanwhile, the LaserJet M236dw printer impresses with its ultra-fast two-sided printing and dual-band wifi for a stable connection for uninterrupted printing. In particular, with the HP Smart app installed right on the phone, users can print work documents from anywhere, even when not next to the printer. With just a few simple steps, the application also allows high-quality scanning of important documents and sending them via email or backing up in the cloud for convenient remote printing.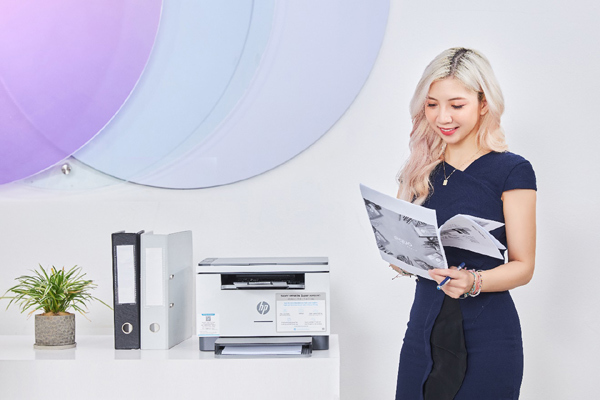 HP LaserJet M200 series printers feature compact design, easy installation, and fast duplex printing
CEO Marina Tran Vu also highly appreciated the security of HP technology devices in the 4.0 era when there are many potential risks of cyber attacks. The EliteBook series is equipped with a one-touch fingerprint sensor, optional facial recognition with an infrared camera system to help secure device login; optional HP Sure View anti-peeping screen to help protect important information when using the computer in crowded places; HP Sure Start BIOS self-healing technology helps protect devices against BIOS attacks.
In addition, factors that help support and ensure smooth operation such as durability, high stability, low failure, as well as environmental friendliness are also what make this young CEO love at HP. HP products meet Energy Star, TCO Epeat or Blue Angel environmental standards. In the long run, using stable and durable technology products will help businesses save time and costs related to equipment operation, maintenance and repair, and spend resources to invest in other businesses. other important goals.
Learn more about the HP EliteBook 800 laptop product line at: https://www.hp.com/en-en/laptops/business/elitebooks.html and the HP LaserJet M200 printer family at: https:// www.hp.com/en-en/printers/laserjet-200-series.html
Doan Phong
.