People in Vietnam can observe the final phase of a partial lunar eclipse, even if only for a relatively short period of time.
As VietNamNet has reported, tonight (November 19) there will be a partial lunar eclipse. This partial lunar eclipse lasted more than 3 hours and was the longest lunar eclipse in 500 years.
The lunar eclipse started at 14:19″, peaked around 4pm and ended at 17:47″ on November 19 (Hanoi time).
The most favorable places to observe the lunar eclipse are the islands of the Pacific Ocean, the countries of the Americas, Australia, parts of Asia, Europe and Africa.
The countries of North America, Central America and Oceania are well positioned to observe the maximum phase of the lunar eclipse on November 19.
Vietnam is not located in an area where the lunar eclipse of November 19 can be observed at its maximum. However, we can still observe the last stage of this phenomenon.
The period of observation of the lunar eclipse will be from the moment the Moon appears at the end of the horizon until 17:47.
In Hanoi, the Moon will rise at 17:14. Therefore, the people of the capital will have about 30 minutes to observe the final phase of the partial lunar eclipse.
With Ho Chi Minh City, the Moon rises quite late at 17:26″, close to the time when the partial lunar eclipse ends. People in the southern provinces will only have about 20 minutes to observe the partial lunar eclipse.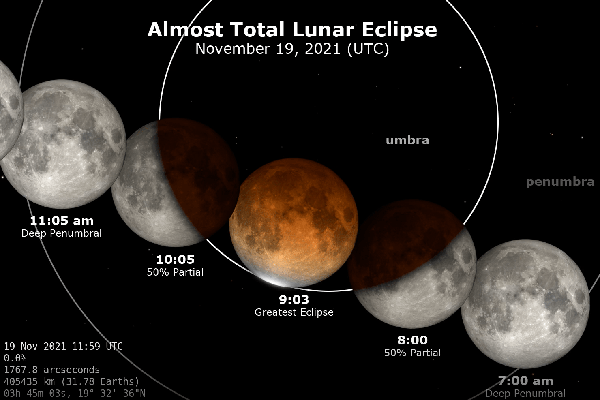 Phases of the November 19 lunar eclipse.
After the partial lunar eclipse ends, it will move into a penumbral lunar eclipse (lasting more than an hour). However, at this stage, the Moon is not significantly different from the full moon nights.
A lunar eclipse is a phenomenon that can be seen with the naked eye. However, a lunar eclipse is easier to see if the viewer has binoculars or a small telescope.
To observe the lunar eclipse, viewers need to find a vantage point with a wide viewing angle. Weather conditions can affect the observation process. Viewers can only observe the lunar eclipse if the sky is clear and the weather conditions are good.
Trong Dat

Tomorrow will be the longest partial lunar eclipse of the century
Not just as simple as regular lunar eclipses, this is the longest lunar eclipse in the past 500 years.
.