Director of Thai Nguyen Department of Information and Communications Do Xuan Hoa shared, Thai Nguyen has turned the Digital Transformation Resolution into an action program, a specific plan, a very strict, sure and methodical approach.
Businesses and people are eager
According to Director of Thai Nguyen Department of Information and Communications Do Xuan Hoa, when this locality implemented the digital transformation program, many IT businesses were eager to join Thai Nguyen, even sponsored the entire survey and consulting costs. for the province.
Saigon Tel Corporation is free of charge for the entire survey, survey and consultation for the province. They connected with Roland Berger – a multinational corporation specializing in digital transformation consulting, bringing a group of very quality experts to help the province develop a plan for digital transformation. After researching, the consulting unit recommended Thai Nguyen to do 37 key tasks with more than 100 detailed jobs divided among all departments, branches and localities.
Director of Thai Nguyen Department of Information and Communications Do Xuan Hoa talks about Thai Nguyen's preparation for the digital transformation revolution
He compared: Before 2020, Thai Nguyen's online public service rate was only about 30%, after the Resolution came into life, many localities had to admire Thai Nguyen when the percentage of public services was full overseas. The event has gone 100% to level 4. This is a very obvious change.
Second, all meetings used to be full of papers, now they have been digitized, turning to paperless meetings. The shared document system, the operating medical document management system are posted on the provincial-district-commune portal. Previously, I typed a paper document, sent it to the post office, lost money for stamps and it took 2-3 days to reach the recipient. As of now that is no longer the case. Directive documents from the heads of the province to the commune level are within "one note". This is effective by operating quickly and in a timely manner, reducing costs.
On average, about 800,000 administrative documents are sent on the system every quarter. This system saves 2-3 billion VND/quarter. If including the first 9 months of the year, up to now, we have to save nearly 10 billion money in documents.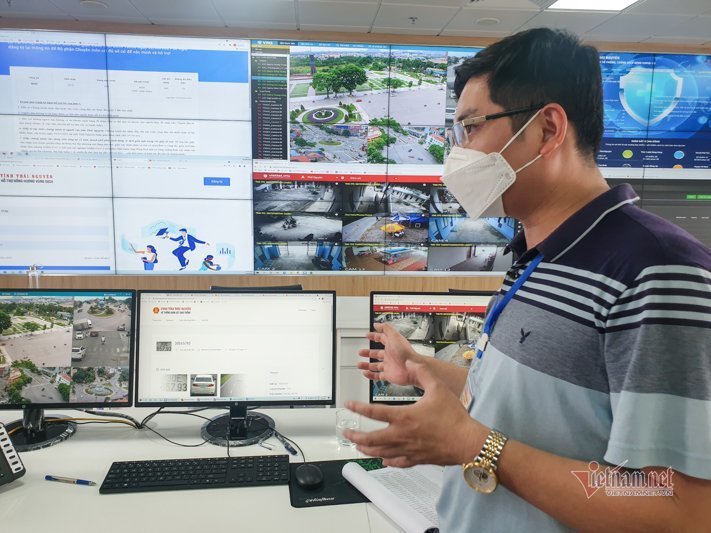 Digital transformation allows Thai Nguyen to "extend dreams"
According to Mr. Hoa, Thai Nguyen people are in the initial stage of access. The Department of Information and Communications is looking forward to becoming an "addictive" service for people. This service brings publicity, transparency, clarity, no person-to-person meeting, the post office will bring the product to your home. This is a very good thing, avoiding a lot of negatives in handling administrative procedures.
A new feature in Thai Nguyen is that online video conferencing has been covered; The province has more than 200 bridge points.
Currently, the province has over 1,650 broadcasting BTS stations. Fiber optic cable pulls to the hamlet and commune. Broadband Internet access speed reaches about 58 Mbps. Cellular about 42 Mbps. This traffic is eligible to develop IT application infrastructure.
Currently, there is almost no place without phone signal. Coverage rate is closed, but sometimes there are still areas with wave depression due to the topography of some mountainous districts.
The phone usage rate is 1.2 million phones/1.3 million people. Of which about 70-80% use smartphones. This is also the premise to realize the goal of having 1 smartphone for every citizen, and 1 fiber optic Internet connection for each household. This may be completed by Thai Nguyen this year or next year.
"Silicon valley" 200ha in Thai Nguyen
Digital economy is one of the three pillars of digital transformation. One of the solutions of the digital economy is to develop an e-commerce platform where buyers and sellers do not need to meet. The only thing that connects them is the quality of the product and the reputation of the supplier.
Thai Nguyen currently has about 70-80 OCOP (specialty) products that have been updated and put on the floor, meeting people's needs and solving problems during the epidemic, but agricultural products are still sold. Customers of Thai Nguyen farmers are now nationwide, including abroad.
Secretary of Thai Nguyen Provincial Party Committee informed VietNamnet about digital transformation of Thai Nguyen province
In the digital economy, Thai Nguyen has been included in the plan of 200 hectares by the Prime Minister of the concentrated IT zone in Yen Binh (Song Cong City). Thai Nguyen has chosen an investor who is an out-of-budget enterprise, attracting very large and technology-intensive corporations to participate in building the infrastructure of the centralized IT park.
The province has issued a decision to select an investor and they are taking steps according to regulations. The investor will build the entire infrastructure of the IT zone, such as roads, resorts, research, production, trees, central infrastructure, etc. After construction is completed, it will begin to attract corporations. technology.
This land is only prioritized for technology production, not units can also enter here. There is a choice of investors, which is expected to be like "Silicon valley" in Vietnam. Currently, the country has a few concentrated IT zones, of which Ho Chi Minh City and Da Nang only have 30-40 hectares.
To increase the density of coverage, investors must build good infrastructure. Thai Nguyen has the advantage of cheap land rent, is the center of the northern region, so the labor force is many, rich in labor potential, this is a training center so graduates are qualified. This is a favorable condition for investors to invest in this centralized IT zone.
"If you don't do it, you won't know if it's difficult or not"
With existing platforms such as telecommunications infrastructure, the participation of the entire government system, people's support…, Thai Nguyen entered the Digital Transformation with confidence but not without challenges. hesitate.
In order to prepare human resources for colleges, in the Resolution of Thai Nguyen College, there is a plan to foster and train about 200 experts from commune to provincial level with specialized knowledge in digital transformation to return to serve the locality. . When trained, these 200 people will return to good service and overcome human limitations. 178 communes and wards will have at least 1 expert on digital transformation. Thai Nguyen University of Information Technology will be the focal point for training.
Thai Nguyen is also "ordering" Thai Nguyen Medical University to train 1,000 health workers at commune and ward levels to serve as a foundation to serve the health sector for people at the grassroots level. Assoc. Prof. Dr. Nguyen Tien Dung said, more than 30 classes have been opened to train medical resources to meet 3 corresponding anti-epidemic levels (1st floor: active treatment; 2nd floor: moderate level; 3rd floor: light level)
Thai Nguyen people quickly took advantage of the opportunity to develop a digital economy based on technology
"The Department of Informatization (Ministry of Information and Communications) assesses that Thai Nguyen's digital transformation is at a very high level. Digital economy is in second place, government is second. Subjectively, Thai Nguyen has done something that has not been shown very clearly by initial results. However, it is also modest, not daring to assert itself at what level, but the products brought have met the needs of the people and brought about unexpected results within only 8 months.
"Of course, digital transformation is a long story, a process with no end. Only when people feel satisfied, then it's lucky. Always have to do it regularly, continuously. It can be said that the results are very good now, even though they are behind, they are still better than some leading provinces.
Deputy Minister of Information and Communications Nguyen Huy Dung commented that Thai Nguyen applies digital transformation like "fast fish eat slow fish". Whoever goes first, goes fast, goes first, succeeds. Just now, it is true that Thai Nguyen went fast, went ahead and was effective. If you are just starting to do digital transformation now, you will miss the opportunity, when the Covid-19 epidemic is creating an opportunity to make your mark, giving you more opportunities to affirm the effectiveness of digital transformation" – Director of the Department TT-TT Thai Nguyen shared.

Digital transformation creates a "technology shield" against epidemics in Thai Nguyen
9 months after Resolution No. 01 on the province's Digital Transformation Program was issued, Thai Nguyen has achieved dual goals: Socio-economic development and staying safe during the epidemic.
Kien Trung – Trong Dat
.