Many countries around the world have relatively similar ways of applying information technology to repel the Covid-19 pandemic.
China zoned epidemic speed thanks to technology
When Covid-19 began to spread in Wuhan, China adopted measures of social isolation and isolation, and rapidly built field hospitals.
But that is only superficial, in another respect China is very strongly applying technology to monitor, localize and isolate people in the city, among neighboring provinces. All thanks to the satellite navigation system Bac Dau used to monitor cargo transport, traffic flow.
China also uses satellites to track construction progress of field hospitals, artificial intelligence (AI) to analyze data and chart the area of ​​infection.
China soon controlled and quarantined the epidemic area thanks to the application of information technology.
At the Wuhan Epidemic Center at that time, China applied a 5G-connected robot to provide medicine and food for patients without having to have close contact with doctors and doctors. Outside, self-propelled cars moved around the street delivering essentials and medical supplies.
In addition, for particularly dangerous areas, remote-controlled drones are equipped to spray disinfectants, deliver drugs, and deliver test samples. Drones are also used by local police to continuously issue warnings reminding people to wear masks and not leave the house.
As Covid-19 spread more widely, companies like Alibaba and Tencent worked with the Chinese government to build a system of universal health assessments associated with smartphones. Only people with green health status are allowed to travel to public places, through QR checkpoints.
After all, China has an ubiquitous facial recognition camera system. Combined with big data, machine learning to analyze travel schedule, body temperature, number of people exposed, China can easily partition and isolate F1, F2, F3 as soon as F0 is detected.
As a result, China successfully controlled Covid-19 in the context that many countries around the world, especially Western countries, struggled to find ways to respond.
The US uses a supercomputer to analyze virus strains
When the Covid-19 epidemic broke out on a global scale, the United States knew to take advantage of its position as a technological superpower to take a proactive shortcut in making vaccines against viruses.
In order to shorten research time, the White House has enlisted the help of technology giants to provide state-of-the-art equipment for isolating virus samples, including new Covid variants. -19, in the shortest possible time.
With each possible variation of up to 30,000 original DNA, Nvidia's free toolkit is capable of sequencing DNA and RNA genes 35-50 times faster than traditional ones. Another big man, Google, uses the AlphaFold artificial intelligence program to predict the protein structure and transfer this result to universities and research institutes.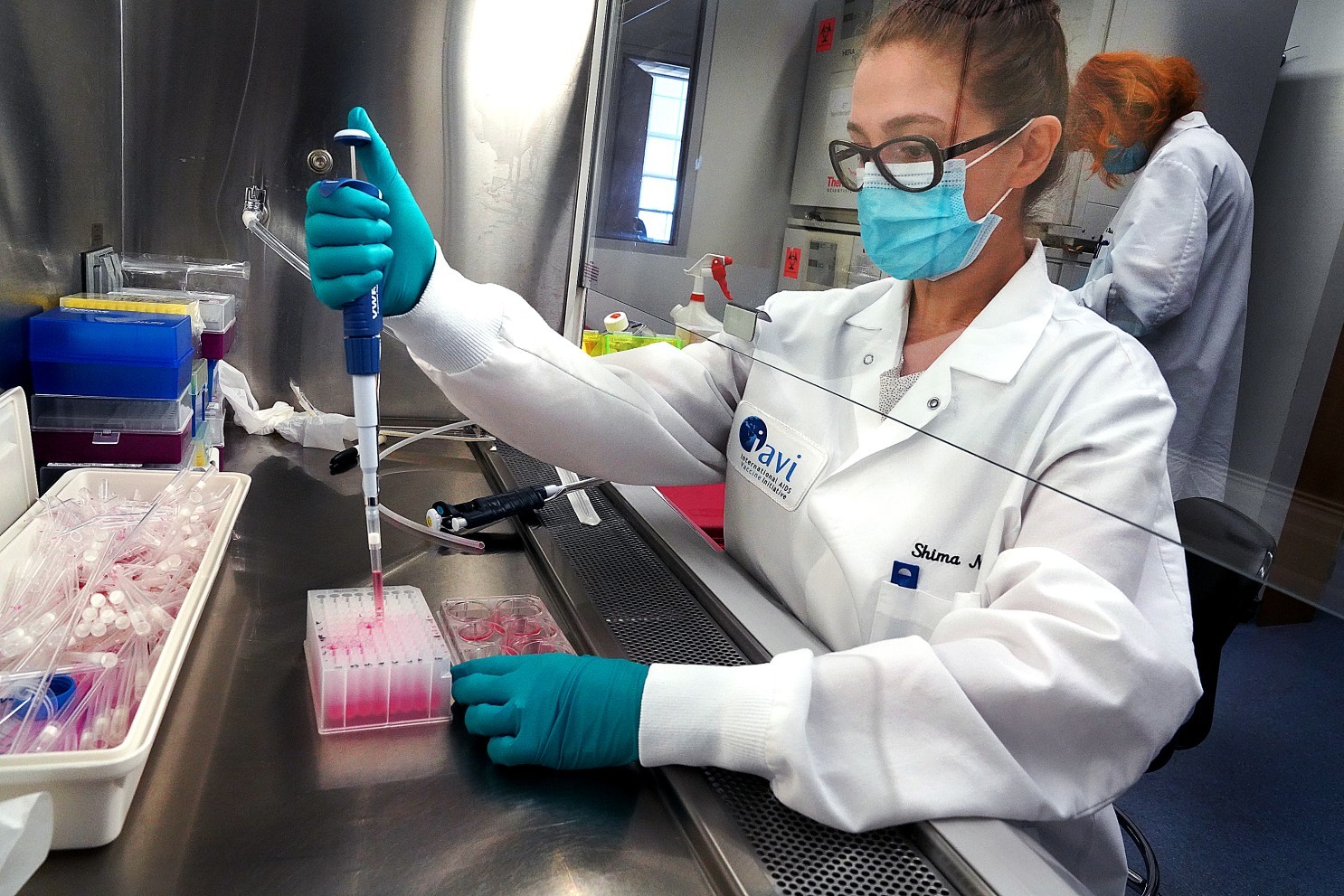 The United States takes advantage of the advantage of a technological superpower to speed up the sequencing of genes and proceed to the production of vaccine Covid-19.
The American supercomputer with the contribution of 43 companies, including IBM, Intel, and Microsoft, with the processing power of 6.8 million CPUs and 50,000 GPUs has helped complete nearly 100 research projects on Covid-19. As a result, the United States has taken the lead in licensing three vaccines with dozens of types undergoing phase 1 and 2 clinical trials.
As the epidemic got stronger, Microsoft quickly rolled out a free healthcare support platform in the Azure cloud. This platform acts as a smart virtual assistant assisting doctors in the management, examination and screening of Covid-19 patients.
HP, which makes computers and printers, also uses its 3D printers to produce anti-epidemic tools like handless door openers, masks, and masks …
As vaccination spreads widely, Microsoft and Oracle and other organizations work together to build e-vaccination passports, allowing access and verification of vaccination status through a single sweep. QR code.
Technology is key
After China, many countries around the world learned how to fight the mainland's epidemic. It is the real-time translation map system of Google, Facebook in the US first.
Countries such as South Korea, Great Britain or Israel also soon discussed to include the system of tracking people.
The UK and Western countries have thoroughly applied QR Code in tracing Covid-19 infected people.
As in the UK (including England, Scotland, Wales and Northern Ireland), the NHS National Health Service serves as a common database for all people in the bloc. All business locations that want to open must have a poster containing a QR code to collect customer information for at least 21 days.
In countries with difficulty in applying information technology such as India or Brazil, it can be seen that the number of new infections is still at a record level with the total number of cases of 21.9 million and 15.1 million respectively. shift.
Together with the new strains of Covid-19, the world is entering a new phase of prevention of acute respiratory infections caused by the nCoV virus. It is time to have a very high application of technology to repel epidemics, bring the world back to a normal state.
Phuong Nguyen

8 'weapons' of effective information technology for prevention of epidemic Covid-19
Technology cannot reverse a pandemic, however, it can assist in preventing the spread of disease, educating, alerting, empowering and significantly reducing damage.
.