Less than 24 hours after NASA's Perseverance rover landed on Mars, the US space agency released several color photos of Mars. The spacecraft is equipped with a record 25 cameras and two microphones. Many of these cameras were switched on when the rover landed on Mars, which captured several photos from the ground up to about 2 meters before the rover landed.

Photo Credit: NASA
The rover is a photo taken during the critical final minutes, also known as the "Seven Minutes of Terror". It had a top speed of 12,000 mph at this time.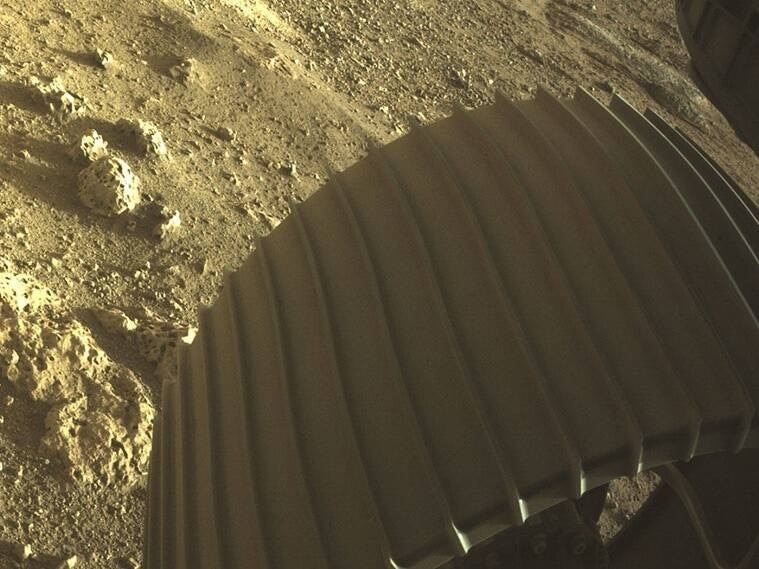 Photo Credit: NASA
The project compared Chief Engineer Adam Steltzner with Apollo 11's Snap in 1969, calling the photo iconic. He said that the rover in it is seven meters away from the surface of Mars.
Photo Credit: NASA
NASA has said to release more photos and possible audio recordings in the next few days.
Rover will gather information about life on Mars
The perseverance rover Thursday's Sabuh has landed safely on the surface of Mars. This six-wheeled device will gather information on Mars and will bring such rocks, which can answer these questions, whether there was ever life on the red planet.
Scientists believe that if there had ever been life on Mars, it would have been three to four billion years ago, when water flowed on the planet. Scientists hope that the rover can get an answer to a main question related to philosophy, theology and space science.
Also read-
Bindiya will shine: Swati Mohan's Bindi, who played a key role in bringing NASA's rover to Mars, dominated social media
American think tank said – helping India's development is in America's interest
.