Creating an ecosystem to help people do business to escape poverty is a new mission announced by the Vietnam Post Corporation (Vietnam Post), with the desire to join hands in solving problems and suffering of society. .
Helping people escape poverty sustainably thanks to the ecosystem
On the morning of February 24, Vietnam Post welcomed Minister of Information and Communications Nguyen Manh Hung and Deputy Minister of Information and Communications Pham Anh Tuan to work after the Tan Suu Lunar New Year holiday in 2021.
With the spirit of new thinking, renewing and different thinking, state postal enterprises have set themselves a new mission, a particularly important mission, which is to create an ecosystem to help people do business. out of poverty.
Minister of Information and Communications Nguyen Manh Hung speaking at the meeting
Not only doing postal services – traditional delivery, Vietnam Post has the opportunity to create an ecosystem so that any people, farmer households can participate in production and business activities effectively. . They will be supported to train business knowledge, to buy seeds and fertilizers of the best quality at the right market price. And they can develop household branded products that can reach national and global markets while sitting at home.
Appreciating the new mission of Vietnam Post, Minister Nguyen Manh Hung analyzed: After postal businesses help people do business, create tools for them to gain high income, they will pay for the postal business. main. If 24 million households with 100 million people join the ecosystem of Vietnam Post, the revenue of this postal business will not only double, but increase a lot.
Thus, the mission of the postal business has completely changed. Helping people out of poverty is our country's thousand-year dream. Doing this means that the Vietnam Post will change the content of "post", change the nature of the business from just taking service money from people's pockets to helping them increase their income. They share their revenue with the Post Office.
The farmer's living space will also change. Instead of bringing the bunch of bananas to the district market to sell for a few thousand dong, no one will buy, with the support of the business and production ecosystem built and operated by Vietnam Post, farmers can sell online. bananas cost tens of thousands of dong, even selling banana trees to customers, thereby increasing income and escaping poverty sustainably.
In fact, for many years, poverty reduction has been implemented at many levels, but mainly in the way of bringing "fish" rather than "fishing rod" for the poor. Consequently, many poor people soon return to poverty.
With the business and production support ecosystem "fishing rod", postal businesses will help the poor escape poverty more sustainably.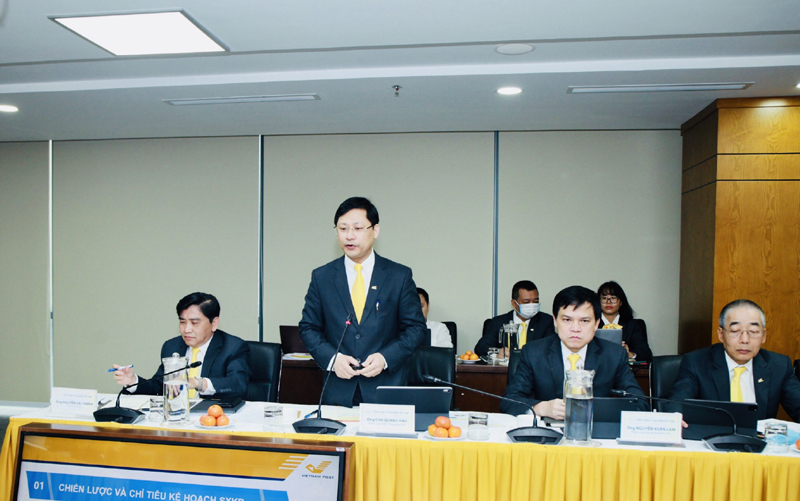 General Director of Vietnam Post Chu Quang Hao
On the other hand, if it attracts the participation of 24 million households nationwide in the ecosystem, the postal business will own a retail chain of up to 24 million small supermarkets (the largest retail company in Vietnam currently now there are only a few thousand supermarkets). Because when each citizen turns on their smartphone or ipad, goes to the sales site, it can be said that the supermarket is present in that person's family. A postal business that can come to such a family and bring the goods / goods is considered to own a small supermarket. Owning 24 million supermarkets in a country with about 100 million people is of enormous value.
To have an effective ecosystem, postal businesses need to focus on the story of cooperation with other businesses such as banks, manufacturing enterprises, logistics, transportation, warehousing … Currently many business fields If the company stands alone, it is "critical". Only one door is left to cooperate to deploy new services. Cooperation in the modern world will open up many new spaces for development.
For example, the Post Office can cooperate with banks to develop "walking ATMs", bring money to the homes of people in need of borrowing money, then the development potential will be great. Currently, the bank that invests a lot is only allowed a few thousand ATMs. If cooperating with the post office, there will be hundreds of thousands of "walking ATMs" serving the needs of people all over the country.
Need to participate in solving social problems and pain
Speaking at the conclusion of the meeting, the head of the Ministry of Information and Communications noted that one of the innovations in the Resolution of the XIII Party Congress is to include the concept of Vietnamese aspiration, desire for prosperity, happiness, mighty prosperity hope.
"Post also must have the desire to solve social problems, social pain, such as helping people out of poverty. From that desire, it will create many other values ​​", contact Minister Nguyen Manh Hung.
Vietnam Post needs to participate in solving social problems, social pain, and contribute to national digital transformation platforms. Recently, a number of platforms built by Vietnam Post such as Vmap digital map, postal address code platform VPostcode, e-commerce trading floor Postmart … have been actively contributing to the digital transformation. of the country. The difficulty of digital transformation is not writing the foundation, but the most difficult is deploying the platform nationwide. Vietnam Post needs to set a target to deploy the Postmart floor to 11,000 communes, if successful, it will become the leading company in digital transformation.
Solving social pain will bring huge profits, only the profit will come later. Solving social pain is never risky, there is obviously a market.
Enterprises participating in solving social problems are not "spending money to save the country", but "spending money to save the country and having high profits". Because the business is profitable, using that profit to solve problems, social pain, making the society better, the profit will also be better, and then continue to use the profit cycle. solving problems, social pain. At that time, the mission of the business is really great.
For business to be profitable, businesses must set high goals. Only setting high goals will have breakthrough solutions, giving opportunities for talented people to appear. Organizations with talented people are all highly targeted organizations. High goals will create a new space, giving hundreds of thousands of people the opportunity to express themselves.
Also under the direction of the Minister, along with digital transformation, in 2021, one of the breakthroughs of the Vietnam Post is to officially announce the strategy of developing infrastructure, becoming an infrastructure enterprise.
On the other hand, Vietnam Post also has to regularly pilot a new one (sand box) on a small scale, working in a narrow space with limited time. If you do not experiment, accept the new, there will be no "door" to develop. The Party Committee needs to issue thematic resolutions to encourage innovation, innovation and piloting of new ones. The Board of Directors then sets out the regulations, guidelines, and institutions for this. This is a must do soon. Without innovation, we cannot develop for long.
Dawn
The Ministry of Information and Communications requires postal businesses to ensure the provision of services in the Covid-19 service
Postal businesses are required to ensure the provision of postal services serving the essential needs of the people and Party and State agencies continuously, quickly, accurately and safely in all areas. situations.
.