From now to September 6, when Hanoi continues to strictly implement social distancing measures, in addition to increasing the amount of essential goods in reserve, postal businesses also pay special attention to sales channels through trading floors. e-commerce.
Supplying nearly 5,500 tons of food and necessities in Hanoi
After 29 days of applying social distancing measures, the Hanoi People's Committee assessed the situation of the Covid-19 epidemic in the area under control.
However, in the context of many new infections in the community in areas with high population density and complicated areas, on August 21, city leaders decided to continue implementing total isolation. until 6 a.m. on September 6 to prevent epidemics.
In the cable 19 dated August 21, the leader of the Hanoi People's Committee stated: "resolutely asking people to "wherever they are" in order to control the spread, separate F0 from the community and control the epidemic situation well during the quarantine period".
Leaders of the City People's Committee also asked all levels and sectors to proactively plan to not disrupt the supply chain of goods, well implement measures to stabilize prices; ensure safe circulation and supply of food, food and essential necessities for all people.
The Hanoi Department of Industry and Trade confirmed that it has a plan to ensure the supply and coordination of food, foodstuffs and essential items to serve the people's consumption needs during the second quarantine period.
"The city is always proactive in preparing supply to balance supply and demand, directing distribution systems to stockpile goods 3 times higher than usual and reserve for 3 months. Goods are often abundant to fully meet people's consumption needs in all situations, and prices are stable.", the Department of Industry and Trade said.
Vietnam Post and Viettel Post in the past 1 month have provided nearly 5,500 tons of food and essential goods to Hanoi people.
Over the past time, performing the tasks assigned by the Government and the Ministry of Information and Communications, Industry and Trade, postal enterprises have actively implemented the task of ensuring the transportation and supply of food and essential goods for localities in the world. Social distancing, including Hanoi.
Statistics show that, in 27 localities, postal enterprises have set up 4,346 essential goods supply points. According to aggregate data from 5 businesses Vietnam Post, Viettel Post, Fast Delivery, Economical Delivery and Netco, by the end of August 21, the total volume of essential goods provided was 44,163 tons.
In Hanoi, from July 24 to August 20, two large enterprises, Vietnam Post and Viettel Post alone, provided nearly 5,500 tons of food and goods to the people, through 3 forms including direct sales at stores. nearly 300 service points, via hotline and e-commerce platforms Postmart, Seashell.
Contributing to changing consumer shopping habits
With the second phase of Hanoi applying social distancing measures across the city, postal businesses said plans and scenarios to further enhance transportation and supply activities to meet the demand for goods. , especially food, food for the people of the capital has been taken into account.
Deputy Director of Hanoi Post Bui Van Hoang said that in the coming time, the Post Office will continue to maintain all transaction points that are providing postal and delivery services and consumer goods in 30 districts. At the same time, closely coordinate with suppliers, promptly replenish goods to the point of sale as well as stock up enough quantity to supply in case of need.
Many items, from foodstuffs, essential goods to typical agricultural products of the region, were also put on the Postmart floor by Hanoi Post in collaboration with other units in Vietnam Post to give people more choices.
"Hanoi Post Office has provided essential goods such as vegetables, fruits, eggs, etc. to officers and employees in their unit for trial practice. Immediately after the stricter social distancing regulations, we activated 27 more clean vegetable shops in the area, focusing on inner-city districts."Mr. Hoang added.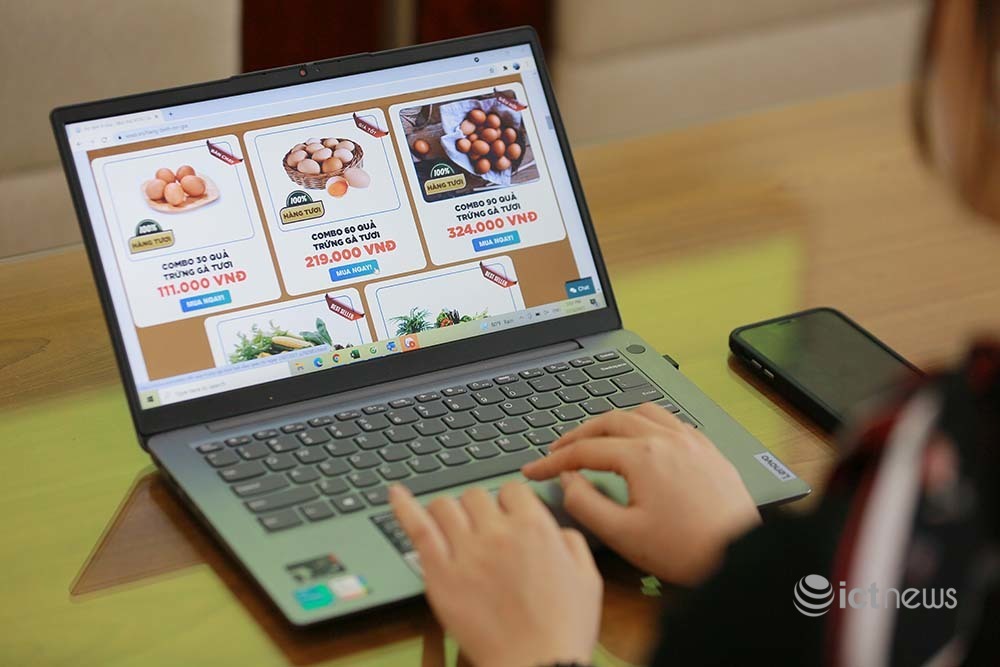 The distribution channel of food and essential goods through Postmart and Seashell floors will be focused on by postal enterprises during the time when Hanoi continues to be isolated.
Affirming that the channel of selling food and essential goods through the Sea Shell floor will continue to be the main method to be promoted in the coming time, a representative of Viettel Post said that, in nearly 30 days of Hanoi implementing the distance, the sales channel online has worked, with over 1,300 tons of merchandise on offer.
The daily volume of consumables through Seashells has increased slightly and is stable at more than 50 tons per day in the last 10 days. This shows that people in the capital are gradually getting used to the method of buying goods on online stores.
In the coming days, besides encouraging people to pay online with preferential programs for users, Seashell floor will also redesign and refresh many food combos and essential utensils for local people. Distances, including Hanoi, can save even more time on selection and order costs.
During the extension of the distance in Hanoi, postal businesses will continue to cooperate with supermarkets and food chain stores in the "green zone" to collect orders and deliver goods to consumers in small areas. .
At the same time, businesses have raised the level of epidemic prevention safety for their units and customers by providing more anti-epidemic protective equipment such as anti-droplet masks, anti-epidemic helmets… for staff. staff, especially postal staff and tellers.
Van Anh
Hanoi establishes "green zones", postal enterprises change the way of essential delivery
As soon as Hanoi established "green zones" – areas with no infections, postal enterprises flexibly changed their delivery solutions to ensure the supply of essential goods to these areas, and at the same time comply with the regulations. anti-epidemic regulations.
.