Secretary of the Hai Duong Provincial Party Committee Pham Xuan Thang promised to remove from the government apparatus officials who caused difficulties, harassed enterprises, and deteriorated the investment environment.
Mr. Pham Xuan Thang has publicly announced his mobile phone number and personal email address to receive business feedback on the situation of difficult and harassing officials under his subordinates. The new Secretary of the Provincial Party Committee pledged to the community of investment, production and trade in Hai Duong to resolutely transfer, replace unethical and harassing officials whoever he or she is.
"Remove from the government apparatus harassers, towards the digitization of public administration"
Hai Duong Provincial Party Secretary Pham Xuan Thang affirmed so at the symposium "Hai Duong Province's Enterprise – Digital Transformation to Breakthrough" took place on January 16.
Hai Duong is determined to use digital transformation to make the key to overcome difficulties and make a difference in attracting investment.
Hai Duong Provincial Party Committee Secretary called on businesses to participate in digital transformation to make a breakthrough
Provincial leaders will create all favorable conditions for businesses, proactively meet and invite investors to return to the province with the motto of action "Active, creative, decisive, effective" and "Clear work, clear people, clear progress, clear efficiency, clear responsibility ".
In the second quarter of this year, the locality strives to implement 100% of administrative procedures eligible for online public services at level 4 in order to reduce time and limit negative situations.
The province will strengthen administrative discipline, speed up the inspection and supervision of public service performance of cadres and civil servants, especially in sensitive positions, prone to negative arising.
"If any officer causes difficulties and harasses enterprises, the leaders of Hai Duong province will resolutely transfer and replace whoever it is. We take the level of satisfaction of people and businesses to assess the capacity of cadres, civil servants and public employees "- Secretary of the Provincial Party Committee Pham Xuan Thang affirmed.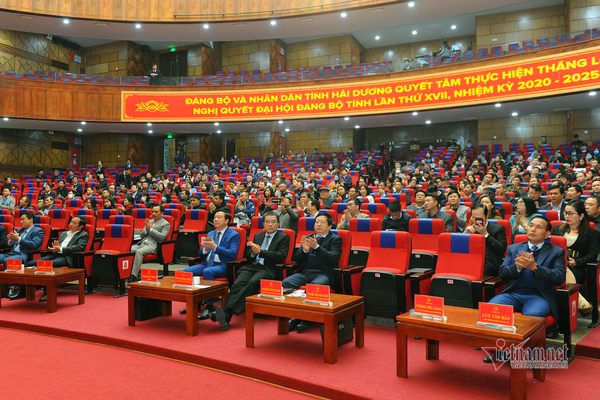 Hai Duong identified that digital transformation is an opportunity to prevent negative in administrative procedures
Mr. Thang pledged: Provincial leaders are always ready to receive feedback from investors to promptly remove difficulties, direct and handle the harassment situation of officials and civil servants.
At the same time, it promises to directly inspect and direct all enterprises' reflections when going back to Hai Duong for investments that are made difficult by all levels.
Support 50% of the cost of digital signature authentication for businesses
Digital transformation is a major policy that the Hai Duong government is determined to implement with the spirit of "green growth, digital transformation and innovation for breakthrough, sustainable development and elevation of the status of Hai Duong".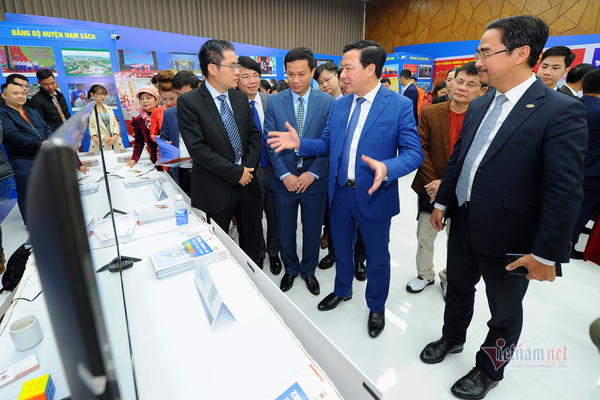 Discussing digital transformation with business on the sidelines of the conference
Talking more about the role of digital transformation, Chairman of the Provincial People's Committee Nguyen Duong Thai emphasized: To accompany businesses, we are actively implementing the "National digital transformation program to 2025, with orientation for to 2030 "by the Prime Minister and the project" Building e-government and smart city in Hai Duong province in the period 2020 – 2025, with an orientation to 2030 ".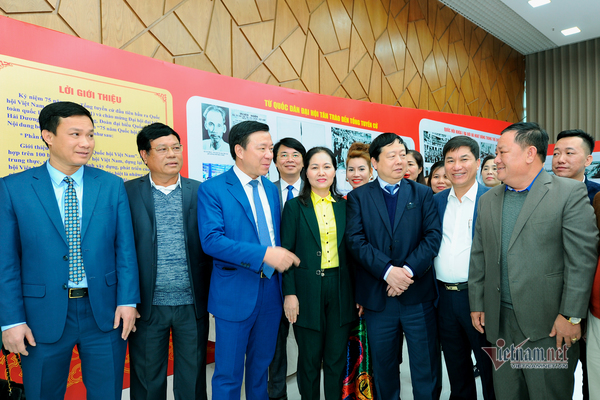 The Chairman of Hai Duong province told the Young Business Association about the effects of digital transformation
"Every business should be an important factor in building a digital government, developing digital economy and digital society in Hai Duong.
Hai Duong will support 50% of the cost of authenticating digital signatures for newly established businesses; supporting the development of e-commerce, contributing to improving the competitiveness of businesses and the province ", Mr. Thai emphasized.
FPT's technology experts only allow the businessman Hai Duong to make profits when applying technology
At this conference, the province also invited well-known experts and speakers to exchange and impart experiences as well as document the effectiveness of the technology revolution for commercial production.
Nguyen Thu Hang

Hai Duong mobilizes the whole province to "learn" for digital transformation
Hai Duong is making strong decisions in digital transformation, considered the key to bring the locality into a stage of breakthrough development.
.