All of the above problems stem from a serious incident happening with the technology giant Google. Not only Vietnam but many countries in the world are also in the same situation.
Share with Pv. VietNamNet, Mr. Duc Manh (Hoang Mai, Hanoi) said that from 7pm tonight, he can no longer access popular Goolge applications such as YouTube, Google Maps.
"When I go to YouTube, I can no longer watch the video as I used to. Instead of the video content, the app returns information that says there's a problem with the server. Access to the Play Store app store cannot be done, "said Manh.
Google services are having problems in Vietnam. Photo: Trong Dat
Not only Mr. Manh, many cases encountered similar situations were also recorded in Vietnam.
"All Google services are having problems. My Google Pixel phone is no longer usable because I cannot access any service. ", Mr. Nguyen Hong Phuc (HCMC) shared on his personal Facebook page.
As noted by Pv. VietNamNet, a series of services provided by Google such as search engines, Gmail, Google Translate, YouTube, … are having problems in Vietnam. However, this is not an isolated incident in some areas but a global crisis.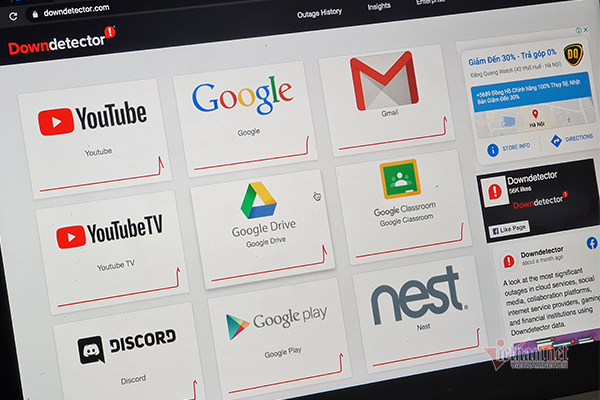 The same problem is happening globally. Photo: Trong Dat
All over the world, complaints related to problems using Google services are being posted continuously with dense density.
As noted by the DownDetector page, popular applications such as YouTube, Google, Gmail, Google Drive, Google Maps, Google Home, Google Play, … encountered the most problems.
Specifically, there are nearly 100,000 user responses because of the problem when accessing YouTube in the past hour. User problem is unable to access YouTube.com website, unable to watch video, and unable to login. Around the same time, about 60,000 complaints were sent to complain about the Google search engine crash.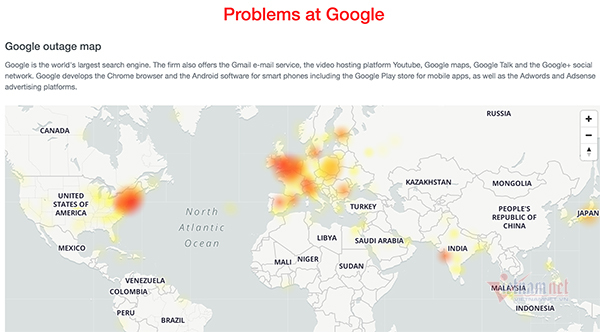 Areas severely affected by the issue related to Google services. Data: DownDetector
At the present time, the number of reflections on Google problems is mainly not in Vietnam. Instead, users in the countries of North America, Europe, India, and Japan were the most affected.
Trong Dat
.